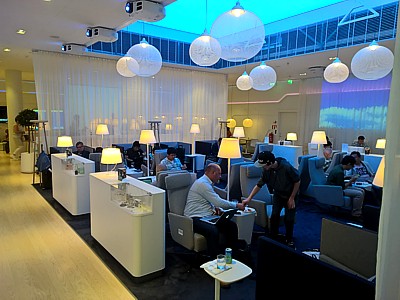 Helsinki Finnair Premium Lounge
NEWS: Finnair has opened a new Premium Lounge at Helsinki Airport, opposite the main non-Schengen lounge, just for Finnair Plus Platinum and Gold members and oneworld Top tier members. It has been designed by Helsinki-based design Vertti Kivi & Co has new private shower suites and a Finnish sauna.
Read the full story here:
Finnair open new Helsinki lounge
.
The Finnair 'Premium Lounge' in Helsinki is designed for only top-tier Finnair Plus and oneworld frequent flyers.
Finnair has opened its brand new Premium Lounge at Helsinki Airport, which adds a spa and sauna to the usual preflight dining and drinking options. It's good - but also very packed.
The Finnair Helsinki Premium lounge is located near gates 36 and 37 in the non-Schengen area of Helsinki Airport.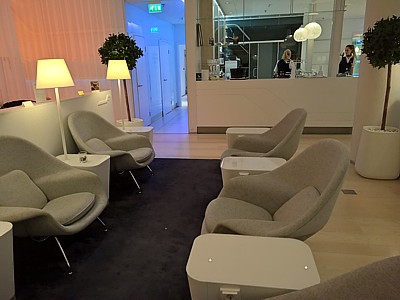 Helsinki Finnair Premium Lounge
This is the part of the airport designed for long-haul flight out of the Schengen area, plus the UK of course. It is opposite the regular business class 'Finnair Lounge', which frequently gets packed during the day.
Just wave your oneworld emerald card on the door, and in you go. The Premium Lounge has a 400 square yard floor-plan, although effectively it is pretty small with just a couple of areas for working and relaxation.
Finnair say it will comfortably seat up to 122 guests, however at times you can find well over 300 passengers crammed in here, and it is far from relaxing. Indeed, on occasions, there are passengers camped on the floor - not exactly premium.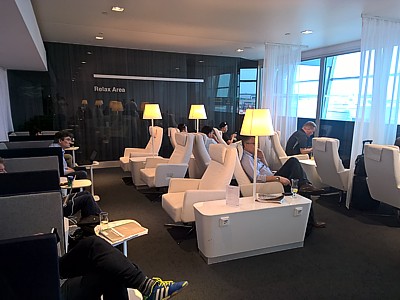 Helsinki Finnair Premium Lounge
It is however just for the elite - a business class ticket will not get you in. Instead, on Finnair you need to be Platinum or above in peak hours (3 to 5pm). At any other time, it is a regular oneworld Sapphire lounge. Business class passengers have no access. A British Airways Gold card always gets you in.
Once in the Premium Lounge, it is clear it is very definitely a step up from the humdrum Business Class lounge. Quirky and Elite, the focus of this lounge is on relaxing.
Right in the centre of the lounge there is a big space with mood lighting, from cool blue to sunrise orange. The moods change abruptly every 15 minutes, which can be a bit of a mental mind jump. Over in the far corner is the dining area, with hard upright plastic chairs.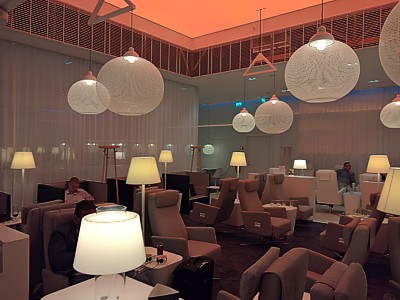 Helsinki Finnair Premium Lounge
There is a great upstairs area, with a good separate relaxation space. There are square seat-and-a half seats for solo travellers, and white leather swivel seats, with power sockets. The view from here, out of the window, is great. There is a small tea and soft drink bar here too.
Upstairs there are also four relaxation chairs behind a door, each with their own privacy curtains and with pillows and blankets to snuggle down in the warm. Up here there is also the newspaper rack.
There is a small children's room in the corner on the lower level, with some plastic toys.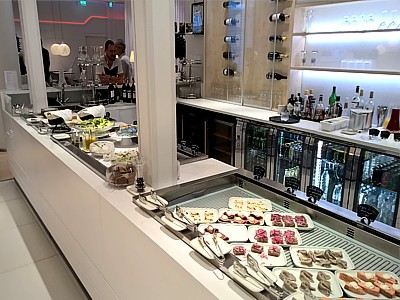 Helsinki Finnair Premium Lounge
Food
The lounge is all about the food - and here it is great, with a dedicated dining room in the far corner of the lounge. However, you have to walk over to the buffet to get some food.
The food is pretty decent, with lots of cold cuts and cheeses. However, there's isn't much hot food on offer. The salads, wild boar pate, and cold chicken coleslaw is good. Leave room for deserts, as there are plenty.
Don't miss out on checking out the famous Finnair glasses. There is Ultima Thule glassware by Tapio Wirkkala.
Bar
The bar is great too, with Champagne with Nicolas Feuillatte Brut Réserve.
Helsinki Finnair Premium Lounge
The bar is fully tended, and mixes up a great cocktail. However, in an odd turn of events, there is no cocktail list: you have to know what you want, and they mix it up for you.
Beer is fairly pedestrian, with Koff on draft behind the bar.
Business Facilities
There are no business facilities other than four iMac computers hidden away behind the curtains, but there is wifi thanks to the airport's own supply. It is blisteringly fast, making Heathrow look very poor by comparison.
The newspaper rack is on one side of the wall in the square curtained area. It is pretty poor with just Finnish newspapers, and a few travel magazines.
Helsinki Finnair Premium Lounge
Bathrooms
There are six shower suites, and an attendant will hand you amenities.
Next to the changing rooms is the main event in the lounge - a mixed-gender, towels-optional sauna. It is rarely occupied, however this is no gimmick. The few people to venture in are generally curious very frequent flyers. Just remember this is an airport lounge.
Access
The Finnair Helsinki Non-Schengen lounge is very much an elite lounge, and daypasses are not available at this lounge.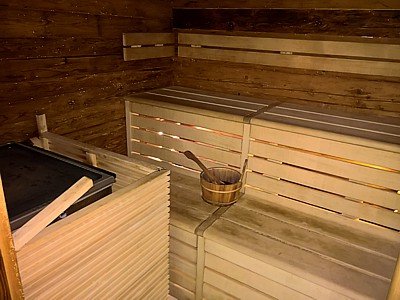 Sauna Finnair Premium Lounge
There is no access in Business Class - you need elite Finnair or oneworld status.