Helsinki Airport Guide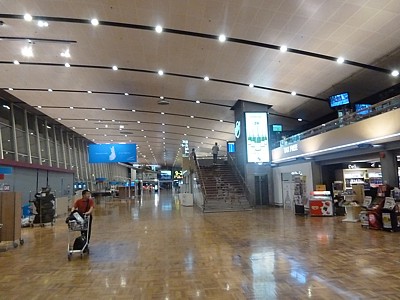 Helsinki Airport Schengen (short-haul) terminal
Helsinki Airport is a large modern airport, just 10 miles (17km) north of the centre of Helsinki. The main international airport for Finland, it is located at the small village of Vantaa, hence it's proper name, Helsinki-Vantaa Airport.
A surprisingly large terminal, Helsinki Airport's main business is in International passengers, with around 12 million a year passing through (and with a total capacity of 16 million) - both with Finns leaving for abroad, and with a large number of transit passengers who have taken advantage of the quick connections times at Helsinki for a transit.
Those transit times are quick - really quick. Helsinki's Minimum Connection Time (or MCT) is a mere 40 minutes, one of the shortest in the world. And it can really be just 40 minutes - provided you aren't going to pass through passport control (Schengen (EU) to Non-Schengen (UK)) for example: if you are, you need a much longer connection time, and quite frankly, 40 minutes really isn't very relaxing either - two hours is a much more reasonable connection time to ensure both you and your luggage make it. Beware that many travel agents will book you right on this 40 minute Minimum Connection Time, and you will need to insist with them that you actually do want a longer connection.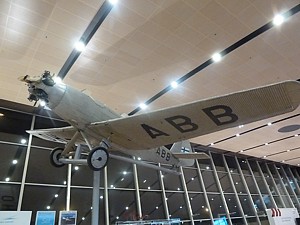 Helsinki Airport Aircraft in the terminal
As an airport, Helsinki Airport is swish, clean and modern - quite an achievement considering that parts of the terminal date back to the opening in 1952.
Helsinki Airport is of course the international and domestic hub for Finnair, the Finnish national carrier, and Finnair planes dominate. Never the less American Airlines, Japan Airlines, and Turkish Airlines also make an appearance here. There is a quite remarkably compressive four times daily service with British Airways to London Heathrow.
The airport is technically divided into two terminals, terminal 1 (the former domestic terminal) and terminal 2 (the former international terminal). LandsidetThe terminal buildings are only 250m (300 yards) apart and are linked by a walkway. However these designations don't matter when you are airside, as the airport is all one building, shaped like a letter L.
Instead, airside the airport is divided into Schengen (domestic, most EU) and non-Schengen (UK, US, Asia) areas, which confusingly are called short-haul and long-haul. Confusing, because the 2 hour flight to London leaves from the Long-haul (or rather non-Schengen) part of the terminal. This is where the 40 minute connection time comes unstuck: if you get unlucky at passport control, you could have to wait over an hour to get through, and miss a tight connection. At Helsinki, it is vital to work out beforehand if you will have a Schengen connection or not. Thankfully arriving and departing passengers are not separated, so you can wander from gate to gate.
The non-Schengen area of terminal 2 was enlarged in 2009, with eight wide-body gates for large A330 or A340 aircraft.
The other worry about Helsinki is the frequent heavy snow in the winter, however the airport is used to this, and the three runways allow for snow and ice to be cleared away during the six months of winter.
Helsinki Airport Longhaul Terminal 2 (International/non-Schengen)
The International terminal at Helsinki Airport is also known as the Longhaul terminal, but it should most correctly be known as the
non-Schengen terminal
, as it is used for all flights from Helsinki flying to countries which are outside the Schgenen (EU passport free) area. This includes the UK, as well as the US, Japan, Singapore, Bangkok, and Hong Kong.
This part of the terminal is smaller, but it still has quite a few shops and a decent cafe. It isn't as open as the Schengen terminal either, with large walls blocking the view down the terminal.
Wi-Fi internet access is provided by the airport authority; it's free, and speeds are lightning fast.
There is a small pharmacy in the longhaul Terminal.
Helsinki Airport Shorthaul Terminal 1 (Domestic/Schengen)
The Shorthaul Terminal at Helsinki Airport is used for all Domestic flights, and all flights within the Schengen zone (EU Passport Free). This includes some quite long flights, such as those to Spain.
The terminal is quite big, and arranged as an L shape, with an Irish pub right on the corner of the L. Big and cavenous, the terminal makes the most of the (rare) Finish sunshine, which plenty of glass. Right in the middle of the terminal is an old Finnair aeroplane.
There are plenty of shops - many of which are on the upper floor of the terminal.
There is also a delightful Art Gallery, which has plenty of Finnish design and modern art. It is located near gate 37. It's free, and open until late. There is also a Book Swap corner, where you can pick up free reading or leave your own books. Its at gate 27, via the steps that lead to the Fly Inn restaurant.
As in the Longhaul terminal, wifi is free. There are also internet kiosks in various locations within the terminals - but there is a fee.
Charging points for mobile devices are available throughout and include wireless charging stations.
Children's playrooms are available at departure gates 16, 20, 30 and 38.

First & Business Class lounges at Helsinki Airport
Helsinki Airport transportation
Helsinki Airport shuttle bus services
There are two main bus services from the Airport to central Helsinki (Downtown, or the city centre).
The Helsinki Airport Bus is a fast coach service (run by Finnair) which runs direct to the city centre, and which takes about 30 minutes. It runs every 20 minutes, and tickets are €6.30.
There is also Helsinki Regional Transport Authority Bus service 615 which takes slightly longer - 40 minutes - and goes direct to the Helsinki Central railway station. It runs every 15 min and tickets are €4.50.
Bus 620 also connects the airport to the city centre late at night and early morning.
Helsinki Airport train
There is no railway station at Helsinki Airport, yet. However in 2014 the Helsinki Airport Rail Line will open, linking to Helsinki Ring Rail Line. There will be an underground station under the airport terminal, which will whisk you to central Helsinki in just 25 minutes, and 30 to Helsinki Central Station. Trains will run at 10-minute intervals at peak times.
Helsinki Airport taxi services
Getting a taxi to and from Helsinki Airport is usually trouble free. Taxi ranks are located in front of both terminals.
A taxi from Helsinki Airport to Central Hensinki (downtown) is quite expensive, at 55euro. Firms include Airport Taxi (tel: 0100 4800) and Yellow Line (tel: 0600 555 555).
You can take a cheaper Shared Airport Taxi in a minibus for 29euro for two people.
Car Hire at Helsinki Airport
Major car hire operators are located in the Arrivals Halls, in the concourse between Terminals the Schengen and non-Schengen terminals.
Rental car operators from Helsinki Airport include: Europcar, Thrifty, Avis and Budget.
From Helsinki city centre, drive north along the Helsinki to Tuusula motorway (motorway 45) and follow signs for the airport.
From the west and the east, travel on motorways E18 or 50 respectively, and turn onto the northbound motorway 45, before following signs for the airport.
Helsinki Airport Hotel
There is two airport hotels located right at Helsinki airport, and other such as the Holiday Inn a (quite long) bus ride away.
The Hilton Helsinki-Vantaa Airport Hotel is the only landside Helsinki airport hotel you can walk to. It is within the airport terminal complex and linked via a covered walkway.
The hotel is good, but pricey, with a sauna and its own Finnish themed restaurant. It really is the hotel of choice.
The Hotel GLO Helsinki Airport is located in the airport building itself, with an entrance right on the floor of the Schengen Terminal and with direct access from the non-Schengen Terminal. It is a very basic transit hotel - but unique as it is located under the runway, so all rooms are tiny and windowless.
Rooms are very expensive, but very convenient. Day Rooms are also made available if you have a long layover, between 9am and 7pm. There is an OK bar.
This hotel is also known by its old name, of the Scandic Gateway-Helsinki Airport, but it's still the GLO.
Car parking
Helsinki airport car parking is quite good. There are three parking options at the airport: Lomaparkki (long-stay parking), Pikaparkki (short-stay parking) or Bisnesparkki (parking for business travellers). Prices vary quite a lot, but so does the walk from the long-stay carpark.
Helsinki Airport Bars and Restaurants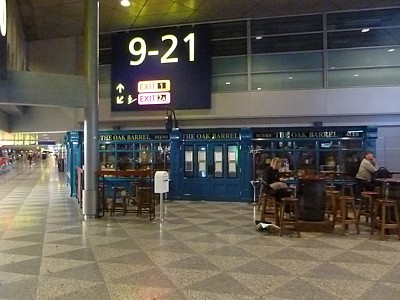 The Oak Barrel Helsinki Airport Bar
There are quite a few bars and cafes at Helsinki Airport, but one thing to watch for is that most of them close really early - about 9pm. If you catch a late night flight out of the airport, particuarly the midnight flights to Asia, you're likely to find there is little to eat and nowhere to drink other than the regulation airport cafe.
The Oak Barrel
Open: 0900-2000
Airside, Schengen Terminal 2, by gate 22
This famous Irish bar is a firm fixture at Helsinki Airport. Indeed, if you ask many passengers what there experience was of Helsinki Airport, they will reply about the craic and the Guinness in the terminal. It's odd, but for a fake 'oirish' bar, the Airport Oak Barrel really nails it, and is on a par with other famous Airport Irish Bars, such as the ones at Dubai and Melbourne.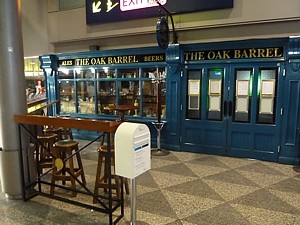 The Oak Barrel Helsinki Airport
Outside the bar looks inviting, but it is the interior that really makes this place. It is possible to lose several hours here. Despite no UK flights leaving from this terminal, there is Fuller's London Pride on tap (expensive - €8.50), as well as bottles of Orkney, Sierra Nevada, Lefebvre Floreffe Blonde, Dubbel and Ayinger. There are some not-so-known Finnish beers too from micro-breweries, such as Suomenlinnan Portteri, Stallhagen Harvest Ale, and Teerenpeli Laiskajaakko.
One thing to watch out for is the way the staff attempt to sell you Schapps as a compliment to every beer. If you want to make your flight, avoid. Just avoid.
Beware too, that the pub is not open in the evenings, and shuts up shop by about 8.30pm. Odd, that.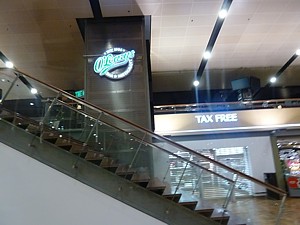 O' Learys Bar Helsinki Airport
O'Learys Sports Bar
Open: 1100-2100
Airside, Schengen Terminal 2, by Gate 28, first floor
One of the most popular bars at Helsinki Airport, you do have to ask - why? Crowded, noisy, with slow service and with a bland food selection, most passengers seem to end up here because of its location; right in the middle of the terminal.
That's not to say there's anything wrong with the beer (Heiniken or Carlsberg, €9 a pint) or the food (nachos and burgers are the mainstream choice - quite expensive too) but the place is frequently rammed, so it's hard to get a table, and even harder to get served at the bar.
It's also noisy, with half a dozen TVs on, all showing obscure sports, and all with the volume up. It's fine if you want a noisy, American style bar, but there are far better options.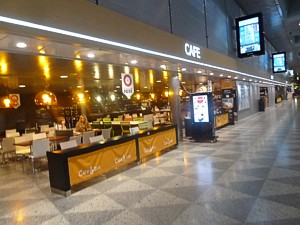 Cafe Tori Helsinki Airport
Helsinki Airport Cafe
Open: 0355-0015
Airside, Schengen Terminal 2, by gate 26
The classic, run of the mill, airport cafe, this place isn't too bad.
Food is a bit dull, with the usual cupcakes, doughnuts, meat pastries and Karelian pies. However the coffee is very good.
It is also one of the very few places open late in the evening.