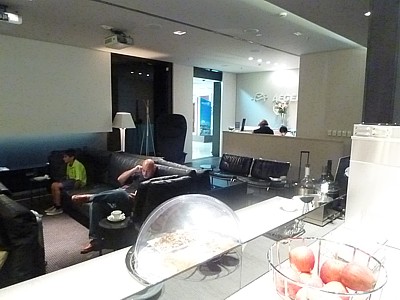 Larnaca Aegean Airlines Business Class lounge
Aegean Airlines have a small lounge at Larnaca, with only basic facilities in a minute windowless airless box. Indeed, forget small – it is tiny, seating 10 in comfort, or 22 at a pinch with every seat occupied. In mid-summer it can get very busy indeed before the Aegean airlines Larnaca London flight.
The lounge is hidden away down a corridor to the left of duty free, and up in the lift to the second floor. And then along the corridor a short distance, before you see the small sign on the door saying "Aegean Airlines lounge Larnaca airport". You've found it.
There is a large reception desk, and then the lounge is to the right: from the entrance you can see all of the lounge, in the gloom that always permeates the lounge: lighting is kept at a minimum. All of two black leather sofas, and four black leather chairs make up the seating, along with a curious high backed swivel chair right by the door.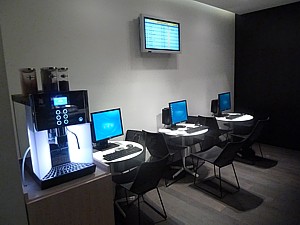 Larnaca Aegean Airlines Business Class lounge
There are also bar stools – 4 of them – next to the large white worktop. If you get desperate for somewhere to sit you can also sit on the newspaper shelf beside the wall, under the projectors.
Behind the bar are the computers, and at the far end are the bathrooms. And that's it. It really is a very small place.
Food
Food is very very basic. In the morning you can get a croissant with jam or cheese and ham.
During the day there is a salad. There are always Danish pastries.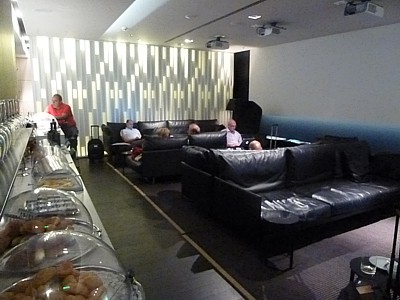 Larnaca Aegean Airlines Business Class lounge
Bar
The bar in the Aegean Airlines Larnaca lounge is equally basic, but functional. Beer is Keo in cans. Wine is one bottle of red or white – and its Cypriot wine too. Tasting notes are on a little card beside the bottles.
Spirits are there – but only in a very basic way. There are four bottles of Red Label, Bacardi, J&B, and Smirnoff Vodka. And that's it.
Bathrooms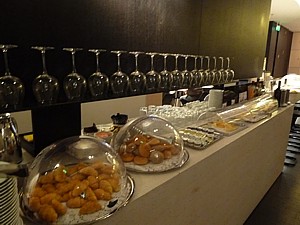 Larnaca Aegean Airlines Business Class lounge
Bathrooms are in the lounge – at the far end. There is one tiny cupboard for Gents, another for ladies, and a much larger disables toilet. Indeed, this is the largest emptiest space in the lounge.
Business Facilities
The Larnaca Aegean Club Lounge has 3 computers with an Internet connection. They aren't particularly fast, but at least they work, and have the joys of IE7. There are also three sockets for laptops on the food bar. There is also free wifi.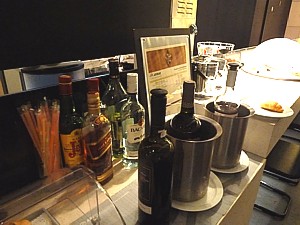 Larnaca Aegean Airlines Business Class lounge
The one curiosity about the lounge are the large projection TVs on the walls. There are three, dominating the lounge, and are on BBC World, CNN, and the local Cypriot channel during the day.