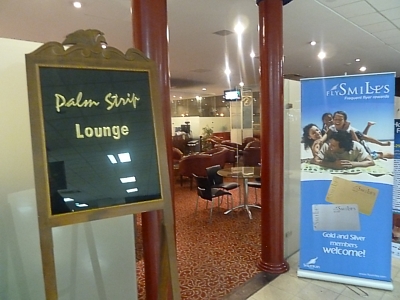 Colombo Palm Spirit Lounge
The Colombo Palm Strip lounge is very much the worst of the four main lounges at Colombo, being little more than an extension of the restaurant area. However it is the pay-per-use lounge, and at only US$10 a go, it is pretty cheap. Indeed, so cheap, it can be cheaper to come in here and grab a couple of beers and a sandwich, rather than go to the cellar like Hangar bar.
Upper tier members of Sri Lankan Airlines Frequent Flyer scheme are also shuffled off to this lounge when the main lounge gets too busy, and to cap it all, it is also the Priority Pass Colombo (Sri Lanka) lounge.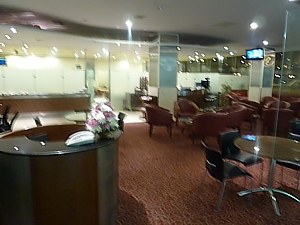 Colombo Palm Spirit Lounge
The lounge is only separated by glass screens from the main concourse, and it doesn't even have a door into the lounge area: hence, many people wander in, take a look, and most being unimpressed, walk away again.
Food
There is a small table with sandwiches, and a couple of hot items. Not much, but enough to make it worthwhile.
Bar
The bar is only just OK. Cans of Lion Beer are in the fridge, while on the worktop there are half a dozen bottles of spirits, with the cheapest known-brand versions of Gin, Vodka, and Whisky.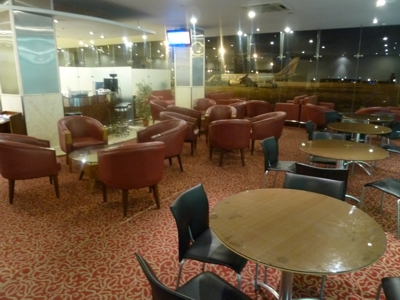 Colombo Palm Spirit Lounge
Bathrooms
Toilets are over the concourse in the main part of the terminal, past Duty Free.
Business Facilities
None.