The Colombo Airport Lotus Lounge acts both as the Sri Lanka Airport Priority Pass lounge, and the First Class lounge for airlines operating out of Colombo, as a kind of complement to the Analiya lounge, which is directly opposite it in the terminal.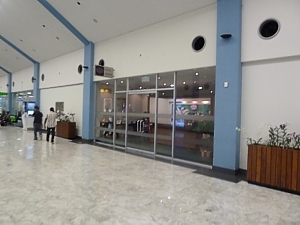 Colombo Lotus Lounge
Styling is very similar to the Analiya lounge too: there is a food area at one end, with a small bar, a section with dining chairs, and then a room and a half of dull grey armchairs. There is a small view of the tarmac and the airport apron.
In terms of quality, the furnishing is slightly poorer than the Analiya. So what makes it First Class? The slightly better wine, and the better breakfast. And that's it.
Food
Food is a step up from the Business Class Analiya lounge, with a full proper cooked English breakfast served from 6am. There is a set lunch hour Noon-2pm, with some very good Sri Lankan dishes, and then dinner from 6pm, which is mainly buffet style.
Bar
The bar is better than you might expect – certainly from having been around the other lounges in Colombo Airport, the fact that there is semi-decent Australia wine (admittedly, only Penfolds, but it is a start) and even a sparkling wine from New Zealand marks out this lounge as an improvement.
Business Facilities
The business centre in this lounge is also better than you would expect, with four decent computers, and a photocopier. There is free wifi. There are a few international newspapers, however there are no English newspapers, only American ones, such as the International Herald.