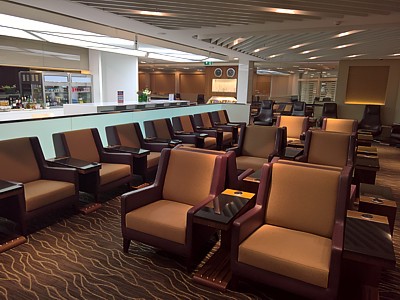 Melbourne Singapore Airlines Business Class Lounge
The Singapore Airlines Melbourne Lounge is a rare delight in the strange and confusing world that is the basement of Melbourne Airport, where a dozen or so airlines are juxtaposed with their relative lounges jostling for space.
It's a bit hidden away. Once you are through customs and security, walk to the end of the international pier, walk halfway around the circle, and then take the stairs or escalator to the ground floor, where the Singapore Airlines lounge at Melbourne Airport offers a lovely (if decidedly compact) haven.
There are two separate sides to this lounge, with First on the left (seating 25) and Business Class on the right (seating 75), where Gold Star Alliance members also go. Greeting at reception can be a little curt, particularly for economy passengers using a Star Alliance Gold card on a cheap economy ticket with another carrier. However, if you are lounge hopping, the Kiwi's next door can be even more brisk.
However the main part of the lounge is a delight after a recent revamp,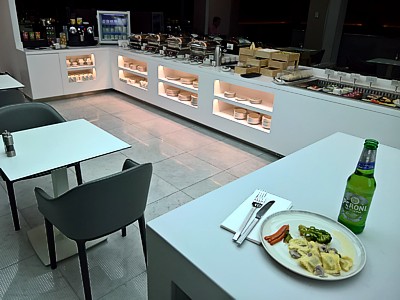 Melbourne Singapore Airlines Business Class Lounge
with a good buffet, a decent (free pour) bar, and even gold Rolex clocks and fresh flowers on the tables.
On the Business Class side, the lounge takes the form of a large room on one side, with the buffet, and another wing running straight up and down the lounge. Alas there is no view of the runway, but there is a small window at the far end of the main room, through which you can just about squint and see, via the arrivals corridor, your aircraft.
This part of the lounge has standard Singapore seats, in the main part, but also a strange triangular area as you enter. Here there are two large flat screen TVs, with channels which you can't change. One shows channels 7, the other channel 9. Both are at low volume, so you'll have to sit up close to listen (and get a kink in your neck) to avoid it being drowned out by the pretty loud lift music (Abba and instrumental variations) being played in the rest of the lounge.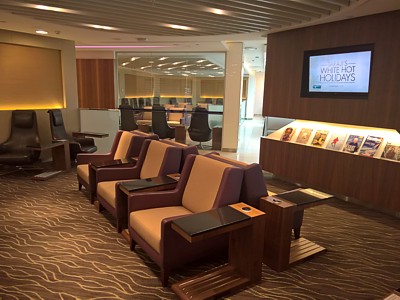 Melbourne Singapore Airlines Business Class Lounge
This part of the lounge also has strange L shaped tables, with a design so you can slot your bag into the table and then plug in your laptops in the socket on the work top.
Don't miss the bathrooms, which have separate doors in the centre of the lounge. There are 2 top quality (and clean) showers at the end of this corridor.
Also at the entrance is a small business centre with a couple of very slow PCs.
Food
Food is pretty good in the Singapore Airlines lounge Melbourne. It comes in the distinct waves, with breakfast from 7.30 until the lounge firmly closes at 10, then lunch from 1pm, with quite a few options. Finally, for the late evening flight at 9pm it's more snacks to soak up the alcohol.
At breakfast time there is French toast, eggs and bacon, cereals, yoghurt, fruit salad and banana bread.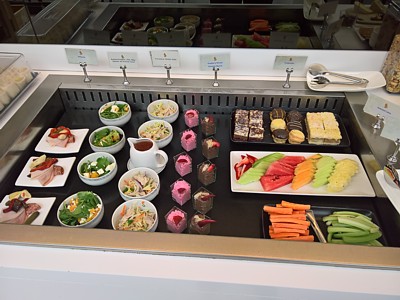 Melbourne Singapore Airlines Business Class Lounge
Lunchtime, and there are more extensive offerings, with four separate hot dishes, including everything from Chicken Satay to beef goulash, pasta and creamed mushrooms, and plenty of veggies. These are frequently refilled throughout the busy lunchtime period.
There is a range of Tapas in the fridge, with lovely small plates with ham and olives. If you work at it, you can get a decent five course lunch here, with plenty of options.
There are sandwiches all the time - Salmon and Cream Cheese is really nice, while the beef is a bit dodgy.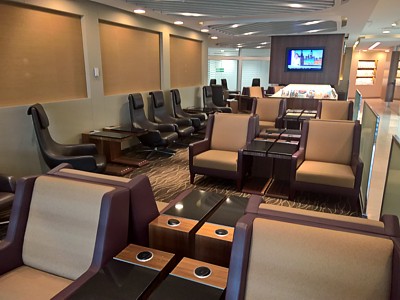 Melbourne Singapore Airlines Business Class Lounge
There is a fruit bowl, and two types of Pot Noodle which are better than you might expect.
Don't miss the cheese board, which is really a board with some good French cheeses, with plenty of biscuits (crackers) on a tray.
Ice Cream is in the fridge. Two hours before takeoff, the kitchen staff come out with hot meat pies and sausage rolls. Although these are "mixed meat" so there is no way of knowing what is in them, they are very good with a tinny of VB.
Bar
The bar is pretty decent, if a little unorthodox. Wine is in the beer fridge, and you need to open the small flap to manoeuvre it out.
There are two white wines in the fridge, and Melbourne is one of the few Singapore lounges to still stock Champagne for business.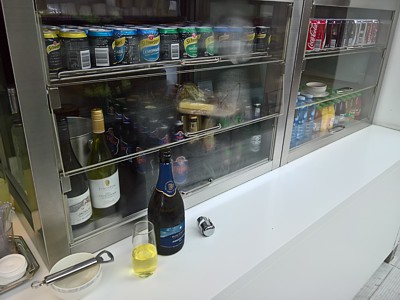 Melbourne Singapore Airlines Business Class Lounge
There are bottles of VB, Crown, Tiger, Hahn, Carton Draft and even Boags in the fridge.
The spirit collection is worthy of note, with 18 different types, including Red Label, Gordons' Gin, Campari, Smirnoff, VSOP, and Baileys on the worktop.
Bathrooms
In Lounge.
There are 2 top quality showers at the end of this corridor, and towels are handed out by reception.
Business Facilities
Business facilities are pretty poor, but at least it's in a separate room. Mind you, I get the impression that most people forget this room is even here.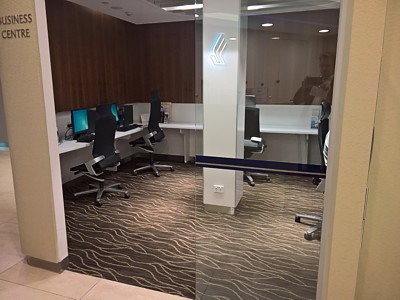 Melbourne Singapore Airlines Business Class Lounge
There is a small business centre by reception, but no one ever uses it. There are 2 computers which were very fast in 2004, and are getting a bit dated now (they run IE6!), and there is also a printer.
Newspapers (The Age, AFR, SMH & The Australian) are placed in the small magazine rack in the corridor of the lounge, along with magazines like Wallpaper, and the Australian Aviation review, Forbes, and Asia Money.
Access
Business or First Class tickets get you admitance, as does a shiny Star Alliance gold card if you are in economy.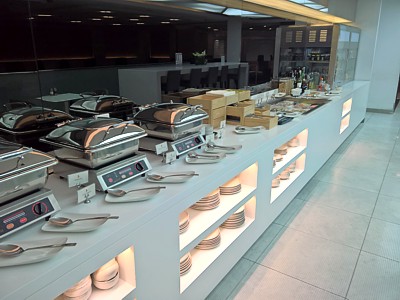 Melbourne Singapore Airlines Business Class Lounge
For those into Star Alliance lounge hopping, Melbourne is the place to do it, with a plethora of lounges to keep you happy for hours before a flight. Not only is there the Singapore Airlines Silver Kris lounge in Melbourne, but you can also visit Air New Zealand lounge on the basement Level, down one more floor from the Silver Kris lounge.