The Melbourne Qantas Business Lounge in the International part of the airport is the OK, but somehow not that great, standard lounge for Business Class and oneworld Sapphires. It has a good bar, free food, comfy seats, shower rooms, wine bar area, gelato, family zone, and an atmosphere that can at best be described as like a basement dive. There are no windows, and it's been open for a decade, so the wear and tear is starting to show.
If you're confused as to which lounge you should use, you're not the only one. Remember that on Qantas International, the Business Class lounge is the lowest level lounge. However that is the inverse of Domestic, where Business is the top level lounge, over and above the Qantas Club.
Got that? Because the Melbourne Qantas Business Lounge is also the Melbourne international Qantas Club. Which you can buy access to. Unlike the Melbourne Qantas First Class lounge next door, which is just for those holding a First Class ticket, and of course oneworld Emeralds.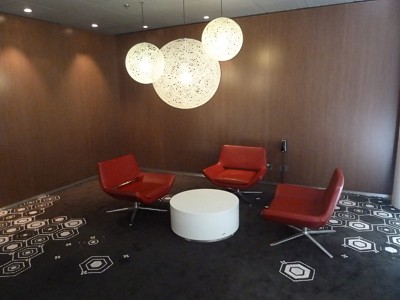 Melbourne International Qantas Business Class Lounge
To find the Melbourne Qantas Business Lounge head past duty free once through security. Then take the escalator down to the International Qantas Business Lounge. The MEL First Class QF lounge, incidentally, is upstairs.
Once past the front desk it's clear the lounge is very definitely underground. It lacks tarmac views, although you can see the front nose wheel of your plane very clearly, through the gloom. There is also not a lot of light.
The Melbourne is quite small - half the size of the lounge in Sydney - and so it is easy to see the whole area from the front door. There is a Business Zone in one corner, with computers, a bar (open all day) and a dining area.
Through the lounge there is a comfortable 'Qantas' feel, with normal Qantas armchairs, and Qantas tables. However, you can't get away from the feeling that the whole lounge is a bit dated. The Melbourne Qantas Business Class Lounge gets very busy indeed in the morning with a lot of flights leaving for Asia, and then calms down into a hush around lunchtime which lasts until early evening.
Many of the seats are arranged in groups of four, which is great if you are in a group, but for single travellers it can sometimes be hard to find a place to sit. There are several banquette bench seats by the wall, which look uncomfortable but are actually great for a snooze.
There are several large TVs on the wall, but there is no way to change the channel, and they are often on obscure Freeview channels, which can be a little disturbing. The volume is also quite lounge on occasions.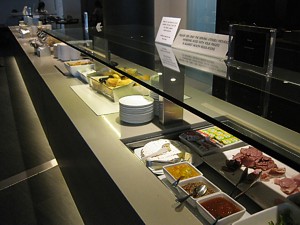 Melbourne International Qantas Business Class Lounge
Food
There is of course a decent buffet spread in the Qantas Melbourne Business Class Lounge.
In the dining area there are waiters serving a 'plate of the day' while you sit, along with a walk up buffet, and menus at the table.
Naturally, seeing the number of flights that leave in the morning, the breakfast spread is very good indeed, while the lunchtime offerings are rather patching by comparison. You can order a full cooked English (or should that be Victorian?) or go to the buffet for yoghurts, fresh fruit, cereals, and pastries, along with hot offerings including eggs, sausages and hash browns. There is naturally all-day barista coffee.
At lunchtime the offerings come down to two hot dishes at the buffet, plus a desert or two, and hot soup. However, the Salad Bar is worthy of note, with an amazing array of salads in bowls. There are also jars of wasabi peas and rice crackers in jars around the lounge.
Don't miss the help yourself gelato bar, which has some great sorbet flavours.
Bar
There is a full alcoholic bar. Indeed, two of them, and they are open around the clock. After all, many people are transferring to international flights, at times of day that are totally out of sync with Victoria.
There is a main walk up bar, with beer, red and white wines plus spirits with mixers. There are ten spirits on offer, all free pour, with everything from Southern Comfort to Absolute Vodka, Bailieys and Campari.
And there is also a wine bar with four types of wine in a trough, with good Aussie wines. Sparkling wine is Seppelt Salinger Brut NV Cuvée, which is decent, if not remarkable.
Waiters often pass around in the evening, offering cocktails and canapes.
In the corner there are espresso drinks via a machine, as well as Dilmah tea.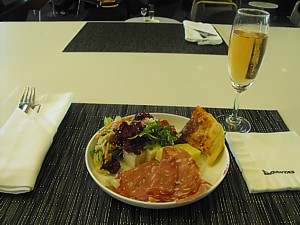 Melbourne International Qantas Business Class Lounge
Bathrooms
Shampoo, conditioner and bath gel by Aurora Spa are in the showers.
Business Facilities
There is a decent business zone with iMac computers, although there is little privacy - all the computers face into the lounge. The Apple iMacs run both Windows and OS X.
Power points are few and far between.
Wifi is amazing fast and free.
There is a newspaper rack with a range of magazines and newspapers.
Access
Access is given to Qantas Club Members, and First and Business Class passengers on Qantas or any oneworld airline, Emirates or Jetstar, plus oneworld Emerald and Sapphire members, including British Airways silver.
Note that there is also a Cathay Pacific lounge next door,which anyone with oneworld access can use plus an Emirates lounge upstairs, for use by Qantas with Gold or Platinum card.