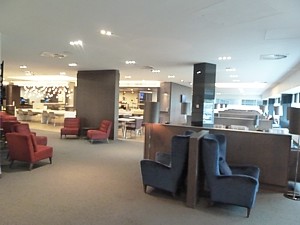 Edinburgh British Airways Galleries Lounge
The British Airways Lounge Edinburgh is gorgeous, brand new, large, and impressive. Opened in 2014 at a cost of £1.5 million, the new Galleries style lounge has seats for 200 passengers, and at 730 square meters is almost twice the size of the old lounge.
The Edinburgh Business Class lounge is large, light bright and open, and features new style seating, a bistro and coffee area; well stocked complimentary bar; business suite wifi and air printing.
The BA Edinburgh lounge is very much a new-style Galleries lounge, and identical (expect for the Whisky bar) with its Glasgow counterpart. You approach it after security and turning left, and going almost all the way to the end of the terminal. The large blue entrance is opposite Boots and the sushi bar, and sure looks impressive with large chairs around the entrance, which leads in to what looks almost like a fountain and a large curved seating area.
From here, walk on in and the main food and bar area is right behind the wall behind reception: bathrooms are on the right, there is a large white bench with seats in front of it (rather like Qantas ones) and ahead is the main dining area with dining chairs. The main newspapers table is here too.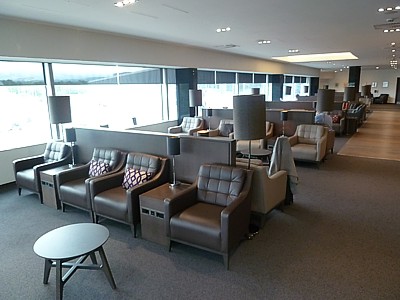 Edinburgh British Airways Galleries Lounge
Then as you walk further towards the windows there are banks of different kinds of seats: from dining tables with chairs, to large upright chairs, to comfortable arm chairs, and with lots of small coffee tables to put your pint on.
Indeed the whole lounge is well planned with almost a direct walk from the entrance to what you want before sitting down: head in, grab a drink, something to nibble on, then a paper and walk over to a seat by the window.
The main seating area is as you would expect all the way along the window: gone are bmi's old hard plywood chairs, and here there are lots of squashy armchairs, designed with small tables between them which also have power points. There are lots more of these chairs over to the right, and this is often the quietest part of the lounge.
Facing the window are three very stylish high upright blue chairs under red lampshades: this part of the lounge looks very impressive in photos, but alas is a very uncomfortable part of the lounge to actually sit in!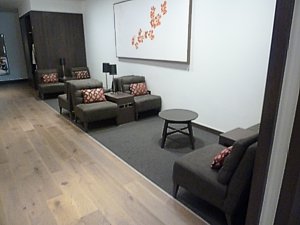 Edinburgh British Airways Galleries Lounge
To the left is the business centre, in a separate room, with work tables and computers. It has plenty of book shelves, but alas not a lot to put on them!
The Edinburgh British Airways Lounge is on the location of the old bmi Edinburgh Lounge: when BA took over bmi, the larger lounge was obviously attractive, and BA moved in immediately, shutting their older lounge which was later taken over by Wetherspoons, in a neat symbolism of the intent of most Edinburgh passengers.
Indeed, the only odd thing about the new British Airways Business Class Lounge Edinburgh is the fact that it is so large and new: and all this from a lounge where there is just one main route: London (although to all three airports), to where there is no Business Class. Indeed, the only BA Business Class flights running out of Edinburgh are the once a week flights to Ibiza. The answer is of course that it is the Executive Club which stocks the BA Edinburgh Lounge. On a weekday evening, over half of the passengers can be either Silver or Gold, and all will want to eat or drink before the flight: as a result the Edinburgh BA Lounge can get packed.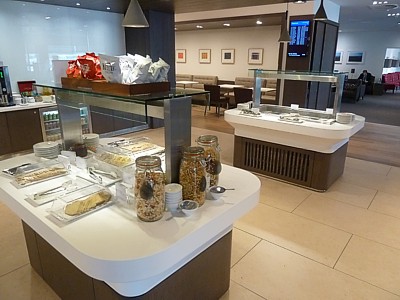 Edinburgh British Airways Galleries Lounge
Food
There is always plenty of food in the British Airways Edinburgh Business Class Lounge. However, the variety is lacking a bit. It's on the two large white buffet tables opposite the bar in the middle of the lounge.
In the morning for breakfast (until 10am) there are muffins, danish pastries, croissants, (chocolate and normal) with plenty of jams and butter. There are three large bowls of cereal, and three large bowls of fruit salad.
Later in the day, it's more usual British Airways fare. There are two trays of sandwiches under the plastic covers: ham, cheese, and vege are the usual variants.
There are also two trays of biscuits and cheese, and the cheese selection is quite impressive, with four or five types of classic British cheeses. On the other white table there is either a salad selection or in the evenings some hot dishes, such as curry and rice.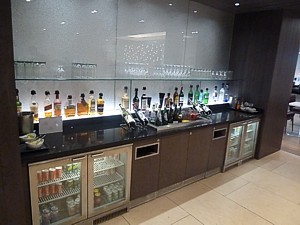 Edinburgh British Airways Galleries Lounge
Hot soup is always available, on the bench next to the bar, with a bowl of bread next to it.
Bar
The bar in the British Airways Edinburgh Galleries Lounge is very good indeed. The bar is always open, from 5am, and is self-service, free pour.
There are three types of white and two types of red wine, on the counter top. New world wines tend to dominate.
Beer is in the fridge, with Tiger, Carlsberg or Heineken, plus London Pride.
The spirit collection is quite impressive, with Pimms, Baileys, Cointreau, Kahlua, Martini (two types), gin (Bombay or Gordon's) Bacardi, vodka (Smirnoff or Grey Goose (two types - plain or lemon) and then there is the famous BA Edinburgh whisky cabinet.
This is a joy - there is so much Whisky! With 10 different types from the normal - Jameson's - to rare stuff - like Oban - you can have more than a wee dram.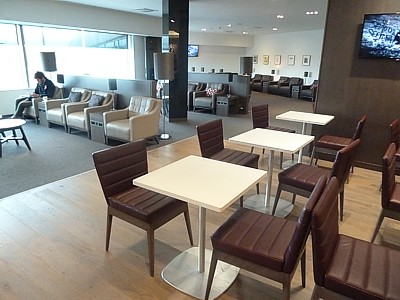 Edinburgh British Airways Galleries Lounge
Bathrooms
In lounge, and pretty snazzy. No showers.
Business Facilities
The business suite is in a room on the left, which provides a nice comfortable working environment, away from the main body of the lounge which can get insanely busy around New Year and August.
In here there are three large desks with lots of power sockets (UK and euro round pin style, plus USB charging sockets) plus a few brand new fast PCs, and a printer / copier.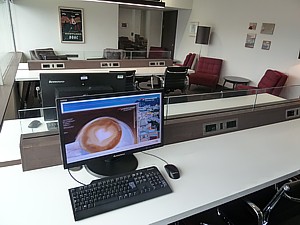 Edinburgh British Airways Galleries Lounge
You can also print over the wifi with "air printing" allowing you to print from your own mobile devices.
Around the corner from this are a couple of private work booths, where you can shut the door and have a private phone conversation - if only these were in all the BA lounges!