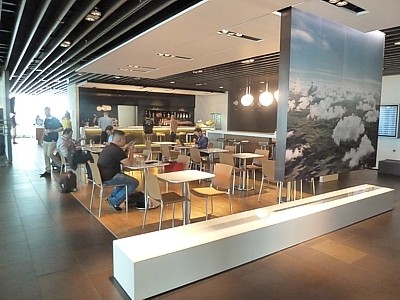 Frankfurt Lufthansa Business Class Lounge
If you are stuck down the dim and distant A gates (A6 to A42) at Frankfurt, the good news is that at the 'corner' of the terminal, there is a good Lufthansa lounge tucked away, and even better, it has a great view.
It's a bit of a hassle to find, upstairs, and with a small door on the right. It's hidden away, as it used to be the former First class lounge.
It is decked out in a 'retro-fitted' Lufthansa's new design at Frankfurt on the Schengen side, and a pretty small lounge too, the USP of this lounge is it's fully staffed bar - the bar staff will make cocktails for you, and even describe the beer if you've never tasted German beer before.
There is also a small bistro-area, with large poster prints of clouds and the alps to make you feel more comfortable. There is also a great view of the apron and free wifi, an dseperated desks in the work-area.
As you go in past the bar on the right, there is the main seating area, and then on the far left a veyr long thin viewing corridor, while on the right is the main dining area with the buffet.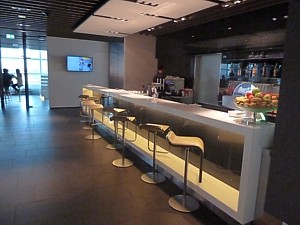 Frankfurt Business Class Lounge
Food
Food in the Frankfurt Lufthansa Business Class Lounge A26 is so-so, with very good deserts and pastries, but rather short on a main course.
There is breakfast until 11am, with crossants, rolls, and some amazingly good jam. Plus there are cornflakes, and genuine German gummy bears to sprinkle over them.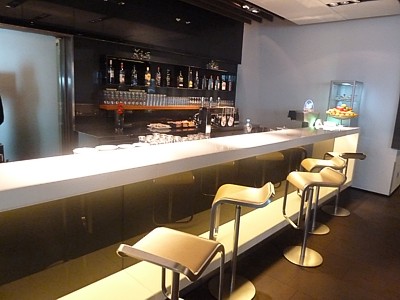 Frankfurt Lufthansa Business Class Lounge
At 11am ish breakfast changes to lunch, with potato salad, lettuce, tomatos, and a herb and lard mix.
All day there is fruit and biscuits, and in the evening some nice cake slices.
Bar
The staffed bar is very good, with Erdinger and Becks on draft. The staffed bar will also mix up cocktails.
In the main dining area, there is a large bucket cooler, with a selection of white wine. It's not particularly good, but at least there is some.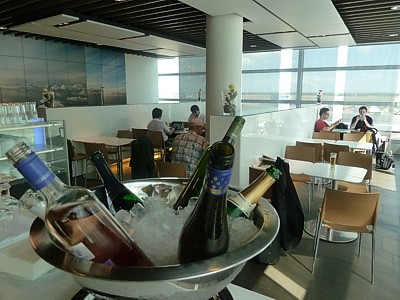 Frankfurt Business Class Lounge
Bathrooms
In Lounge.
The new business lounge near gate A26 offers by far the best showers (as they used to be First Class showers.
Business Facilities
There are no computers, however right at the far end of the lounge is a long "desk" where you can plug in a laptop.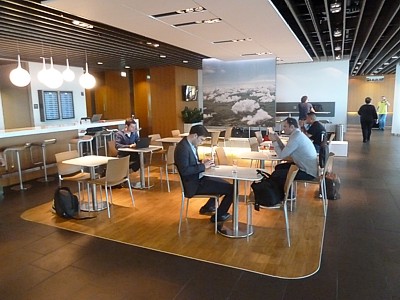 Frankfurt Lufthansa Business Class Lounge
Newspapers are on the rack by the door to the bathrooms, with an ok selection. Naturally there are all the German papers.