NEWS: The CPH Apartment Lounge on the site of the old British Airways Copenhagen Lounge. It is operated by Novia, who also operate the Copenhagen Novia Lounge which is cheaper.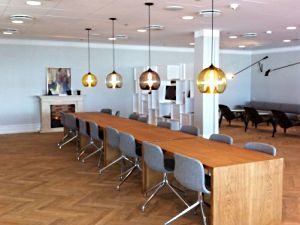 Copenhagen CPH Apartment Lounge
The CPH Apartment Lounge at Copenhagen Airport is the upmarket pay-per-use lounge at Copenhagen Airport, used by some airlines for their First Passengers; it is fairly upmarket, with good Danish design, and above all plenty of space: most passengers head to the smaller but cheaper Novia lounge.
The Novia lounge Copenhagen Airport has a nice appron view, and is rather like the SAS lounge with a stripped pine floor, and large squashy sofas.
Food
The CPH Apartment Lounge has better food than the Novia lounge, with two hot meal offerings at dinner time, and sandwiches during the day.
Bar
There is an OK bar, with cans of Heiniken, two types of wine, and eight bottles of spirits.
Bathrooms
In Lounge.
Business Facilities
There is Free Wifi, and two fast new computers with internet.
There are newspapers, but mainly US rather than English papers.
Access
The CPH Apartment Lounge used to permit access to oneworld and BA passengers in Club or with Status, however they are now shuffled off to the Novia Lounge at Copenhagen Airport.