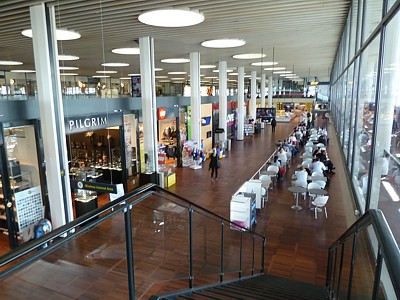 Copenhagen Airport Terminal 2
Copenhagen Airport Guide
Copenhagen Airport is the small international airport serving, not surprisingly, Copenhagen, which is 5 miles to the north. It is the main international for Denmark, and the core hub for SAS Scandinavian Airlines, but never the less is quite small compared to the Behemoth at Frankfurt, Heathrow, and Paris. It is the largest airport in the Nordic countries, and one of the oldest international airports in Europe.
It is located on the island of Amager in the middle of the Øresund Straits between Denmark and Sweden: as you fly in, you will see the Øresund Bridge, which links to Malmö city centre: as a result many passengers are Swedish, rather than Danes. Copenhagen Airport was originally called Kastrup Airport, since it is located in the small town of Kastrup.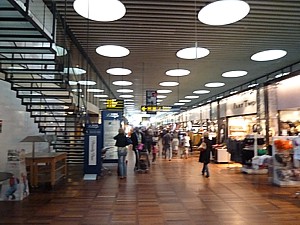 Copenhagen Airport Terminal 2
Copenhagen Airport has four terminals. Terminal 1 is used for all domestic flights. The main International Terminal is Terminal 2 & 3, and the connection between the two is pretty much seamless: they share a common airside passenger concourse as well as the arrivals section – which houses customs and baggage claim.
Copenhagen Airport International Terminals 2 & 3
Terminal 2 and 3 may be the same: however the main international section is split between Schengen and non-Schengen sections. This is a crucial difference. Departures for countries that have signed the agreement are on one side (in effect most countries in Europe bar the UK) and every other destination is on the other side of passport control. There is a great glass barrier up the middle of Terminal 3 with the passport control: almost all the shops, cafes and bars are on the Schengen side, whereas on the non-Schengen side (Pier C at Terminal 3) is virtually bereft of facilities.
Terminal 2 and 3 are also very long: it can take a good 20 minutes to walk from one end to the other, and although the main shopping halls in Terminal 2 and 3 are large light areas, you do have to walk along what seems like an endless long winding corridor to get from one end to the other.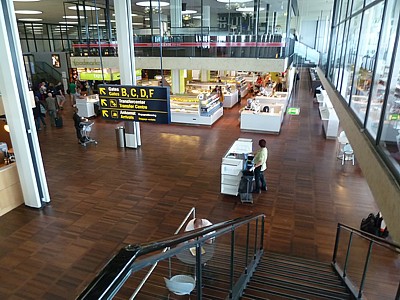 Copenhagen Airport Terminal 2
Thankfully the airport hasn't fallen into the trap of larger airports like Abu Dhabi, Hong Kong or Bangkok, with only a small fastfood area to eat in: there are pleasant cafes dotted about, and not all in the same area either: many of them have superb views over the runway.
Copenhagen airport runs a loyalty card called the CPH Advantage program: it is pretty pointless to join unless you are a native of Denmark, however annoyingly Free WiFi at Copenhagen Airportis only available to members. Otherwise, you have to pay, and pay quite a lot: it costs from DKK 40 (30 minutes) to DKK 80 (4 hours).
Copenhagen Airport Lowcost Terminal 4
The newest terminal, CPH Go or Terminal 4, is dedicated to low-cost carriers. Only Easyjet operates from this terminal.
First & Business Class lounges at Copenhagen Airport
Note that all Business Class lounges at Copenhagen airport are on the Schengen side: you will not have access to them in transit unless you have right of entry to Denmark. Passport inspection times can be lengthy.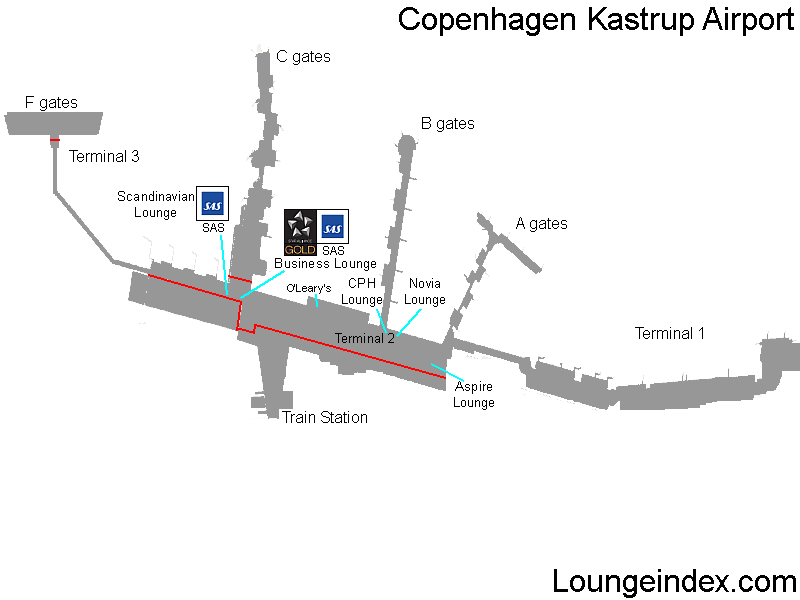 Copenhagen Airport Terminal Map
Copenhagen Airport transportation
Copenhagen Airport to city centre Copenhagen is an easy journey: most first time travellers take the train, with the bus to Copenhagen Airport taking twice as long.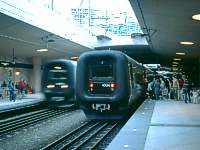 Copenhagen Airport Train service
Copenhagen Airport train
There are direct high-speed trains to Copenhagen Central Station: it is a fast easy journey on the
Øresundstogene
, which are regular commuter trains operated by
DSBFirst
.
Trains leave from Copenhagen Airport to Copenhagen Central Station every 20 minutes, and the journey takes 30 minutes. A one way ticket to travel 3 zones costs DKK36.
From the main international Terminal 3 when you exit the customs area, walk straight ahead, and there is the ticket counter where the staff speak excellent English. Past the ticket coutner are two escalators: take the platform marked Copenhagen: the other goes to Malmoe in Sweden. The trains can also take you to destinations around the city, such as Helsingør, around Denmark such as Esbjerg, Århus, Ålborg and Sønderborg or German Flensburg just by the border, and to Ystad in Sweden. There is even a daily Swedish SJ Express train which heads to Stockholm and Gothenburg.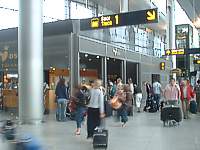 Copenhagen Airport Train service
At the station, there are also small local Metro Trains. These do not go to Central Station. Instead the Metro can take you to the area around Kongens Nytorv and Nyhavn - but the train NOT. It is the M2 Metro line, and it takes 15 minutes to head to Kongens Nytorv in central Copenhagen. Ticket can be bought at automats or at the train counter in Terminal 3. Again, you need a zone 3 ticket, and metros leave every 4 minutes, around the clock.
Copenhagen Airport shuttle bus services
Several buses run by
Movia
(5A, 35 and 36 and Gråhundbus line 999) run from Copenhagen Airport to the city centre. They take nearly an hour to the city, and cost DKK30.
There are long-distance buses to Sweden and Norway operated by Swebus: 820 to Oslo via Gothenburg and 832 to Uppsala via Stockholm. These very long routes are not recommended unless you have plenty of time.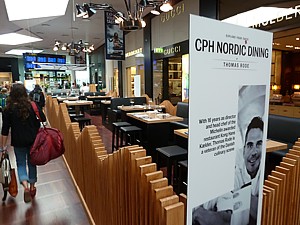 Copenhagen Airport Terminal 2
Copenhagen Airport taxi services
Getting a taxi to and from Copenhagen Airport is usually trouble free, but it can be very expensive.
Taxis are readily available from ranks outside the arrivals areas of Terminals 1, 2 and 3. The ride into Copenhagen takes about 15 minutes, and prices start from 250DKK. In the rush hour between 0700-0900 the train is faster.
From the main International Terminal 3 customs area, follow the taxi signs, turn right and go through a rotating door There is usually a man helping people into cabs: he isn't a tout; he does not expect a tip.
Car Hire at Copenhagen Airport
Major car hire operators are located in the Arrivals Halls. To save time and ensure you get the car you want, book your rental in advance. Rental car operators from Copenhagen Airport include:
Europcar
,
Thrifty
,
Avis
and
Budget
.
Copenhagen Airport Departure Tax
Departure taxes now form part of your ticket price.
Copenhagen Airport Arrivals
A left-luggage service (phone: 3231 2360) is available between Terminals 2 and 3, and there are also self-service lockers at car park P4.
A lost and found facility (phone: 3231 2284) is also located here.
Copenhagen Airport Bars and Restaurants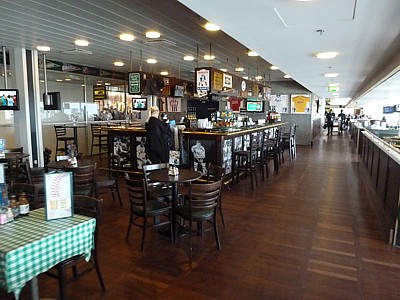 Copenhagen Airport O'Leary's Irish Bar
O'Leary's Irish Bar
Airside, Terminal 3, Floor 1
Yup, even Copenhagen hasn't escaped the Irish bar craze, which is odd considering there is so much good beer and decent bars in Denmark. But there you go - it's what the tourists think they want.
O'Leary's Irish Bar at Copenhagen Airport is done really well: it is one of the cosiest places in Copenhagen Airport, and from the outside almost looks right. Then you set food in the door, and see the sign saying it is 'Inspired by the classic American bar culture'. Really? Oh come on. They aren't even trying.
Food is your basic burgers and ribs. Beer is Fosters. And ruining it for everyone are the vast numbers of TV screen everywhere showing American football and ice hockey matches. I kid you not.
Open: 1000-2200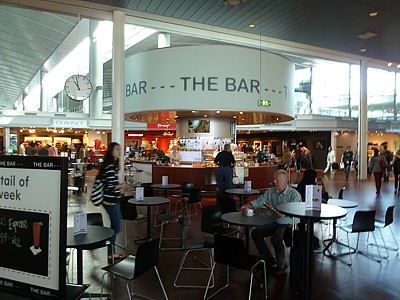 Copenhagen Airport The Bar
The Bar
Airside, Terminal 3, Floor 1
With a bland name of
'The Bar'
you may not be expecting much from this Copenhagen drinking establishment, but it is actually pretty good.
It's easy to spot, with a huge circular bar right in the middle of the terminal. Open from 6am, it does a decent breakfast - with Heineken. Alas seating is poor, on high wobbly stools, but at least there is free wifi.
Open: 0600-2200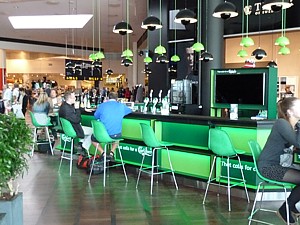 Copenhagen Airport Carlsberg Bar
Carlsberg Bar
Airside, Terminal 3, Floor 1
Naturally, there is a Carlsberg Bar at Copenhagen Airport, just for the tourists. It is part of Cafe København, which actually has a good atmosphere. It is decorated in Scandinavian style with light colours, and a stripped pine floor. There is a great view of the air field.
Beer is cold beer from the Danish brewery, as you would expect. Food is open Danish sandwiches (smørrebrød).
Open: 0530-2130