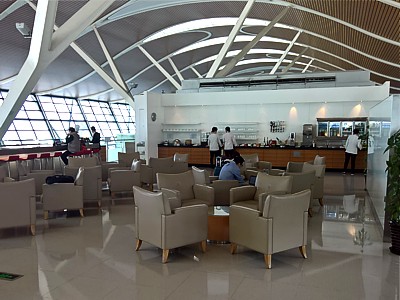 Shanghai Cathay Pacific Lounge
You find the Cathay Pacific Shanghai lounge directly after security if you turn left, and then up in the lift (or escalator) by gate 68 and at the right there is a small reception desk. The lounge is actually known in Shanghai as Lounge 68.
The Cathay Pacific lounge at Shanghai is the classic 'on a balcony within the airport' design, but Cathay Pacific have gone to some effort with the recent revamp to give it a little bit of an edge, and some separate rooms.
After reception there are a couple of rooms on the left, with a seating area, and then an area with a huge magazine rack and a bar, then at the far end the one large room, with a smaller arm leading from it over the balcony. The lounge itself looks nice and it is often pretty empty.
The Cathay Pacific Shanghai lounge does offer great views to see if your plane has started boarding, but it is open to the terminal and that makes it noisy: in particular, you can hear all the boarding announcements.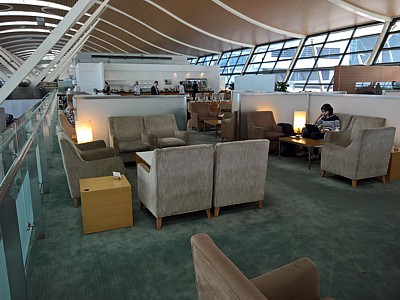 Shanghai Cathay Pacific Lounge
There are lots of comfy armchairs, with small lamps between them. Alas, and this is a common fault with Cathay lounges, the chairs are arranged in groups of 4 or 6, and with only a few single passengers, it was hard to find somewhere to sit that wasn't in with another group of one. It's also hard to find a power socket, with the small lamps occupying most of the outlets. Indeed, it's common to find people unplug them to charge their phones.
There is also a long metal bench on the onside the side of the balcony; it looks like this is the bar, but actually most Cathay Pacific passengers in Shanghai sit here overlooking the view.
Food is on the counter at the far end of the big room. There isn't a noodle bar, but instead a man on a cart with a ladle. It is Shanghai after all.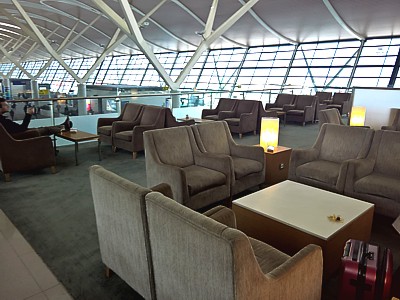 Shanghai Cathay Pacific Lounge
Don't miss the four ipads screwed to the counter nearby with flight and Cathay Pacific information.
In short the Cathay Pacific Shanghai lounge is a classic, but not remarkable, Cathay Pacific lounge. Good enough for the short flight to Hong Kong though, where there are much better lounges.
Food
Food is on the refectory counter, and it's pretty basic stuff. There is a huge pot of rice, and a bamboo container with dumplings, with three different types.
In the fridge are packets of sandwiches, with egg, fish, or beef.
There isn't a noodle bar, unlike most Cathay lounges, but instead there is a cart which is wheeled out, where the man dig a ladle out of his vast soup container over the pre-prepared noodles.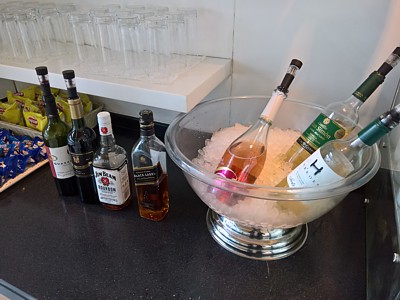 Shanghai Cathay Pacific Lounge
Bar
The bar is also pretty basic in the Cathay Pacific Shanghai lounge.
In the fridge there are can of beer, with just Tsing-tao, while along the top of bar are five optics, with the usual Gin and Vodka, Jack Daniels, and Whisky.
In a bucket on the worktop are two types of white and a sparkling Rose. There are two other Australian reds on the counter top too.
Bathrooms
There are full bathrooms in the lounge, with Japanese style toilets that have buttons.
There are also two showers, but these are in a separate area, not in the main toilet block.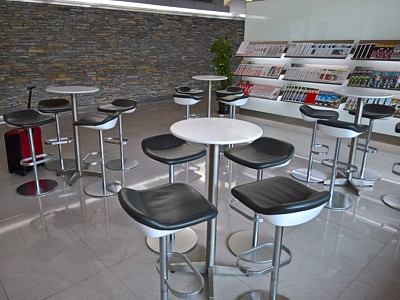 Shanghai Cathay Pacific Lounge
Business Facilities
There is a huge work station area, with no less than 18 computers, which are fast and up to date, but also with some viruses. There is also a printer, but given it is such a big area, it is rare to see anyone actually use the computers.
There is fast wifi, with the lounge having its own connection. Passwords are on the tables.
There is a huge newspaper rack in the Cathay Pacific Shanghai lounge with a vast number of Chinese newspapers, and some foreign ones too. However, the magazines tend to be on the dry side - CEO today, and Asian Financial Markets Monthly are the staple here.
Access
Cathay Pacific are a bit sniffy about who uses their lounges.
Shanghai Cathay Pacific Lounge
According to the sign at the door, only Cathay passengers, their Cathay Dragon offshoot, plus Finnair and American Airlines use the Shanghai Cathay Lounge, however as it is a full oneworld lounge, you can also access the lounge if you are flying British Airways or Qantas, so long as you are a oneworld elite with lounge access.
There is no paid access - instead, use the lounge next door.