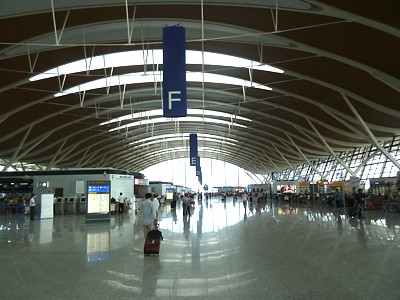 Shanghai Pudong Airport Terminal 2
Shanghai Pudong International Airport is the main international airport serving Shanghai, China. It is 30 kilometres (19 miles) east of the city centre, and occupies a vast site adjacent to the coastline in eastern Pudong - hence the airport's name, and airport code, PVG.
The airport is the main hub for China Eastern Airlines and Shanghai Airlines, plus a smaller hub for Air China.
Beware that Shanghai has two main airports, with Pudong the main international gateway and Hongqiao serving mostly domestic flights, so be sure to check which one your flight is leaving from.
Shanghai Airport Guide
There are two gigantic terminals at Shanghai Pudong Airport, both with international and domestic gates, flanked on both sides by three parallel runways, but to walk between the terminals you need to go outside. A free shuttle bus service connects the two in case walking a few minutes, or using the travelator, is too tiring.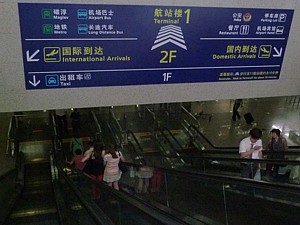 Shanghai Transit from terminal 1 to 2
Arrivals are on the ground floor, while all departures on the second floor.
Shanghai Airport Terminal 1
This is the original airport terminal, and it opened way back in 1999.
Terminal 1 is long and thin, with 28 gates, 13 of which have two airbridges. The exterior of the terminal is shaped like waves.
The major problem with Terminal 1 at Shangai Airport is that it appears to have been designed by someone who knew they wanted a monumental airport... but couldn't work out what to put in it. There is a real lack of facilities airside, with few shops, and those that are there are very expensive. It also has a rather confusing layout, with problems if you want to move through the terminal.
Airlines using Terminal 1 include Air France, China Airlines, China Eastern, China Express, Japan Airlines, Korean Airlines, and KLM.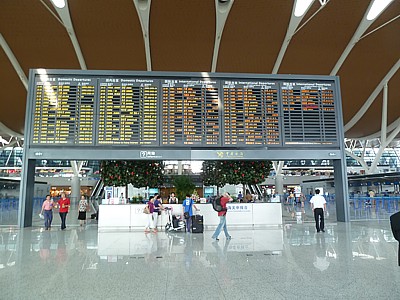 Shanghai Pudong Airport Terminal 2
Shanghai Airport Terminal 2
Terminal 2 is the brand spanking new terminal built in just three years for the Beijing 2008 Summer Olympics.
It has a similar long curved structure to T1, but it has more of a seagull shape, and it is slightly larger than Terminal 1.
Terminal 2 is the primarily Star Alliance terminal, and as such is a main hub for Air China. It is also used by Air Canada, Air China, Air India, ANA All Nippon Airways, American Airlines, Asiana Airlines, British Airways, Cathay Pacific, China Southern Airlines, Delta Airlines, Dragonair, Emirates Airlines, Eva Air, Finnair, Garuda Indonesia, Hong Kong Express, Lufthansa, Air New Zealand, Qantas, Qatar Airways, Scandinavian Airlines, Singapore Airlines, Swiss International, Thai Airlines, Turkish Airlines, United Continental Airlines and Virgin Atlantic.

First & Business Class lounges at Shanghai Airport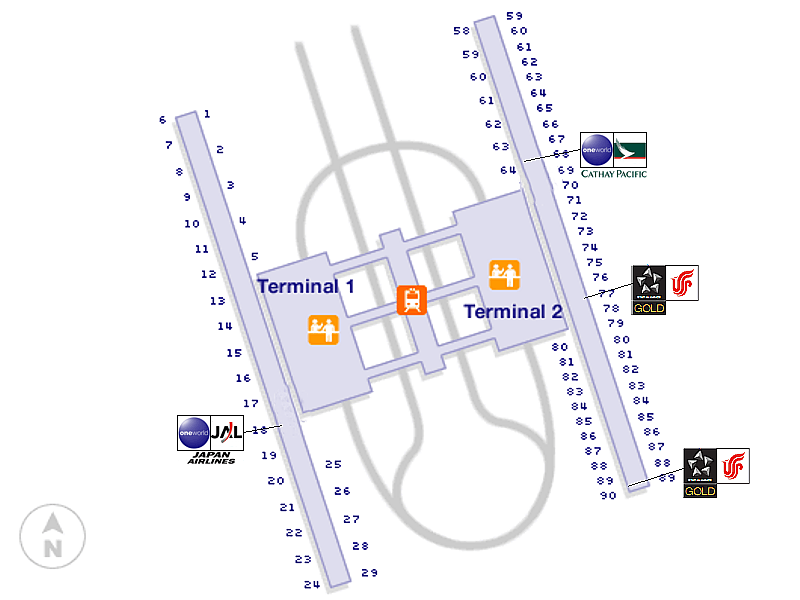 Shanghai Airport Terminal Map
Shanghai Airport transportation
Shanghai Airport train
There are two trains at Shanghai Airport - the domestic Metro, and the Maglev. As a tourist the one you absolutely must try is the Maglev.
Shanghai Airport Maglev
It is rare to find an airport, where the airport train is a tourist attraction in it's own right. However Shanghai has the Maglev - the world's first and so far only commercially operated high-speed magnetic levitation line in the world. It is by far the world's fastest train in regular commercial service.
The 20 mile trip to the city takes just 8 minutes, at speeds of 430km/h (311mph). Nowhere else in the world can you go so fast on land. and a speed indicator in the coaches (up in the roof) show just how fast you are going.
The MagLev Train departs every 15 minutes. Cost is ¥50 oneway, ¥40 if you have an airline ticket or ¥80 for a round-trip ticket (good for up to seven days from date of purchase). It operates from 6:45AM to 9:30PM daily.
The Maglev station is between Terminals 1 and 2 along the second floor walkway that connects them. The Maglev has only one stop, Longyang Road Metro Station on line two, which is still a long way from People's Square.
Be aware that on the way to the Maglev station, taxi touts stop all westerners and tell you the Maglev is "broken" or "shut down because of weather". Ignore them. The trains run all day, every day.
Shanghai Airport Metro
Pudong Airport is on Metro Line 2. It operates 0630-2100, and if you are coming from the People's Square, a train change is required at Guanglan Rd. Tickets cost a mere ¥8.
Shanghai Airport bus services
The Airport Bus operates services between the airport and the city. Fares start at ¥20 one way.
Services take up to 90 min and run 24 hours. During the rush hour, the Metro is quicker.
Shanghai Airport taxi services
Metered taxis are available from the official stand outside the Arrivals Hall. Fare is approximately ¥150 to downtown Pudong. It is advisable that you have your destination written in Chinese or indicated on a map.
You may be approached by a driver on your way to the queue. These drivers tend to be untrustworthy and will either take you to your destination via a longer route, or they have "adjusted" their meters. You can try agreeing on a price beforehand but it's better just to use the formal queue just outside the airport.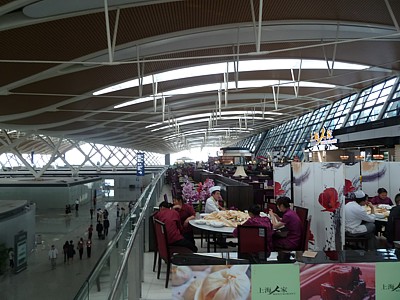 Shanghai Terminal 2 Restaurant balcony
Shanghai Airport Bars and Restaurants
There are only a few airport restuarants at Shanghai Airport: indeed the airport is notorious as a place where prices are high, and quality is poor.
Airside, the choice of eateries is particularly bad - unless you have access to an airline lounge, you are probably best going to the ones landside: also the ones airside are more expensive.
In terminal 2, there is a small hidden balcony above check in. Here there are most of the restaurants, and there is a better view here too.
Shanghai Airport Departure Tax
Depature taxes now form part of your ticket price.
Shanghai Airport Arrivals
Chinese Renminbi is not a free-exchange currency. Restrictions apply when exchanging from Renminbi to foreign currency. Passengers are required to keep their receipts so as to exchange Renminbi back to their original currency.
Shanghai Airport Transit without Visa
A new Airside transit at Shanghai Airport without Visa process is being introduced. At the moment it is only available for passengers transfering to/from Air New Zealand flights onto Swiss, SAS and Lufthansa, with a UK/EU/NZ passport.
Transit at Shanghai Airport without a Visa used to be a nightmare. It has now got somewhat easier, but it still isn't as smooth as at many European Airports.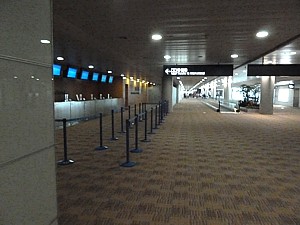 Shanghai Airside Transit Desk
Shanghai Airport Airside Transit
You can now
transit airside at Shanghai Airport
, without having to enter China and then leave it. However, at the moment it is only available for passengers transfering to/from Air New Zealand flights onto Swiss, SAS and Lufthansa. You also must have a UK or Schengen Area passport, or a New Zealand / Australian passport. If you fail on any of these, you must enter China.
To find the airside transit desk, proceed along the very long arrival gateway, and then just before you enter passport control there is a small sign, directing you to the right. Here there is a massive transit desk, which is generally unstaffed unless you are there when the Air New Zealand flights arrive / depart. You collect a new boarding card, and go through the sliding doors to the right, which leads directly to the departure lounge.
Shanghai Airport Landside Transit
The golden rules is that certain passport holders do not need a visa to transit or enter China, if your onward flight is within 24 hours (48 hours for a few passport holders), and it forms part of an
onward
journey: you can't have a return TO Shanghai, and only stay for 24 hours. You must be flying directly in and out of different countries. Also, anything, even 5 minutes over 24/48 hours, needs a visa without exception.
The major issue is that the airport was designed along American lines, where there was no air-side transit: hence, every passenger has to go through Chinese Passport and Customs control with their luggage. This is changing, however at non-peak times, you still will have to go landside, and check in again. It's a confusing, unfriendly and demanding process that can take upwards of 3 hours. For some reason all westerners will always have their hand luggage thoughly searched.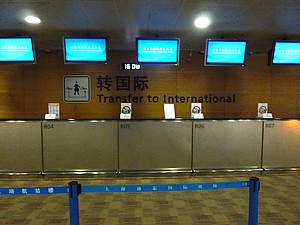 Shanghai Airside Transit Desk
Also beware that although places like Peking allow international transit passenger to through-check your luggage (if tagged through to final destination) this is not the case at Shanghai. You will need to pick it up, and check it in again.
The exact wording of the visa regulations is changing, however in general transit visas are not required if you hold an air tickets to a final destination on international airlines flying directly through China, and will stay for less than 24 hours without leaving the airport. This is extended to 48 hours for anyone with a passport from the Republic of Korea, United States, Canada, Australia, New Zealand, Germany, France, Netherlands, Belgium, Luxemburg, Portugal, Spain, Italy, Austria, Greece, Sweden, Denmark, Norway, Finland, Iceland. Note that UK Passport Holders are not permitted to use the 48 hour rule.
It may also help to print out the TIMATIC rules for Shanghai, and present them with your airline ticket if you have problems: ...... NORMAL PASSPORTS ONLY ...... TWOV (TRANSIT WITHOUT VISA): VISA REQUIRED, EXCEPT FOR HOLDERS OF CONFIRMED ONWARD TICKETS FOR A MAX. TRANSIT >TIRULES/R32 TIME OF 24 HOURS. TRANSIT INCL. TWO STOPS WITHIN CHINA (PEOPLE'S REP.) IS PERMITTED. VISA REQUIRED, EXCEPT FOR NATIONALS OF UK HOLDING CONFIRMED ONWARD TICKETS FOR A MAX. TRANSIT >TIRULES/R32 TIME OF 48 HOURS, PROVIDED ARRIVING AT AND DEPARTING FROM SHANGHAI HONGQIAO (SHA) OR PU DONG (PVG) AIRPORTS. - ALL TRANSITING PASSENGERS ARE SUBJECT TO PASSPORT CONTROL. PASSENGERS IN TRANSIT ARE REQUIRED TO HOLD PASSPORTS OR PASSPORT REPLACING DOCUMENTS THAT ARE ACCEPTED FOR ENTRY INTO CHINA (PEOPLE'S REP.). FOR MORE DETAILS ON DOCUMENT REQUIREMENTS, PLEASE ENTER CHINA (PEOPLE'S REP.) AS A DESTINATION. - LEAVING THE AIRPORT TRANSIT AREA IS ALLOWED.
Shanghai Airport Development
A third passenger terminal is planned for Shanghai Airport in 2015, in addition to a satellite terminal and two additional runways, raising its annual capacity from 60 million passengers to 80 million.