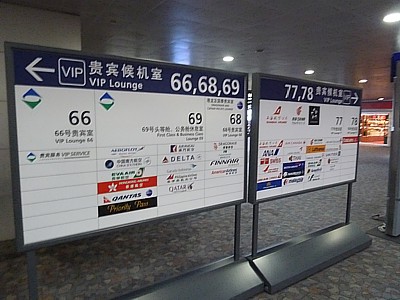 Shanghai The Airport Authority Lounge
When you hear the words "Lounge 69", you may get excited. Then you find out that actually, this means the generic Airport Authority lounge, and you will be anything but.
In truth, it is better than some other generic lounges, but it still isn't any great shakes. It is a classic 'Generic lounge on a balcony' style, of which there are two at Shanghai Airport. This means you get to hear all the noise of the airport below you, but it is still better than you might expect.
The lounge is open to the high soaring roof – which is good. Not so good are the high wooden partitions, and the rather stale atmosphere. At least the brown corduroy armchairs are pretty comfortable.
Neat little standard lamps set out the lounge well too.
Food
Food in the lounge is pretty basic. There are a few snacks, bit not what you'd call decent food. There are pot noodles, but that's about it for anything that is hot.
Bar
The bar in the Shanghai VIP Lounge 69 is pretty poor too. There is beer – so long as you like Tsing-Tao beer. There is also wine: but only Chinese Imperial Court wine. It's pretty bar.
Really bad news is that alcoholic drinks are only available between: 11am and 1pm, and then from 5pm onwards. Not really up to scratch for an international lounge.
Bathrooms
There are decent bathrooms in the lounge, and a couple of showers. Towels are in a pile next to the shower.
Business Facilities
There is a small business centre with a few rather old computers: alas, there is little virus protection, and you should take a lot of care logging onto any sensitive sites.
There is free wifi in the lounge, but it is pretty slow.
Access
If you are a oneworld Elite, you can also enter the Cathay Pacific lounge next door. It is a much better lounge for food.