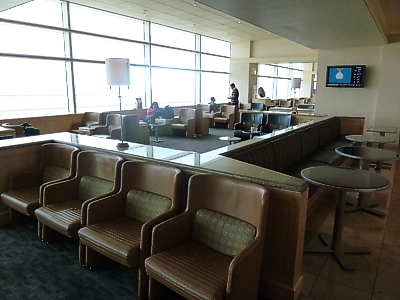 United Airlines United Club
The good news is that at Buenos Aires there is a United Club. The bad news is that the Buenos Aires United Airlines United Club really isn't that good.
It is functional but not at all impressive or flashy, with no outside view, and only small windows on one side. The only designer bit is that near reception there is a bench: designer, if not specially comfy. It seats around 80 people with rather functional upright chairs, and less good droopy leather armchairs, but the seating is always a bit cramped.
Food
There are the standard options from a United Continental Airlines lounge, with a few extra Argentinan twists. It actually looks quite impressive, all laid out on a sideboard, with lots of bread, cheese, and hot soup, plus carrots & ranch tray or chex-party-mix.
United Airlines
Bar
Next to the food servery there is a small triangle with nearly a dozen bottles of spirits, all free pour. This is one of the main advantages of this lounge. There is also champagne, and some OK red and white wines.
Bathrooms
There are bathrooms with toilets in the lounge.
Business Facilities
Magazines and newspapers in English (limited), Spanish and German (Lufthansa is using this lounge for its passengers to GRU/FRA)
There is a TV on the local TV stations, and a Business room with computers and the internet. There is free wifi.