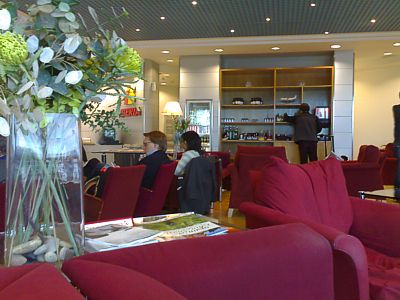 Buenos Aires VIP De Las Americas
The Iberia lounge at Buenos Aires is a really tiny small space, but it has a much better atmosphere than the American Airlines lounge, and better still, most people don't know it is there, so during the day it can be very quiet. It does however get manic before the Madrid flight, particularly if all 52 business seats on the A340 are full. The number of passengers with status in economy out of EZE is also large, which doesn't help the lounge ambiance late at night.
The lounge is basically a 200 meter square box. It used to be a contract lounge and was regularly used by Continental, however all CO flights now use the Red Carpet Club, and the VIP De Las Americas Lounge at Buenos Aires is really just for Iberia: as such it is a regular oneWorld lounge now.
Food
The Sandwiches in the Iberia lounge are good. They are on a tray under clingfilm.
There are also plenty more nibbles compared to the Admirals Club.
Bar
The only plus of the lounge bar here are the self-serve mini bottles of wine, just like you'd get on the plane.
No champagne, only cava.
Beware that you can't take the wine out of the lounge: there is a separate security check for liquids as you head to the plane.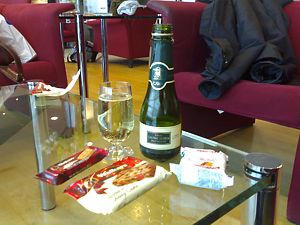 Buenos Aires The poor quality cava in the Iberia Sala VIP De Las Americas
Bathrooms
Outside the lounge
Business Facilities
There are Newspapers under the small shelf where the bar is.
There are computers, and Wi-fi Internet.