Auckland Airport Guide
Auckland International Airport
Auckland Airport is the foremost airport in New Zealand; and as you would expect for such a remote country, something that many residents know well and indeed the country is dependent on. This doesnít explain itís rather careworn, down at heel look.
Auckland International Airport Ė which is known locally as Mangere Airport after itís location Ė is located in Mangere, a suburb of Auckland 21 kilometres (13 miles) south of the city centre.
It sees 14 million passengers a year, with 6 million of those on domestic flights: many heading south to the capital in Wellington, or to the South Island which is a good days drive away. Internationally, the airport is the second busiest in Oceania, so dependent on international travel is New Zealand. It also handles a fair amount of the Australia to US traffic, which transfers at the airport.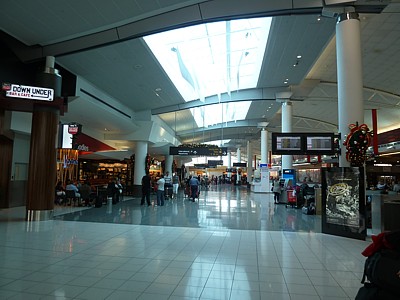 Auckland International Airport
The airport is one of the busiest in the world with just a single runway: Gatwick in the UK wins that crown. In November 2007 work began on a new northern runway, however the deep recession in New Zealand saw the project put on hold in October 2009, and it has now been deferred indefinitely.
Auckland Airport International Terminal
The Auckland International Terminal was built in 1977, and it has not been substantially changed since, apart from a small rebuilt in 2005 which separated arriving and departing passengers, and added several new gates for the new A380 services.
The new pier is mainly used by Emirates, who have started flying its A380s to Dubai via Sydney and via Melbourne. Gates 15 and 16 in the new pier extension are served by twin airbridges. It may seem odd seeing these giant planes at such a small airport, but remember that Auckland is a very long way from anywhere.
The international terminal is named after Jean Batten, the best-known New Zealand aviator, whi in the 1930 took numerous record-breaking solo flights across the world. She later left New Zealand for Spain, where in 1982 she was bitten by a dog on Majorca and died.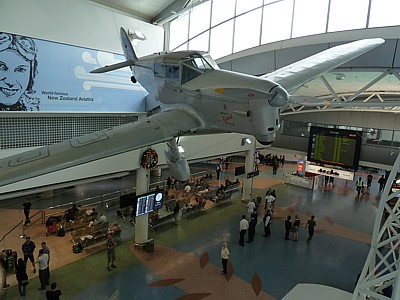 Auckland International Airport
If you have to hang around the airport, there are two main food courts: the one before security is cheaper. You find it by taking the stairs to the right of checkin, or close to where the plane is overhead.
After security, it is generally a good idea to hang around the top airside area, until your plane is actually boarding: the gate lounges are dismal, and the waiting area upstairs is much more pleasant, with a nice view over the ranges and Manukau harbour.
Auckland Airport Domestic Terminal
The old domestic terminal was opened in January 1966. There were previously two separate domestic terminal buildings, but these have now been connected by a common retail area.
The Auckland Airport Domestic to International connection and shuttle is by a free shuttle bus connects the international and domestic terminals to each other. They are also linked by a walkway, and many passengers prefer this: it is a brisk 10 minute walk, which is a good wake-up after the 28 hour flight from London. The walkway is indicated by signposts and a blue line to follow. The path is level, and you are permitted to take luggage trolleys between the terminals.

First & Business Class lounges at Auckland Airport
Auckland Airport Terminal Map
Auckland Airport transportation
Auckland Airport's main access is by road - youy'll either be in a bus or taxi. Alas there is no direct motorway access to the airport, and to get to the airport you must use the normal street roads.
Travellers should know that many bus, limousine and shuttle bus services operating to and from Auckland Airport usually require pre-booking.
Auckland Airport train
There are no trains to Auckland airport; nor are there likely to be any.
If you want to go south from the airport, take the bus to the Britomart Transport Centre at the north end of Queen St in central Auckland, and then take the Overlander train runs to central Wellington. The 400 miles journey takes over 12 hours.
Auckland Airport shuttle bus services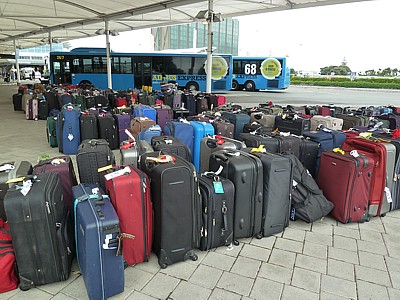 Auckland Airport Airbus
The best way of getting to the airport from Auckland City Centre is to use the standard domestic bus service.
The Airbus Express is a standard bus, which picks up at many bus stops in the city, starting from the Downtown Ferry Terminal is opposite the Britomart Transport Centre, which allows bus and train connections to the wider Auckland area. Buses operate every 15mins and take approximately 50 minutes. The bus alternates between two routes into the City, one via Mt Eden Road and one via Dominin Road - check carefully if you want to get off at a hotel en-route. Buses operates 24 hours a day and can be surprisingly busy at 4-5am. A one-way fare for adults is $16 or $26 return, children's fare are $6 one-way or $12 return. Tickets can be purchased onboard from the driver, online, or from the Airport kiosk. A $1 discount card is available from the Airbus website.
Auckland Bus Route 375. This is the standard domestic bus which connects the airport with Botany Town Centre via Middlemore & Otara. Tickets are $3.40.
Auckland Bus Route 380 Airporter. This runs between the Airport and Manukau City via Papatoetoe Train Station. At Papatoetoe Train Station, you can connect to rail services to the Britomart Transport Centre.
Auckland Airport taxi services
Getting a taxi to and from Auckland Airport is usually trouble free.
Taxi fares may be NZ$65-85 from the airport to a city location, which is quite expensive.
Car Hire at Auckland Airport
Major car hire operators are located in the Arrivals Halls. To save time and ensure you get the car you want, book your rental in advance. Rental car operators from Auckland Airport include:
Europcar
,
Thrifty
,
Avis
and
Budget
.
Auckland Airport Departure Tax
Departure taxes now form part of your ticket price: previously you had to pay to leave the country.
Auckland Airport Arrivals
Auckland Airport left luggage lockers are available in the international terminal for around NZ$15 per day.
Auckland Airport Bars and Restaurants
Having a beer at Auckland Airport is trickier than you may think. There are really only two bars landside, and two airside, and they are noisy and overcrowded.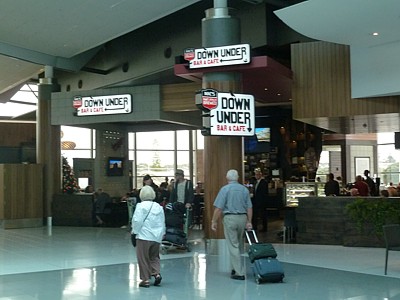 Auckland Downunder Bar
Auckland Airport Macs Downunder Bar
Landside, before security, up above reception
Mac's Down Under is verging towards restaurant and someone coming in for just a beer isn't exactly welcome: never the less you can get a beer here if you are determined.
It is a noisy bussling place: the live sports on big screens doesn't help matter: people tend to ignore the screens, so it is odd they are on all the day, showing sport that noone watches.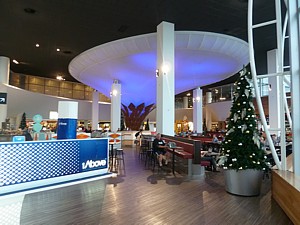 Auckland 1Above Bar
Auckland Airport 1Above Bar
Airside
Ah, now this is more like it. The 1 Above bar is located after security, and indeed is a useful place to perch for a beer while waiting for a flight, as it is right under the main departure screeens.
It is expensive: you can't avoid that. However it makes up for that with atmosphere, being a trendy funky place to hang out, with all stripped pine and arty chairs.