Sydney Airport Guide
For many tourists to Australia, Sydney
IS
Australia - and Sydney will be their first port of call. This isn't such a bad idea - Sydney Airport is situated approximately 9 kilometres (6 miles) south of the city, and transport is good.
Sydney Airport was upgraded for the 2000 Sydney Olympics with a view to improving services and accessibility, however, security and border control restrictions have also increased, with the potential for long delays. Ensure that you have left plenty of time to meet your flight, particularly if you are making a transfer between the international and domestic terminals. Sydney Airport has three passenger terminals:
The Domestic and International terminals at Sydney Airport are located in separate buildings. No planes arrive or depart between 11pm and 5:30am, due to noise restrictions, and the airport terminals are firmly closed.
Transfer between domestic terminals T2 and T3 is on foot: it is a short walk across the car park.
Transfer between International T1 and T2/T3 is by road, as the terminals are on opposite sides of the runway, and 4km apart. Airside a shuttle is available if you are connecting through with a through ticket. Landside there is the T-bus ($5.50) which takes about 10 minutes, and runs every 20 minute. A better option is the train, which takes 2 minute journey between Domestic and International stations, and runs every 10 minutes ($5.50).
Sydney Airport International Terminal
NEWS: Sydney International has changed: there are no long two separate halved to the terminal. Instead, there is just one entrance through security, and if you need to get to the 'non-Qantas' side, you have a long walk up internal corridors, and a second Duty Free to get to it
Sydney Airport International Terminal 1 handles all international flights and a few domestic flights. It has a pleasant atmosphere inside: On pier C there is a pleasant walkway over an inside forest.
A major problem with the Sydney International Terminal is that there are only two bars airside, and both of these shut early in the evening. If you are after a beer at the airport, it is much better to get a beer landside, in the open air beer garden and bistro by check-in Bay A on the departure level.
There is also a better and cheaper choice of food before going through security.
If you are on one of the few very rare domestic flights from Sydney Terminal 1, that connect to international destinations, you will need photo ID, and you will need to check in at a desk. Your boarding card is then stamped 'D', and you can enter the international side, without exiting Australia.
Sydney Airport Domestic Terminal 2
A few Qantas flight use Terminal 2, including Qantaslink (Qantas flights numbered 1600 and above), Aeropelican, Regional Express (Rex), Jetstar, Tiger and Virgin Australia.
Sydney Airport Domestic Terminal 3
Sydney Airport Domestic Terminal 3 handles Qantas domestic flights numbered from 400 to 1599, which are mostly the direct services to Brisbane, Melbourne, and Perth.
First & Business Class lounges at Sydney Airport
Note that there are no arrivals lounges at Sydney airport, and no international lounges can be accessed on arrival unless you have an ongoing domestic flight.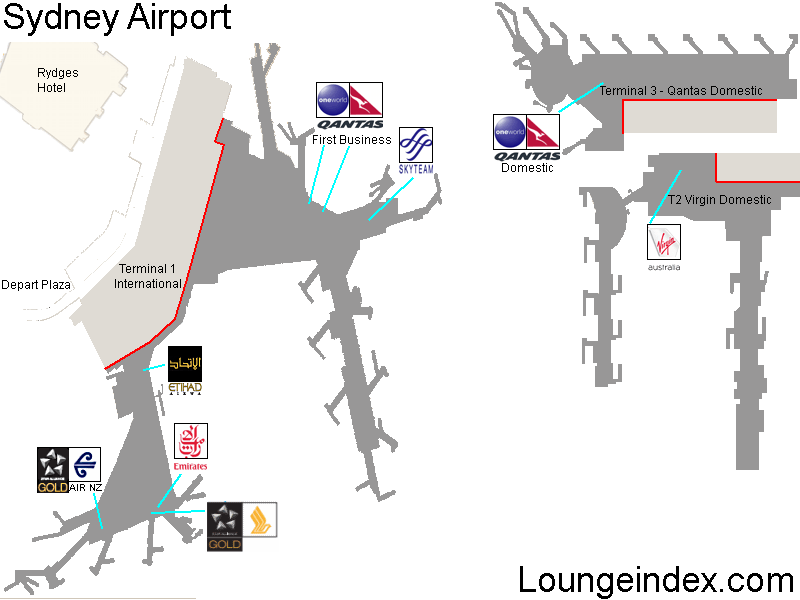 Sydney Airport Terminal Map
Sydney Airport transportation
Transport between Sydney airport and the city centre can be expensive, thanks to heavy restrictions on what services companies can offer. In particular, it is very hard to get a bus.
Travellers should know that many bus, limousine and shuttle bus services operating to and from Sydney Airport usually require pre-booking.
Sydney Airport train
There is a fast, efficient and modern suburban train service between Sydney Airport and the city. It is however very expensive.
CityRail trains leave every 10 minutes from the Domestic and International rail stations, which are connected to the airline terminals via lifts and pedestrian subways.
A single ticket to the city is $15.40 (day-return ticket $25.80), which includes an airport station surcharge (GatePass) of $12 ($19 for a day-return GatePass).
The airport is located on the Airport & East Hills line, and takes about 15 minutes to reach Central Station in the city, from where you can take another train to Circular Quay.
Sydney Airport suburban bus services
There is just one, single, suburban bus service to the airport, which is pretty useless unless you want to get to UNSW or Bondi.
The route is the 400 local bus. The bus costs $3.30. At the airport, the bus stops are located outside T1 and T3 (but not T2).
Sydney Airport taxi services
Getting a taxi to and from Sydney Airport is usually trouble free, but expensive.
A taxi from the airport to the city centre costs about $40. You have to pay a $3.80 airport taxi levy and a $6 Eastern Distributor toll on top of the metered fare. On a Friday evening there are long queues for taxis, of over an hour.
Car Hire at Sydney Airport
Major car hire operators are located in the Arrivals Halls. To save time and ensure you get the car you want, book your rental in advance. Rental car operators from Sydney Airport include:
Europcar
,
Thrifty
,
Avis
and
Budget
.
Sydney Airport Departure Tax
Departure taxes now form part of your ticket price.
Sydney Airport Bars and Restaurants
Ifg you want to eat or drink - Sydney is the place for you. That is, unless you are on a late evening flight, when many outlets close.
Sydney International Bars & Restaurants
Woe betide you if you are on a late night flight out of Sydney International. Most of the restaurants and bars close by about 8.30pm: if you are on the 10pm Cathay flight for example, you won't find anywhere to eat or drink before the flight. Also beware that drinking oppotunities are poor airside: if you want a beer, have it
before
you go through passport control.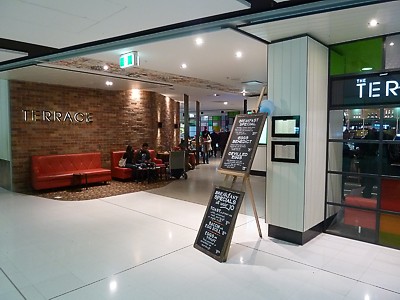 Terrace Bar Sydney Airport
Terrace Bar
Landside, Terminal 1, Sydney Airport
The Terrace Bar at Sydney Airport is one of the best places to drink at the airport. It is before security, and perhaps because of that it has a nice vibe, with a contemporary style offering. The beer selection is remarkable, with 12 on draft and a further 15 in bottles.
It also has a large outdoor area - near the observation deck. If you have time and want to wander, you can take a beer up in the lift, and watch the planes take off and land.
Food is pretty good here too, with a general Asian influenced style, plus some (rather expensive) pizzas.
Studio Mode
| | |
| --- | --- |
| Studio Mode Bar at SYD T1 | |
Pier B, Terminal 1 International.
As the name suggests, this is a modern and achingly trendy drinking and dining experience, right in the centre of the concourse. Main products are martinis, G&T, & champagne. Downside is the downright rude service.
Food is pretty good, with ham and eggs benedict a delight. The club sandwiches are pretty good too, and make a decent breakfast.
Open 0600-2200
Slipstream Café Bar
| | |
| --- | --- |
| Slipstream Café at SYD T1 | |
Pier B, Terminal 1 International.
Not one of my favourites, but it has an amazing view over the runway with the city beyond.
Melt-in-the-mouth cakes, Turkish pockets and a salad bar which is ok. A choice of bistro style hot meals, plus a good selection of Aussie beers.
Decent food with New York style pizza, and a full cooked breakfast.
Open 0600-2200
Santos coffee Bar
Pier B, Terminal 1 International.
A pretty standard airport coffee bar with gourmet sandwiches, focaccias and baguettes.
Open 0600-2200
Sydney Domestic Terminal 2 Bars & Restaurants
Café Bar
| | |
| --- | --- |
| Café at SYD T2 | |
Pier B, Terminal 3 Domestic.
Not one of my favourites, but it has an amazing view over the runway with the city beyond.
Open 0600-2200
Sydney Domestic Terminal 3 Bars & Restaurants
Café Bar
| | |
| --- | --- |
| Café at SYD T3 | |
Terminal 3 Domestic.
An OK bar, with again an ok view over the runway.
Open 0600-2200
Velocity Café Bar
| | |
| --- | --- |
| Velocity Café at SYD T3 | |
Terminal 3 Domestic.
Velocity's sleek design and stainless steel furnishing is the trademark of ARE's flagship brand. There's an Oyster bar, plus loads of different coffees, and a tolerable bar service.
Open 0600-2200