Perth Airport Guide
Perth Domestic Airport
NEWS: Refurbishments to both the international and domestic terminals were completed, including improvements to the baggage claim and waiting areas. The upgrades to the Qantasclub have been completed, and it is now ready for an expansion with a Qantas Business Lounge.
Perth Airport is the major gateway to Western Australia, and as such it is the fourth busiest airport in Australia, with 13 million travellers a year. This is expected to hit 20 million within a decade.
However, it is quite some way from the city of Perth, 17 km (11 miles) from the central business district. Perth, in Australia is one of the world's most remote cities, and that is really noticable when you fly in, with no nearby airports to divert to.
Previously known as Guildford Aerodrome, and still refered to as such by some locals, it's busiest destinations are Singapore, Denspar, Kuala Lumpur, Dubai, Hong Kong, and Doha.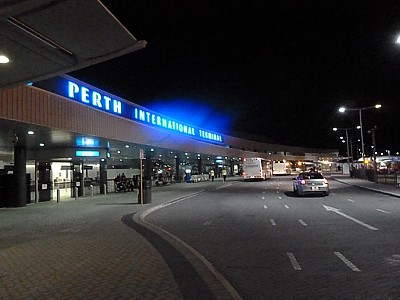 Perth International Airport
All terminals have a free wi-fi connection currently powered by iiNet.
The international terminal and the two domestic terminals are located 12km (7 miles) apart. Transfer between the international and domestic terminals is by free shuttle bus or by taxi, but it can take some time, with a 40 minute delay in some cases.
The Qantas domestic and the Virgin Australia terminals - T3 and T4 - can in effect be considered one building, landside. Airside, you can walk between them, and indeed you have to thanks to the lack to places to eat in Terminal 4.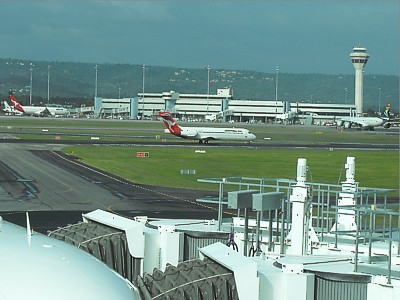 Perth International Airport
Perth Airport International Terminal - T1
Newly built in 1982, Perth International Terminal is built in the most inconvenient location possible. You can see it from most of Perth, but you just can't get to it as it is on the opposite side of the runway, and indeed opposite the domestic terminal, from where it is a very long journey by road.
Impressive from the outside, the airside facilities at Terminal 1 are a bit of a shocker, with just a small curved concourse, a small duty free shop, a couple of snack bars at the far end and a tiny bar.
There is a self-help information centre on the ground floor of the international terminal. Volunteer customer service officers are also available daily to provide information and answer enquiries. They are recognisable by their distinctive gold jackets.
There is a great Observation Deck on the top of the T1 International Terminal. The view of the departing and arriving aircraft is well worth while, although it has a slightly decrepit air.
Virgin Australia's long-delayed new terminal will use a new domestic pier located at T1.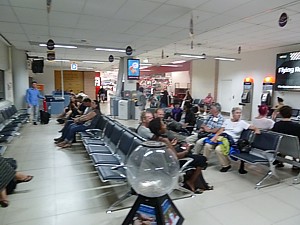 Perth International Airport
Perth Airport Virgin Domestic Terminal - T2
Right next to the internationlal terminal 1, Terminal 2 is brand new, and will be used by Virgin Australia.
Perth Airport Virgin Domestic Terminal - T3
Currently used by Virgin, this terminal is to be handed over to Qantas.
It has five jetways and a total of nine gates. There is one bar airside, and one landside.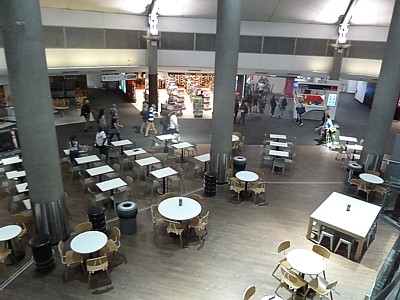 Perth Airport Domestic T4
Perth Airport Qantas Domestic Terminal - T4
The oldest part of the airport, and the old combined domestic and international passenger terminal from 1962, is now used by Qantas.
There are very few places to eat airside in terminal 4 - instead, walk airside to Terminal 3: the corridor is on the right, up past the toilets.

First & Business Class lounges at Perth Airport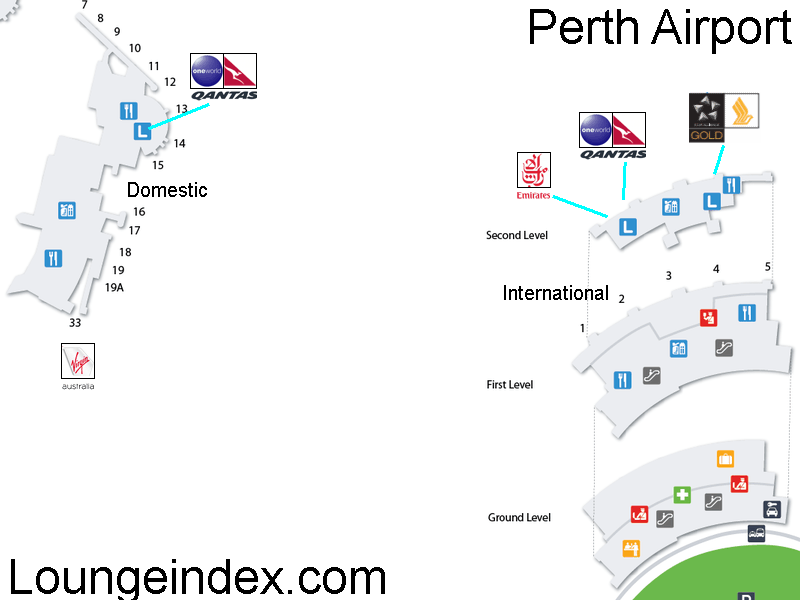 Perth Airport Terminal Map
Perth Airport transportation
Travellers should know that there is no rail service from Perth to the airport. Instead, you are stuck using a bus or taxi, however being Perth public transport from the Domestic Terminals is either slow or expensive, an from the International Terminal a right pain.
Perth Airport train
The airport is not currently serviced by rail, however the construction of the Forrestfield-Airport Link will connect the airport to the Midland Line within the next five years.
Perth Airport terminal transfer bus
There is a free bus between the domestic T3/T4 terminals and the international Terminal 1, which is a long way away, the other side of the airport and the runway. It takes about 15 to 20 minutes to go between the terminals. From 0600 to 2350 the bus leaves on the hour, at 20 minutes past the hour and at 40 minutes past the hour. Overnight it departs at 15 minutes past the hour and at 45 minutes past the hour. In the early evening, when many flights leave, it can get seriously packed.
Perth Airport shuttle bus services
The
Perth Airport Connect Shuttle
operates every 45 minutes (30 at peak times) and takes only 45 minutes to get to the CBD. It costs A$15 (from domestic terminals) or A$18 (from the international terminal).
Bus 37 and Bus 40 operated by Transperth runs between operates between the domestic terminals and the city centre, via the Esplanade Bus Port, Victoria Park Transfer Station and Belmont Forum shopping centre. The journey takes a good hour to the CBD, but it is cheaper than the Connect shuttle at about AU$4.20. At night, services 40 and 37 alternate, so take whichever one comes first.
The Fremantle Airport Shuttle service runs to Fremantle.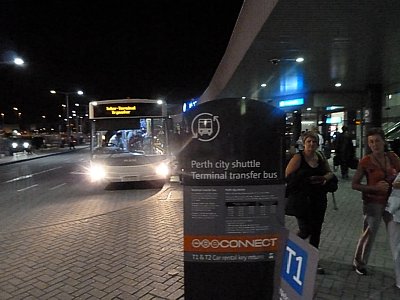 Perth Airport Shuttle Bus At the Domestic Virgin T3 terminal
Perth Airport taxi services
Getting a taxi to and from Perth Airport is usually trouble free.
Taxi ranks are situated outside the domestic and international terminals; travellers may be required to pay their fare in advance. The same fare applies for either a single person or a group, and is around A$40 to the city centre.
Car Hire at Perth Airport
Major car hire operators are located in the Arrivals Halls. To save time and ensure you get the car you want, book your rental in advance. Rental car operators from Perth Airport include:
Europcar
,
Thrifty
,
Avis
and
Budget
.
Perth Airport Hotel
There are no on-site hotels at Perth Airport
The Comfort Inn Bel Eyre motel is a small motel which is the closest to Perth Airport, It is located 4km (2.3 miles) from Perth Airport. The hotel has more than 100 rooms and services include courtesy transfers to and from the terminals.
Perth Airport Left Luggage
Left-luggage lockers are located outside both the international and domestic terminals.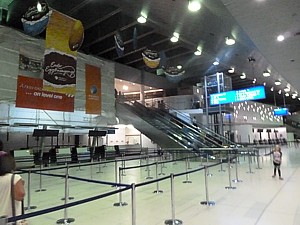 Perth International Airport Landside, heading to customs
Car parking
Perth airport car parking is quite good.
There are large parking areas at the domestic and international terminals, directly in front of the terminal buildings, with both short and long term parking availability. Secure, undercover car parking is available at the domestic terminal's 'fast track' facility in car parks 1 and 2; short-term and long-term rates are available here.
Perth Airport Bars and Restaurants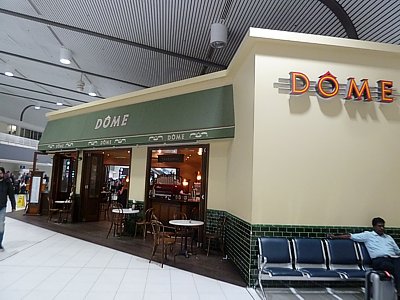 Perth Airport Dome Cafe Domestic Virgin T3, Landside
Dome Cafe, T3
Open: 0330 - 0130
Domestic Virgin T3, Landside
Undoubtely one of the nicest places to have a quick tipple before a flight, the Dome Cafe at Perth Airport is in an odd location - half in the check in hall, and half extending out into the taxi rank. It also has the longest opening hours of almost any airport bar, opening up sharp at - 3.30am no less!
However, inside, it has the same atmosphere of the usual Dome chain cafe from the UK, with polished wood and soft brass finishes with genuinely do create a warm pleasant atmosphere. If you are waiting - and waiting - for the shuttle bus to international you can sit outside on the veranda with a beer while you wait, and soak up the taxi fumes.
The coffee is good, the beer quite expensive, and the focaccias and wraps OK.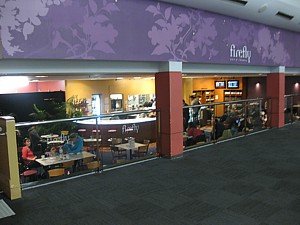 Perth Airport Firefly Bar
Firefly Bar, T4
Open: 1100-2300
Domestic Qantas T4, Airside
To one side of the Perth Domestic Qantas terminal, this is the quiest place for a quick tipple if you don't have access to the Qantasclub.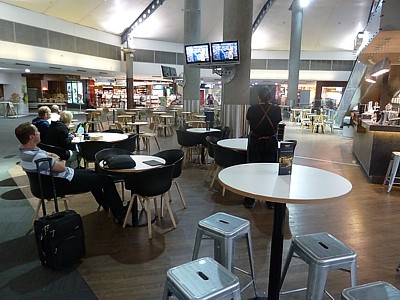 Perth Airport Bar
Airport Bar
Open: 1100-2300
Domestic Qantas T4, Airside
This small bar is the main bar in the Perth Domestic Qantas terminal. It's in a bit of an odd location though, with seats stuck out in the vast oval of the terminal and seemingly stuck in limbo a bit. There is a small TV on the pillar for atmosphere, and that's about it.
New Orbit Inn, T3
Open: 0330-0130
Domestic Virgin T3, Airside
The main watering hole airside for both terminal 3 and 4, the new Orbin Inn is small, but with a big selection of Western Australian wine.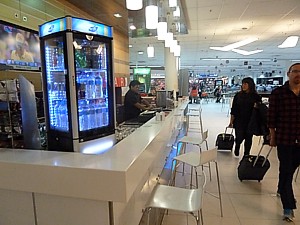 Perth International Airport Bar
The Bar, International
Open: 1100-2359
International T1, Airside
The ONLY place for a drink in the small airside space after security at Perth International, The Bar is just that. A very small bar counter, with a few beers and wine.
There are a grand total of six seats, however you can take your can of VB onto the bench opposite if you really want to.