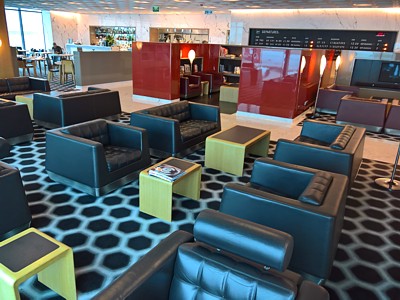 Melbourne Qantas First Class Lounge
The Qantas Melbourne First Class lounge features a restaurant and dining areas with menus created by Neil Perry, spa treatment rooms and showers, a library, business facilities and a concierge service. Designed by internationally renowned Qantas Creative Director Marc Newson, his furniture and lighting create a small and intimate space with low divider walls, defining each space into smaller areas. It feels top end, while also a classy way to start a journey.
However, the small, compact, and quite cute Qantas First Class Melbourne lounge is both a delight, and a bit of a pain. At busy times - namely, between 10 and 12 each weekday - it is packed to the gills, and then some, and lunch can take a long time arriving. However at other times it is a joy, with a great restaurant, an amazing bar, and one of the best views in the airport.
It is very similar to Sydney First lounge, but much smaller, at about a third of the size. However it still has the same facilities, although everything has been scaled down to fit a maximum of 130 passengers. When the lunchtime flight to London is leaving, you can believe that all of them are here at the same time.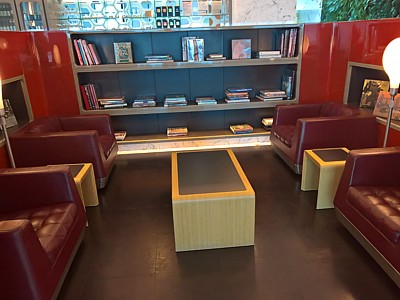 Melbourne Qantas First Class Lounge
Located up on Level 3, on the top floor of the airport, the Melbourne Qantas First Class lounge has a great view. However, first you have to find the lounge. Ignore the 'Airport Lounge' signs, because they head to the Business Class lounge in the basement, and instead take the escalator near gate 10, and the Qantas First Class Lounge is right next door to old Emirates Melbourne Lounge. There is also a lift.
Instead of the vast entryway at Sydney, you just say hello at the lounge desk, under the skylight in the entry foyer, and then you're into the micro-me Qantas Melbourne First Class Lounge. There are now only three Qantas first class lounges left in the world, and this at Qantas southern hub, is the smallest.
There are large oak walls which separate the lounge space into defined areas, where there are black and deep red leather lounge chairs, recliners and sofas. These come from Italy's Poltrana Frau.
Many of the groups of lounges and individual chairs face the floor to ceiling windows which have a great view of the airport apron, and which flood the lounge with light.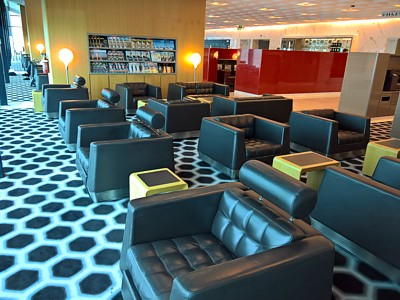 Melbourne Qantas First Class Lounge
However, some of the chairs are arranged in groups of four, or even eight, which are typically occupied by single passengers. This makes a rather odd mix when two passengers have to share the space but - horror - they don't know each other. To prevent this, many passengers pile up empty chairs with luggage to prevent other people around them. This simply adds to the crowding.
The old-fashioned split number destination board on the wall echos away throughout the Melbourne Qantas First Class lounge, just as it does at its larger cousin to the north in New South Wales. There is even the same pattern of carpet.
There is the same bar and open kitchen that is also a feature in Sydney, and behind a white marble bench you can spy the delights of the bar. At the next marble bench along is the 'theatre kitchen' which has five seats in front of it. There is not a lot of point in sitting here, and most passengers sit in the restaurant proper - which is just in front of it anyhow.
There is a library - just like Sydney - indeed, two mini versions of them, separated by the TV area. However, they are just small closed cubicles - actually more of a reading nook - rather than a separate space. The book choices are also rather odd. A 'History of the Didcot Newbury and Southampton railway' anyone? A first edition copy of 'Peter Pan'? All there for the reading in the Qantas First Class Lounge.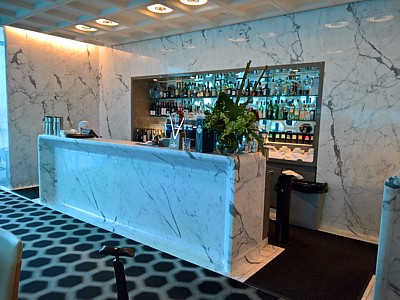 Melbourne Qantas First Class Lounge
Food
There is a full restaurant in the Qantas First Class Melbourne lounge - which of course is totally complementary - and it serves great dishes, which change each season. There are menus on the table, and service is generally quick except between around 11 to 12, when it is insanely busy.
Although the menu is laid out in a conventional way (and the tradition is you go starter-main-desert), there is no harm in skipping the main and just having several entrees instead. The buffalo mozzarella in the lounge is superb.
However, and this is a major drawback of Qantas Melbourne flights, lunch in the Melbourne Qantas First Class lounge officially starts at 12. The very last Qantas flight out of Melbourne to Asia is at 12.20pm. Therefore, unless you are on the afternoon Malaysian flight, you'll never get to experience the lunch.
There is a great wine list to go with the dishes - details are also on the Qantas Melbourne First Class lounge menus.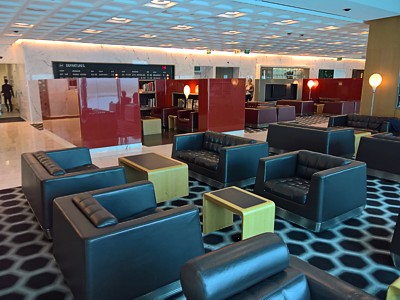 Melbourne Qantas First Class Lounge
Bar
There is a bar - although you can't actually sit AT the bar. Indeed the bar staff often say they will bring a drink to your seat, which takes ages. It's best to wait.
The spirits on display is amazing comprehensive. It's such a shame that the lounge in effect shuts down at midday, as very few people get to experience them.
The Melbourne Qantas First Class lounge bar often has some special wines that are kept back from the main display - it's worthwhile asking the barman for details.
Bathrooms
There are bathrooms in lounge, and they are quite swish.
The Melbourne Qantas First Class lounge has four individual marble-lined shower suites with a music system. There are volume and lighting controls, along with radiant heating to reduce condensation on the mirrors and luggage racks.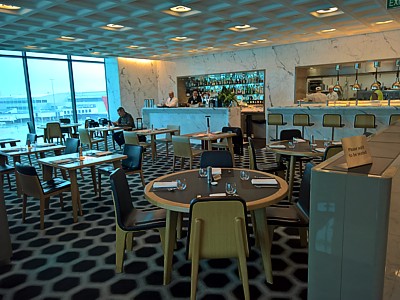 Melbourne Qantas First Class Lounge
Also don't miss the Payot Paris day spa which offers a range of complimentary treatments from a 30-minute express energising facial to a 50-minute full body massage.
Business Facilities
There is very fast wifi throughout the lounge.
The Melbourne Qantas First Class lounge also has a comprehensive business centre, which very few people seem to use any more any more. There are five iMacs which run both Apple's Mac OS and Windows 7, and large individual desks.
The library also has all of the daily newspapers and magazines.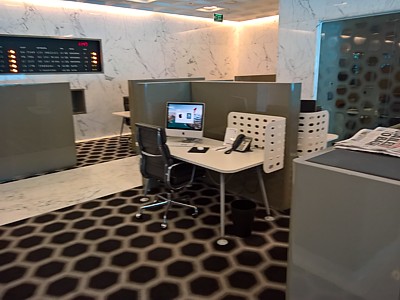 Melbourne Qantas First Class Lounge
There are two smaller meeting rooms - and they really are small - but with a micro desk and chair they do the job. Indeed, it can be quite good to book one of these, and sit there on your own.
There is a small but dedicated entertainment zone between the two library nooks with a large TV screen showing Sky News.
Access
The Qantas International First Lounge is open to all passengers with a first class ticket on Qantas, Emirates, and its oneworld partners such as Malaysian Airlines.
Qantas Frequent Flyer Platinum and Platinum One cardholders, and those with the equivalent oneworld Emerald status, can also enjoy the lounge regardless of which class they're flying in. This includes British Airways Gold.
The Qantas Melbourne First Class lounge is open from 4.30am through to the last oneworld flight, which is typically the 3pm service to Kuala Lumpur.