Hobart Airport Guide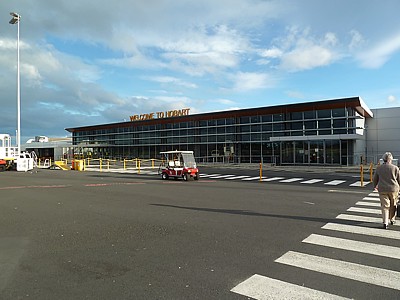 Hobart Airport Main Terminal
NEWS: Hobart Airport is set for a major refurbishment, including a new 75-seat Virgin Australia business class lounge. There are also plans underway for a huge expansion, with an extension of the runway by 500m, obviating payload restrictions and opening up the first international flight with China Southern Airlines to Guangzhou Baiyun International Airport in southern China. The Airport is on track to complete a 500m extension to its runway by the end of 2018.
The small airport at Hobart is the hub of aviation of Tasmania, and indeed a vital link on the supply route to the South Pole.
Hobart International Airport, to give it it's correct if rather inflated title, is in Cambridge, a good 10 miles (16km) east the Tasmanian capital of Hobart. The airport is larger than you may think, the ninth busiest in the Australia, and with two million passengers a year, it can get packed in peak holiday season in mid-January.
Hobart Airport hasn't seen a scheduled international passenger service since Air New Zealand aced the flight to Christchurch in 1998, however the airport maintains customs and immigration facilities and is now eyeing up a twice weekly service to Guangzhou in southern China.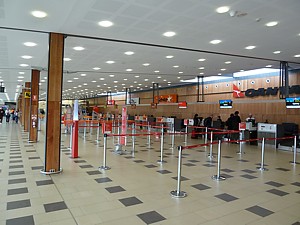 Hobart Airport
Hobart International Airport was established in 1956, and the airport is sited on a narrow peninsula; take-offs and landings are inevitably directed over bodies of water regardless of approach or departure direction, and this enables the airport to operate curfew-free services.
Hobart Airport has just one runway, which has no nighttime restrictions as both approaches are over water. It is very long, and large enough for Boeing 767 and Airbus A330 to operate without restrictions, for direct flights to Singapore and Jakarta. Indeed, large jumbo Boeing 747s can fly in and out – not that they ever do.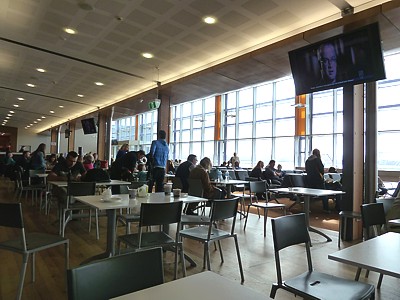 Hobart Airport
Hobart Airport Domestic Terminal
There is just one terminal at Hobart Airport now, with a conjoined international and domestic terminal, although Hobart Airport was designed with two passenger terminals, giving it an odd layout - during 2007 the two were linked with a large conservatory design.
You always walk to and from the aircraft on the apron – there are no airbridges. And indeed, there is only room at the airport for four aircraft at a time, with four parking bays for narrow-body (Boeing 737/Airbus A320-sized) aircraft, overlaid by two positions for small wide-body (Boeing 767-sized) aircraft.

First & Business Class lounges at Hobart Airport
Hobart Airport transportation
The most surprising thing for many passengers is that there is absolutely no public transport at Hobart Airport. Pretty much everyone drives – and it's quite a distance into Hobart itself.
Hobart Airport Taxi rank
Hobart Airport shuttle bus services
The Hobart Airport shuttle bus is a private bus which departs outside the terminal after the arrival of almost every flight and goes into Hobart Town, dropping off at the key hotels. Occasionally you may have a bit of a wait if there are two flights scheduled close to each other and the driver waits for all the passengers from the second flight.
Hobart Airport taxi services
Getting a taxi to and from Hobart Airport is usually trouble free.
There is a small taxi-rank at the airport, but at peak times taxis do run out.
If you want a taxi with a child or baby seat from Hobart Airport, you absolutely must book in advance.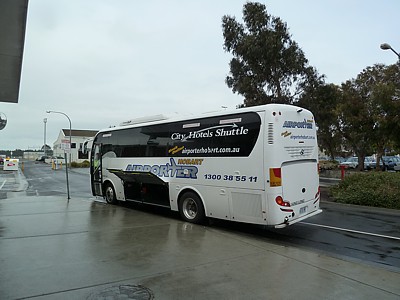 Hobart Airport Bus
Car Hire at Hobart Airport
There are numerous car rental operators at the airport including Hertz, Avis, Budget,Europcar, Thrifty, Red Spot, Bargain Car Rentals, Rent For Less, Britz Maui, Tasmanian Camper Van Rentals and Cruisin Tasmania.
Major car hire operators are located in the Arrivals Hall
Hobart Airport Hotel
There is just one airport hotel at Hobart airport, although it's not really within walking distance unless you fancy a long walk. The Quality Hotel Hobart Airport is a fairly standard 78 room motel, with a café, some distance from the car park.
Car parking
Hobart airport car parking is quite good.
There is a car park at Hobart Airport with short and long term parking. Beware of driving up the airport and leaving your car where it shouldn't be: there are full time, and very strict, parking attendants.
Hobart Airport Bars and Restaurants
The company responsible for running food and beverage operations at Hobart is the same company, SSP Global, which also runs the bars at London Heathrow and Hong Kong.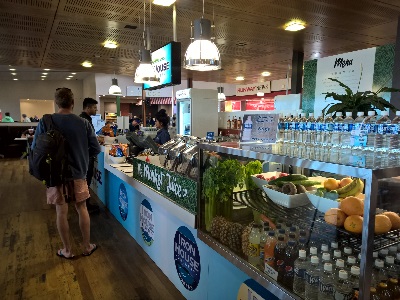 IronHouse Bar Hobart Airport
IronHouse Bar Hobart Airport
Open: 1100-2100
Airside
In a major change for Hoart Airport, the 1884 bar has become the IronHouse Airport Bar, the main - in fact the only - airside bar at Hobart.
Indeed, being located right in the middle of the airside departure hall, the bar for many people IS Hobart Airport.
The new Iron House Brewery Bar is the airport extension of the main brewery, established in 2007. The old brewery is located at IronHouse Point, right on the ocean.
IronHouse produces a range of traditional beers, from a quaffable lager through to a rich porter. This is embellished with the odd limited release, such as highly hopped IPA. All beers are brewed with naturally filtered water, and IronHouse Brewery is committed to brewing with Tasmanian ingredients. It sources its malted barley from Joe White Maltings in Devonport, and hops from Bushy Park in the Derwent valley near Hobart.
For an airport bar, it is something special, and a little bit Tasmanian.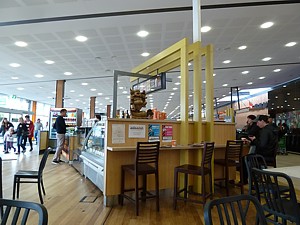 Hobart Checkin snack bar
Airport Landside Snack Bar
Open: 1100-2300
Landside
Small, OK, but with little choice. You're much better with the airside 1848 bar.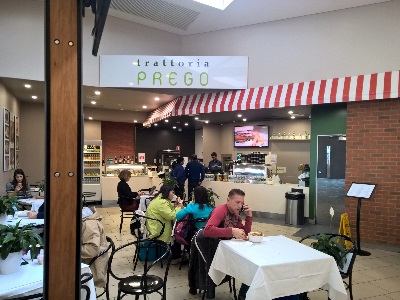 Trattoria Prego Hobart Airport
Trattoria Prego Hobart Airport
Open: 0900-2000
Landside
The same chain as operates at Sydney Airport has come to Hobart, and with it considerably revamped the food offerings.
The food is classic 'Australian' Italian gub, including an extensive eat in menu and deli options. The menu isn't one that would be recognised perhaps in Italy, however it is very good, and the pizzas are very good indeed.
There are some decent sandwiches and salads. There is draft beer and an OK wine list, with all the bottles on offer on top of the fridge to the left.