Cairns Airport Guide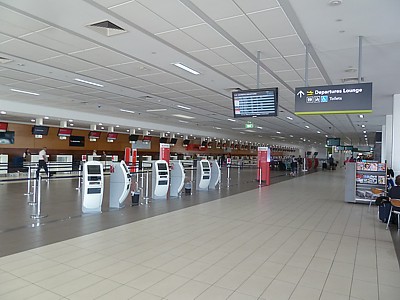 Cairns Domestic Terminal 2 checkin
NEWS: Cairns Airport International Terminal 1 is undergoing a period of refurbishment, following the redevelopment of the domestic Terminal 2.
Cairns Airport is a surprisingly large airport - the largest airport in northern Queensland - in a remote part of the tropics, and with an unexpected number of international flights.
Cairns Airport, located dense mangrove swamps just 4 miles (7km) north of the city centre of Cairns, in the dedicated suburb of Aeroglen (great name - and chosen for it) right under the vast palm tree lined bulk of Mount Whitfield. It only has one runway, but two terminals, and Cairns is the seventh busiest airport in Australia. 4.1 million passengers a year pass through.
Shopping and catering are remarkably good, considering the small size of the airport terminal. Indeed, the bars in domestic are generally better than in International, and many passengers with a long time to wait stop off here first.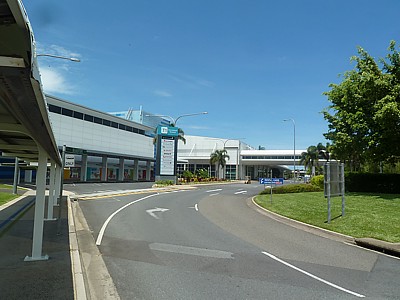 Cairns International Terminal 1
From International, by far and away the most popular destination out of Cairns is Japan, with nearly a quarter of a million passengers a year. Papua New Guinea (PNG) gets a mere 100 thousand, and Hong Kong 78k. Oddly, Cairns Airport is also a remote arm of extended United flights across the Pacific via Guam, with a mere 17 thousand passengers a year flying this route. Cairns was the main hub for Australian Airlines, before it met its end in 2006.
Domestic routes are however the mainstay, with 1.2 million a year flying to Brisbane, and 1 million to Sydney.
Cairns Airport has two separate terminals - domestic and international - with a small 500 metre long footpath running between them; however in the wet season that walk can seem like an eternity; thankfully the walkway is now covered most of the way, but there are still some open sections. And it really is half a kilometre; ignore the signs saying it is a short walk.
Cairns Airport Domestic Terminal 2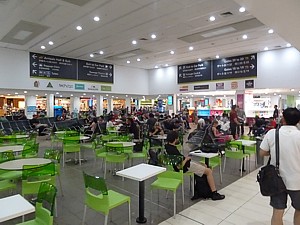 Cairns Domestic Terminal 2 airside
A $200 million redevelopment of the Domestic terminal started in August 2007 and was completed in 2010. The Domestic terminal number 2 is by far the busiest terminal at Cairns, and now boasts a whopping five jet bridges and 17 gates, thanks to the 2010 redevelopment.
Check-in facilities are still fairly basic, in a long line opposite the doors, and have been expanded into a common-user facility for all airlines.
Paid-for Wi-Fi internet access is provided throughout, and there are internet kiosks within the departures areas of the terminals
The domestic terminal now is much better for shopping and eating than it was before. There are several shops selling 'gifts of Queensland', a sandwich cafe, a Hungry Jacks burger bar, a Coffee Club which serves Pizza, and best of all a large airport Brewery, the Blue Sky, which is by far the most pleasant place to wait and which has a large outdoor area.
Cairns Airport International Terminal 1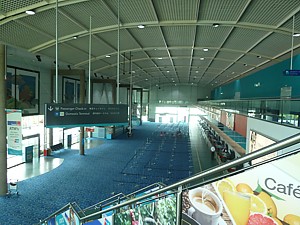 Cairns International Terminal 1 checkin
Cairns International Airport Terminal number 1 has six jet bridges and ten gates in total. At busy times, many of them are full with passengers flying to China. And yet there is a major lull during the day, between about noon and 5pm when the terminal is pretty much closed.
On arrival, there are Airport Ambassadors dressed in turquoise uniforms who help passengers find their way.
ATMs are located in the arrivals area of the international terminal.
There is one café in the public area of the international terminal, to the right of the checkin and opposite the customs exit, and an additional small eatery post-security. Most regular passengers however make their way to the domestic terminal for nibbles.
Duty-free items can be purchased at an outlet in the international terminal.

First & Business Class lounges at Cairns Airport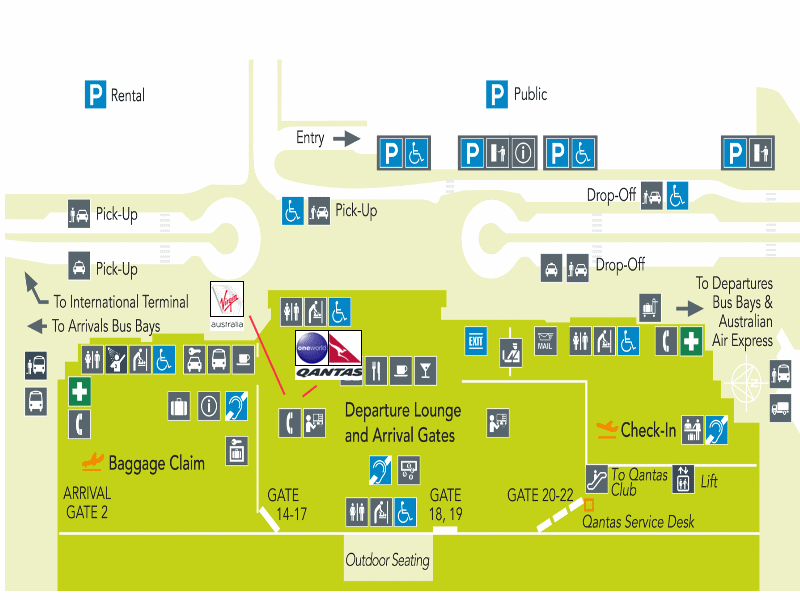 Cairns Airport Terminal Map
Cairns Airport transportation
Cairns Airport is only a short distance from the city, however note that it is not generally regarded as walkable, mainly due to the heat, humidity, and the crocodile infested swap around the airport.
Cairns Airport shuttle bus services
As the city centre is so close, most people take a cab from Cairns Airport to the city centre, however there are buses which are marginally cheaper.
Sun Palm Express operates an airport shuttle bus service to hotels and the city centre, with a flat fare of A$14.50.
These are small minibuses and are available at the front of the arrivals areas of both terminals and can also be pre-booked online.
Separately, most of the hotels in the region operate their own courtesy shuttle bus services to and from Cairns Airport.
Cairns Airport taxi services
Getting a taxi to and from Cairns Airport is usually trouble free.
The fare into central Cairns is about A$27.
Taxi ranks are immediately outside the arrivals area of both terminals, but during the day the rank outside international is generally empty, and you have to walk to domestic.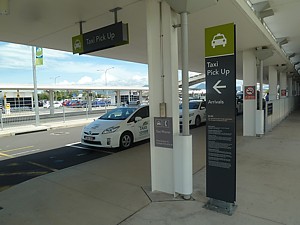 Cairns Domestic Taxi rank
Car Hire at Cairns Airport
Major car hire operators are located in the Arrivals Halls. To save time and ensure you get the car you want, book your rental in advance. Rental car operators from Cairns Airport include:
Europcar
,
Thrifty
,
Avis
and
Budget
.
Desks for these operators are located in the arrivals halls of both terminals. The parking area for hire cars is at the northern end of the car park opposite Terminal 2.
Cairns Airport Hotel
There are no hotels at Cairns Airport; however as the city is so close, this isn't usually a problem.
Cairns Airport Left Luggage
Cairns airport luggage storage is handled by a company called Smart Carte Australia (tel: 0407 359 678). The Cairns Airport Left Luggage desk is beside the arrival hall.
Car parking
Cairns airport car parking is quite good, with both short and long-term parking adjacent to Terminal 1, while there is a budget car park is opposite Terminal 2.
The first ten minutes in each car park is free of charge to enable the pick-up and drop-off of passengers.
From Central Cairns, head north on Sheridan Street for approximately 5km (3 miles), then turn right onto Airport Avenue which leads to Cairns Airport.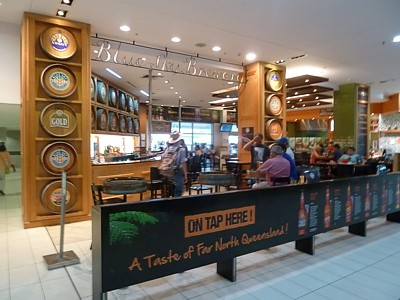 Blue Sky Brewery Bar At Cairns Airport, a great place to wait
Cairns Airport Bars and Restaurants
Blue Sky Brewery Bar
Open: 0500-2300
Airside, Domestic Terminal
The
Blue Sky Brewery Bar
is by far the best place to sit and wait for a domestic flight.
Opened in 2012, the Blue Sky Brewery Bar serves beer that is brewed in Cairns - alas not at the airport - and is a great (if expensive) place for a quick pint before a flight.
It's big, with 400 seats, and with a 180-seat outdoor beer garden. The bar also operates as a retail store, selling beer off the premises. Beers include FNQ Lager (a golden lager that is filtered to produce a bright Australian style lager), Blue Sky Pilsner (a Czech style beer) and Cairns Gold (lots of malt & premium bittering Hops).
The bar also does some basic food.
Incidentally, there's also another Blue Sky in Cairns itself, on Lake Street, which isn't too bad either.
07 4051 7290.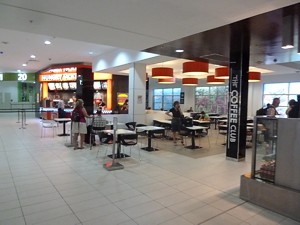 Cairns Coffee Club
Coffee Club Cairns Airport
Open: 0430-2100
Airside, Domestic Terminal
There is of course a decent Coffee Club at Cairns Airport, and it serves as you would expect a decent cup of coffee.
You can also get all the usual wraps, rolls, even a decent Pizza out of the coffee club, and the breakfasts are the classic cooked versions you get around Australia.
Just make sure you have enough time before your flight, as it can take a while to get served.
07 4035 9635.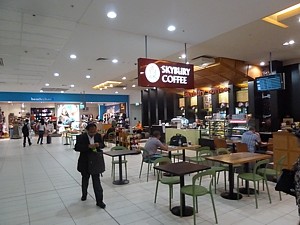 Skybury Coffee Cairns Airpor
Skybury Coffee Cairns Airport
Open: 0400-2200
Airside, Domestic Terminal
Very much a local chain in Northern Queensland, Skybury coffee are famous for their coffee, with deep dark coffee, and at just the right temperature.
There is another Skybury in the arrivals hall, by the luggage carousel.
Cafe T1 Cairns Airpor
Cairns Airport international Cafe
Open: 0600-2100
Landside, International Terminal
If you are hunting for a decent eatery before a long international flight out of Cairns - you are so out of luck.
All there is, is a small cafe in the arrivals section, landside. Coffee is remarkably good.
It does the job, but isn't what you'd describe as overwealming.