Canberra Airport Guide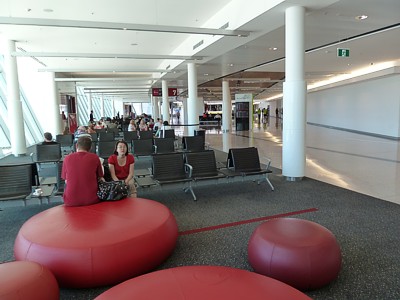 Canberra Airport Qantas side of the new terminal
NEWS: Singapore Airlines is now flying between Singapore, Canberra and Wellington.
Read the full story here:
Singapore Airlines launches Canberra flights
.
Canberra Airport, known official as Canberra International Airport (and now boasting two international flight, to Asia and New Zealand) is a small regional airport in the Capital of Australia.
Located two miles (3km) east of Canberra, it gets a surprising amount of traffic, with– few tourists, but a large number of senior government officials and business leaders: no wonder then that the business lounges are top notch.
Also absolutely first class is the terminal building at Canberra Airport. The old Ansett and Qantas terminals have been demolished, to make way for the superb new terminal building, with two wing, the Southern Concourse and the Western Concourse are separated by an Atrium, the centrepiece of the terminal. The redevelopment cost over $350m, and is designed for six million passengers a year, although currently only four million use it.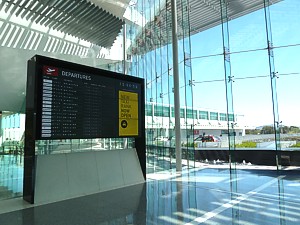 Arrivals hall Canberra Airport
You can walk easily between the two halves of the terminal – certainly far more easily than when there was a Common User terminal (demolished in June 2013 after the opening of new Southern Concourse) and a Qantas terminal, separated by a road. It now has six aerobridges (an increase of two on the old airport) and a vast amount of space: it feels just like it should be. There is also the famous indoor taxi rank waiting area– a first for an Australian airport.
Colour coding is used to subtly guide passengers: red for departures, yellow for arrivals and green for information. There is a vast bookshop – which famously has twice as many politically-themed books compared to other airport stores – and an airport bar for those who can't make it into the three (!) Qantas lounge or two Virgin lounge: five lounges for such a small airport is surely another record, and reflects the high net worth of most of the passengers.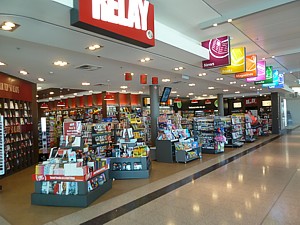 Relay Bookshop Canberra Airport
Canberra Airport is a designated International Airport with a 10,000 foot long runway which is used by long-haul jets, however it is only recently that long haul flights have started. Singapore Airlines now flies to both Singapore and Wellington four days a week. On these days, the western concourse opens up with space for customs & immigration, plus a transit lounge where there is a small cafe. However all the lounges are in the domestic section, with Singapore Airlines using the Virgin lounge.

Business Class lounges at Canberra Airport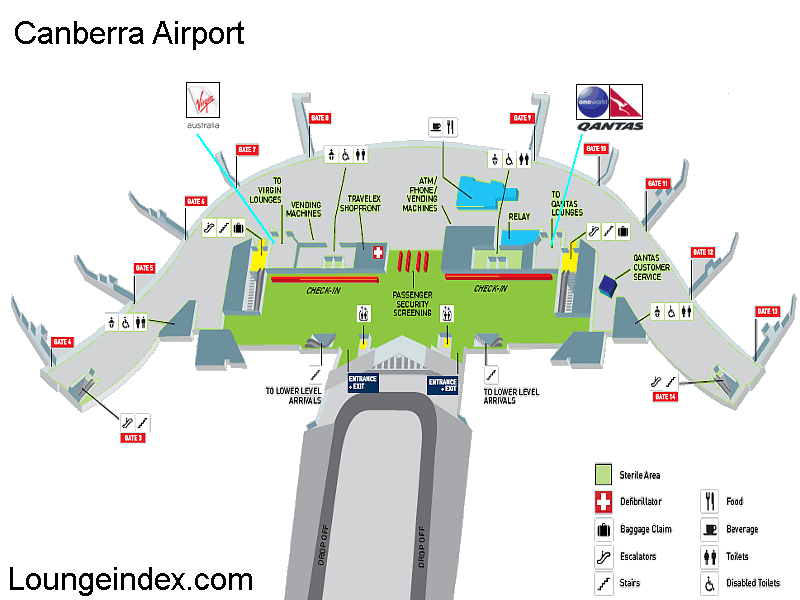 Canberra Airport Terminal Map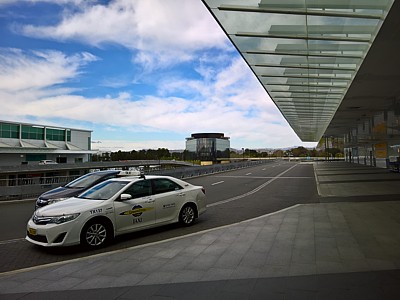 Canberra Airport
Canberra Airport transportation
Travellers should know that many shuttle bus services operating to and from Canberra Airport usually require pre-booking, simply because there it no public transport to the airport.
Canberra Airport shuttle bus services
There is a mini-bus service to the main hotels in Canberra; it is operated by Royale Coach operating as 'Canberra Airport Express'.
There are no scheduled domestic buses to the airport, however there are services to the nearby Brindabella Business Park (using route 10 or route 737 at peak times) which is approximately a five-minute walk to the terminal.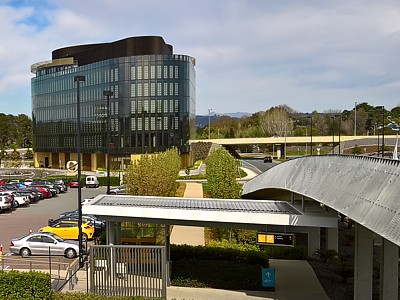 Canberra Airport Hotel The Vibe
Canberra Airport taxi services
There is a famous taxi rank at Canberra Airport which is under cover: the only airport in Oceania to have such a facility: again, Canberra's politicians need protecting. The taxi rank is right at the front of the new terminal.
Canberra Cabs and partner taxi wait until flights come in: a trip to the Canberra CBD or Parliament costs about AU$12.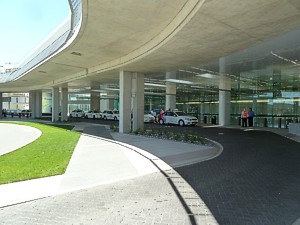 Taxi Rank Canberra Airport
Car Hire at Canberra Airport
Major car hire operators are located in the Arrivals Halls. To save time and ensure you get the car you want, book your rental in advance. Rental car operators from Canberra Airport include:
Europcar
,
Thrifty
,
Avis
and
Budget
.
Canberra Airport Hotel
There is just one airport hotel at Canberra airport, but thankfully it's a good one.
The Vibe hotel canberra airport is almost within walking distance of the terminal - a ten minute walk along the Terminal Avenue, and then left by the Caltex. It has 191 rooms, and the Helix bistro bar, which is a firm favourate with passengers.
Canberra Airport Bars and Restaurants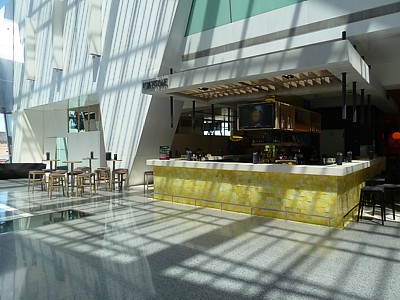 Limestone Café & Bar Canberra Airport
Limestone Café & Bar
Open: 0500-2100
Airside
There is only one real bar at Canberra airport, but it is a good one, right in the centre of the terminal close to the atrium space with it high ceilings, and directly facing the 'Unfurling' sculpture by Melbourne based Andrew Rogers, and offsetting the glazed cool room exposing the beer
The bar is clad in illuminated handmade lime-coloured glass tiles, teamed with blue and yellow and aged mirrors. Beer is good, with locally brewed German ale from Zierholz Premium Brewery, but the wine list is exceptional and supplied from several regional wineries. There is the local organic vineyard, Lark Hill; Mount Majura Vineyard, and Chalkers Crossing all on the list.
Food is good too with the usual hamburgers, hot dogs, pizza, and soft tacos. However every cut of meat can be traced back to the local breeder and Canberra native Griffith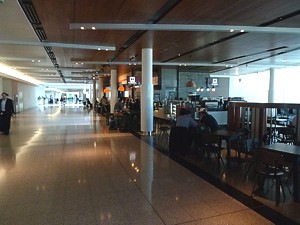 Hudson's Coffee Canberra Airport
Hudson's Coffee
Open: 0500-2100
Airside
The usual chain, as found in many shopping malls. Hudsons Coffee does do a decent cup of caffine though, and takes pride in their Arabica coffee with subtle flavour hints of cocoa and vanilla.
There's food too, with biscuits, muffins and sandwiches.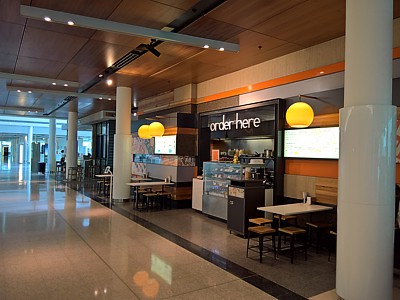 Canberra Airport Tuk Chop
Tuk Chop
Open: 1000-2100
Airside
A small Asian themed eatery, with steamed dumplings, curries and soups.