Brisbane Airport Guide
NEWS: The new Airport Link road opened in mid-2012, connecting the city's Inner Ring Road with Brisbane Airport. Construction of a second parallel runway is scheduled to start in mid-2018.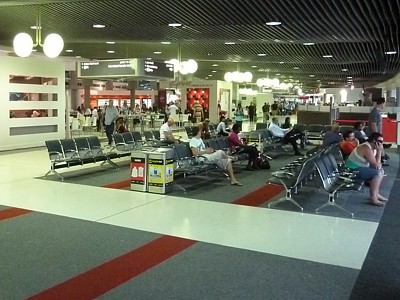 Domestic terminal Brisbane Airport, Virgin's section
If ever there was a large, modern, bustling international airport that few people outside of Australia have heard of, it is Brisbane.
The third busiest airports in Australia, Brisbane Airport is a key gateway to Queensland's capital and popular Gold Coast region: it is also the hub of Virgin Australia.
Brisbane Airport is 10 miles east of the city centre of Brisbane, on the flood plain at Eagle Farm: as a result of this, many locals still call the airport Eagle Farm.
Although a Qantas base since 1926, the airport terminals are very new: the main part of the International Terminal was built in 1995 and it has won many awards. Despite the number of passengers using it - about 20 million a year, with the twelfth busiest passenger air route in the world - the airport is generally calm, quiet and easy to use.
Brisbane Airport has two passenger terminals - Domestic and International. They are totally separate. Most people get to and from the airport on the airtrain, and this train has two stations at the airport, one for each terminal.
Transfer between terminals
The Domestic and International Terminals are pretty much a mile apart (1.8km): you can't walk it.
They are linked by the Airtrain, which is free so long as you have a Qantas or Virgin Australia boarding pass. There is a station directly opposite each terminal, but trains can sometimes run only every half hour: check if you have a tight connection.
The T-Bus also offers transfers (at a cost of A$5 to all passengers).
Brisbane Airport International Terminal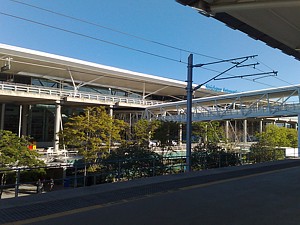 International Terminal Brisbane Airport
Brisbane International Terminal is a delight to use. The International Terminal was built in 1995 and was hugely expanded in 2012, giving it 2 airbridges capable of handling the A380, included among the now 17 main gates.
If you like airports, you'll like the international terminal: many Australian's rate it as one of the best in Australia. True, there aren't that many shops, and the catering options are a bit basic, but it's still quite civilised.
Check in is on level 3, and there are a few shops here behind the check in desks. Otherwise you have to decend through to immigration, and then there are further shops and the lounges on level 2.
The International Terminal has bureaux de change and ATMs on levels 2, 3 and 4, with several directly after customs.
There is a baby change room in the International Terminal. Showers are available in the public toilets in arrivals.
There is free wifi - just logon to the BNE Free WiFi service from the network settings and start browsing.
Brisbane Airport Domestic Terminal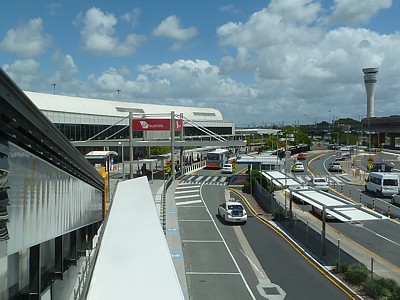 Domestic terminal Brisbane Airport, Virgin's section
The Brisbane Airport Domestic Terminal is one large building, but it is split into three distinct areas serving Qantas at the north, Virgin Australia at the south, and other carriers such as Jetstar, Tiger and Skytrans in the centre at the common user section.
The Qantas concourse has 9 bays served by aerobridges including 1 served by a dual bridge (which is rarely used). It has three lounges - the Qantas Club, the Qantas Business Class lounge and a very small Chairman's Lounge.
Virgin Australia occupies what was the former Ansett Australia end of the terminal. Its has six airbridges but 11 parking bays: half of the time you have to walk over the tarmac to your aircraft. It has one lounge - The Virgin Australia Lounge which is located in the former Ansett Golden Wing Club.
There aren't that many shops in domestic, and indeed if you don't have access to the lounges or want to spend time in the pub, there isn't a lot to do other than look at the aircraft.
Oddly, the Domestic Terminal has bureaux de change facilities on level 2, although you usually get a better rate at international.

First & Business Class lounges at Brisbane Airport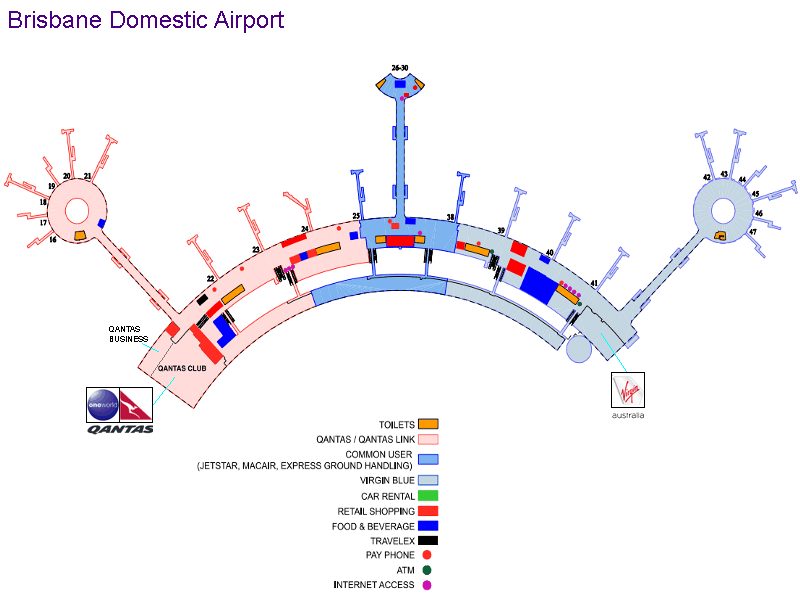 Brisbane Airport Terminal Map
Brisbane Airport transportation
Travellers should know that many bus, limousine and shuttle bus services operating to and from Brisbane Airport usually require pre-booking.
Brisbane Airport train
Virtually everyone takes the train to Brisbane Airport: it's half the pirce of a cab, and less than the bus, plus it's quicker.
The Airtrain runs direct to Brisbane Central Station, taking only 20 minutes, although at off peak times it runs only every 30 minutes. Fare is A$15.50, or A$30 for a return: you will get a small slab ticket for your return journey, and you must fill in the return date before you get on the train.
Trains also run now to the Gold Coast (journey time: 90 minutes; fare: A$30).
The Airtrain stations are located directly outside the Domestic and International Terminals - you really can't miss them. There is a great view of the trains from the Virgin lounge.
Brisbane Airport shuttle bus services
There are shuttle buses at both terminals into Brisbane itself.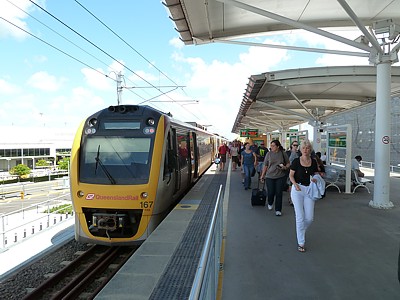 Queensland Rail Train at Brisbane Airport
The two main shuttle companies are very similar, and both have a journey time of about 30 minutes, and both charge A$38 return.
The two are Coachtrans and Sunair.
Brisbane Airport taxi services
Getting a taxi to and from Brisbane Airport is usually trouble free.
Outside both international and domestic there is a taxi rank: it generally takes about 30 minutes to get into the city, and costs around AU$40.
To get a taxi to Brisbane Airport, you can generally hail a cab off the street, but if you need to book, taxis companies operating at Brisbane Airport include Black & White Cabs (tel: 133 322; www.blackandwhitecabs.com.au) and Yellow Cabs (tel: 131 924; www.yellowcab.com.au).
Shuttlebus stop At Brisbane Domestic Airport
Car Hire at Brisbane Airport
Major car hire operators are located in the Arrivals Halls. To save time and ensure you get the car you want, book your rental in advance. Rental car operators from Brisbane Airport include:
Europcar
,
Thrifty
,
Avis
and
Budget
.
Offices for these providers are located on level 2 of the International Terminal and the ground floor of the Domestic Terminal.
Brisbane Airport is located on Airport Drive, with direct links off the Gateway Motorway (Exit 108) and East West Arterial Road.
Brisbane Airport Hotel
There is just one airport hotel at Brisbane airport: the recently-opened Novotel Brisbane Airport Hotel, which is a short distance from the terminals: for every other place calling itself a 'Brisbane Airport hotel' you will have to take a taxi, or take the train into the city.
The Novotel Brisbane Airport Hotel has just opened, and it is (just) within walking distance of the terminals, but there is also a paid-for shuttle service to and from the terminals. Facilities include a dedicated conference centre, rooftop pool, and a restaurant and bar.
Brisbane Airport Left Luggage
Left-luggage lockers are available at the car park entrance in the International Terminal only - there are none at Domestic.
Car parking
Brisbane airport car parking is quite good.
Short and long-term parking is available at the International and Domestic Terminals.
Valet parking is also available at the Domestic Terminal.
Brisbane Airport is located on Airport Drive, with direct links off the Gateway Motorway (Exit 108) and East West Arterial Road.
Brisbane Airport Southern Cross Memorial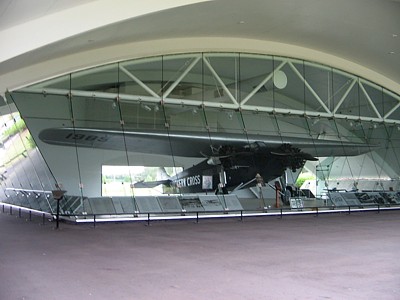 Southern Cross Memorial Brisbane Airport
The Southern Cross is the name of the Fokker trimotor monoplane which in 1928 was flown by Australian aviator Sir Charles Kingsford Smith and his crew in the first ever trans-Pacific flight to Australia from the United States, about 7,250 miles. Shortly before Kingsford Smith's death in 1935, he donated the Southern Cross to the Commonwealth of Australia
It is now preservied at Brisbane Airport, in a special glass hangar memorial on Airport Drive, near the International Terminal at Brisbane Airport.
Brisbane Airport Bars and Restaurants
International - Moreton Bay Ale House
Open: 0600-0100
Internationla Terminal, Airside, Level 3 & 4.
There is now a small pub in the internation terminal. The Moreton Bay Ale House claim to fame is that it opens earlier than any other pub in Brisbane: 6am in the morning! It has it's own signature Tall Tale Pale Ale on tap, plus the usual XXXX and VB.
It's not particularly relaxing, with hard wooden chairs, and a large flat screen TVs tend to blare out sports, but it does also have a pool table.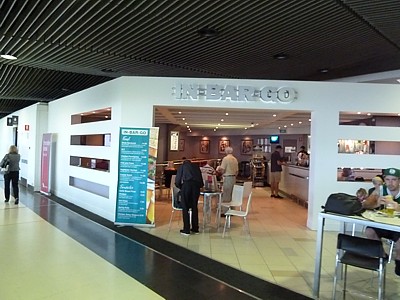 In Bar Go Brisbane Airport domestic
Domestic - In Bar Go
Open: 1100-2300
Airside
Ah, Airport bars - you gotta love their names. And In Bar Go is no exception.
Pretty much the only pub to be found in the Virgin part of the domestic terminal, it has a rather stark and clinical atmosphere, but at least it knows that almost all its customers know how much beer costs, and doesn't hike it up too much.
Schooners are around the $7 mark, and it also serves pints, and some basic pub food.
There are power outlets in the wall, and often if you nip in for a pint, you can also see people having a recharge at the same time.