Vancouver Airport Guide
Vancouver Airport
Vancouver International Airport is located on Sea Island in Richmond, British Columbia, Canada, about 7 miles from Downtown Vancouver.
It is the second busiest airport in Canada by aircraft movements, behind Toronto. However because it is so close to Asian (only about 15 hours flying time away) Vancouver is the main gateway between Canada and Asia. It has more transpacific flights than virtually any other airport in America.
Free high speed Wi-Fi internet access is available in the International and Domestic Terminals.
The International and Domestic terminals could be considered to be one very large building divided into two sections, and a link building links the international terminal with the domestic terminal. This is also the terminus for the Vancouver Airport Train. The South terminal is located in a remote part of the airport.
Vancouver Airport International Terminal
Construction is currently taking place to expand the international terminal and refurbishing and expanding the domestic terminal.
Vancouver International Airport is a lovely building. It is coloured blue and green to reflect the colours of the land, sea and sky. The is a lot of stained glass. Yes, really. And it works too.
If the terminal can be considered a large building divided into two, so the International Terminal is divided ito two - gate G and gate E.
Gate D: the main part of the international terminal has all customs and immigration services. Its interior what is called a 'British Columbian' theme, featuring a vast collection of Pacific Northwest Coast Native art including wooden sculptures and totem poles. A sculpture in bronze by Bill Reid called "The Spirit of Haida Gwaii, The Jade Canoe", is displayed in the departures area. Also don't miss the 'stream in a pathway' and fish and jellyfish tanks. Meanwhile in the International arrivals hall, you pass over a platform across a large waterfall to get to customs.
Gate E: this is the transborder area for passengers to the US. Vancouver Airport is one of eight Canadian airports that has United States border preclearance facilities: what this means is that you in effect leave Canada and can enter the US once your passport has been checked. In the International terminal there are glass partitions which physically separate US-bound passengers. It has only a small selection of retail shops. The exeption to the rule is Cathay Pacific to New York and Philippine Airways to Las Vegas, which leave from the proper international area.
Vancouver Airport Domestic Terminal
Vancouver Airport South Terminal
The South terminal is located in a remote part of the airport. The South Terminal serves regional airlines which fly mostly within British Columbia. The International Terminal serves international destinations, with most US-bound flights utilising the US Border Preclearance facilities in the International Terminal.
First & Business Class lounges at Vancouver Airport
NEWS: The JAL lounge Vancouver has now closed, and part of the space used to expand the Vancouver Plaza Premium Lounge, to which lounge JAL Japan Airlines give an invite.
Vancouver Airport Terminal Map
Vancouver Airport transportation
Vancouver airport to city is easy: you may wish other airports had such a good public transport connection. If you want to go from Vancouver airport to downtown, the fastest and cheapest way is the train.
Travellers should know that many bus, limousine and shuttle bus services operating to and from Vancouver Airport usually require pre-booking.
Vancouver Airport train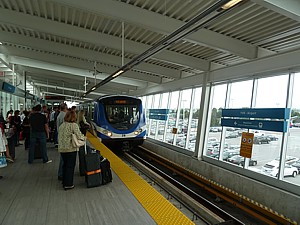 Vancouver Airport train
The
Canada Line
rapid transit rail link has fast cheap and frequent services between the airport and the centre of Vancouver.The Canada Line connects to the three other lines of Metro Vancouver's SkyTrain rapid transit network. It is virtually new, opened in August 2009, in advance of the 2010 Winter Olympics in the following February.
Trains take 26 minutes from Vancouver to the Airport, and cost CA$3.75. However beware you need to pay a $5 surcharge (the "YVR AddFare") incurred on cash fare tickets purchased from vending machines at the airport for tickets starting at the airport, taking the fare from YVR to Vancouver to CA$8.75. To bypass the AddFare buy a day pass at the PharmaSave or 7-Eleven in the domestic terminal. The ticket you receive is valid for one and a half hours - or you can buy a daypass for CA$9 which offers unlimited travel for all zones over one day.
Trains leave every seven minutes from YVR–Airport Station. This terminus station is in the link building which connects the international and domestic terminal.
Beware that late at night, the N10 night bus takes over from the Canada Line services.
Vancouver Airport shuttle bus services
There are domestic buses to Vancouver Airport.
From the downtown area, catch bus 98 on the B-line (marked Richmond Centre) at Burrard Station to the Airport Station, then transfer to bus 424 (marked, oddly, Airport).
Vancouver Airport taxi services
Getting a taxi to and from Vancouver Airport is usually trouble free.
There is a licensed taxi rank outside both the Domestic and International terminals. Cost is about CA$30 - cabs take Canadian Dollars only. Travel time is about 30 minutes - which is longer than the train.
Car Hire at Vancouver Airport
Major car hire operators are located in the Arrivals Halls. To save time and ensure you get the car you want, book your rental in advance. Rental car operators from Vancouver Airport include:
Europcar
,
Thrifty
,
Avis
and
Budget
.
Vancouver Airport Bars and Restaurants
There is a real shortage of airside airport bars at Vancouver: in particular in the international terminal there is a choice of one.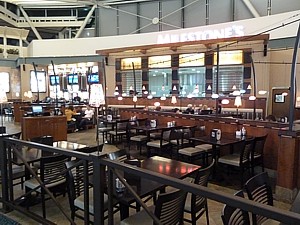 Vancouver Milestones
Milestone's restaurant
International terminal, airside, by Gate D53
There are two Milestone's restaurant at YVR, and this is the better one.
Food is good, particularly the salads.
The bar is, well, just an airport bar really. However it does serve British Columbia wine or the special YVR cocktail, the "Sky High" Bellini.
Open 0800-0000
Palomino Milestone's restaurant
Domestic terminal, airside
Palomino Milestone's restaurant and bar is located in the domestic terminal just outside the security check-in. IT is not only convenient, but it is a step above the normal 'fast food' served in the domestic terminal.
Open 0800-2100
Stanley's Happy Landing Lounge Bar
Domestic terminal, landside
If you hop off the 6 hour flight from Montreal and need a beer, the dreadfully named Stanley's Happy Landing Lounge is in a great location - it is right opposite the Domestic Terminal baggage carousel. As such, it is a great place to meet up with people.
Alas, it is heavily sports orientated: there are large TV screens showing the game.
Open 0800-2200