Dubai
Dubai Airport Guide
If you ever wanted to visit a mega airport, Dubai Airport is it. Huge, Vast, and with a concourse that goes on forever, Dubai Airport is the vast megahub not only for the Middle East, but now for much of the world. It has now overtaken even London Heathrow as the busiest airport in the world with only two runways, and it's the third Busiest globally, with 90 million passengers annually.
Just two miles east of the centre of Dubai, and visible from much of the creek, it is the hub airport for Emirates, and it has over 7,700 weekly flights to over 270 destinations across all six inhabited continents. At times, it seems every passenger from every continent is here, and also all in the vast Business Class lounges, which (mainly early morning) resemble a zoo.
Dubai Concourse A
The airport consists of three terminals and has a total capacity of 90 million passengers annually, with by far the majority of long-haul passengers (one in 10) heading to London Heathrow.
It is a huge transfer hub. Alas, unlike Singapore, transfer passengers have to go through a security and immigration check before boarding transfer flights back out of Dubai. Dubai Airport has three passenger terminals. Terminal 3 is the largest airport terminal in the world. It has two open-air garden areas, and the largest duty-free alcohol shop globally.
Dubai
Dubai Airport has tried to maintain a 'single terminal' concept, whereby you can move around freely airside without going through immigration. However, this is only partially successful. Terminals 1 and 3 are directly connected with a common transit area however Terminal 2 is on the opposite side of the airport. Terminals 1 and 3 can be considered as one, with Terminal 1 now operating the brand new concourse D, while A, B, C are Terminal 3. There is an automated People Mover between concourse A and B, and a small train between B and C.

First & Business Class lounges at Dubai Airport
Emirates operate four business class, and three first class lounges in the four concourses (A,B,C,D) of Terminal 1&3.
Choose carefully, as they are all different. You can access them all airside, but walks can be very long, and between Concourse A and B, there is a train. The names have also changed: Concourse B was Concourse 2, and has the best and newest Emirates lounge, with the Moët & Chandon Champagne bar. However, there are always huge queues for the bathrooms in B. A is generally much quieter.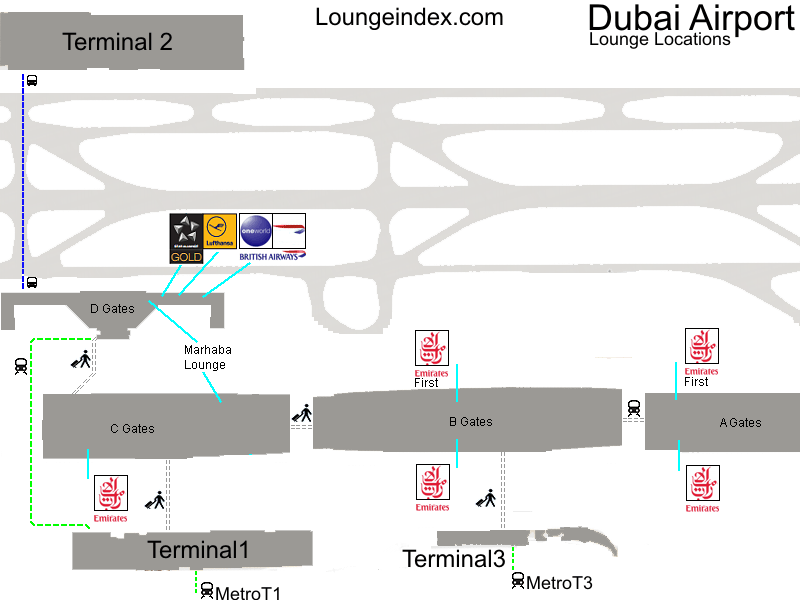 Dubai Airport Terminal Map
Dubai Airport transportation
Travellers should know that many bus, limousine and shuttle bus services operating to and from Dubai Airport usually require pre-booking.
Dubai Airport train
The airport is served by Dubai Metro, which operates two lines through or near the airport. The Red Line has a station at each of Terminal 3 and Terminal 1. Services run between 6 am and 11 pm except on a Friday, when they run between 1 pm and midnight.
These timings differ during the Islamic holy month of Ramadan. There are stations in front of both terminals and can be accessed directly from the arrivals areas. Terminal 2 has a station on the Green Line has at a station near the Airport Free Zone.
Dubai Airport shuttle bus services
Bus stations are situated opposite Terminal 1 and 3. Local buses 4, 11, 15, 33 and 44 connect with Terminal 1 and 3, and are air-conditioned, as you might expect. There is also a coach service, to and from Abu Dhabi, which is complimentary to Emirates passengers.
Dubai Airport taxi services
Getting a taxi to and from Dubai Airport is usually trouble free.
The airport is served by the Government owned Dubai Taxi Agency, which provides 24-hour service at the arrivals in every terminal.
Car Hire at Dubai Airport
Major car hire operators are located in the Arrivals Halls. To save time and ensure you get the car you want, book your rental in advance. Rental car operators from Dubai Airport include:
Europcar
,
Thrifty
,
Avis
and
Budget
.
Dubai Airport Bars and Restaurants
The Irish Village Bar Dubai Airport
The Irish Village Bar Dubai Airport
Open: 0500-0200
Airside Terminal 3, Concourse C
Well known as the Irish Bar at DXB with a revolving names, this bar has been known by a different name every year, and is now McGettigan's DXB, but every traveller knows it as the Irish Village.
It is an Irish pub at Dubai International Airport serving great Irish food with an Arabic twist.
Very much an American style Irish bar, it has huge TV screens showing American sport most of the day, but also serves a decent pint.
The Irish Village Bar Dubai Airport
Note that the interior is one of the famous constructions of the Irish Pub Company.
Heineken Lounge Dubai Airport
Heineken Lounge Bar
Open: 1100-2300
Airside Terminal 3, Concourse B
Dubai airport is yet another airport where you can find a Heineken Lounge Bar.
As well as serving Heineken and other alcoholic and non-alcoholic beverages, the lounge also includes complimentary Wi-Fi, power points to recharge mobile phones and laptops, and some OK food.