Abu Dhabi Airport Terminal 3
Abu Dhabi Airport Guide
Abu Dhabi International Airport is large new modern airport, which sells itself as a hub between Europe and Asia. The airport itself certainly has a new, but it also has some creaking infrastructure left from hasty development in the 1980s when this was a small dusty airfield.
Compared to the glittering shopping centres that also have a few aircraft on the side such as Singapore or Hong Kong, it is definitely on the small side with only basic facilities, reinforcing its image as a place to transit through quickly, rather than actually stop off at. Never the less the airport serves 13 million passengers a year and is now undergoing a major expansion. It is dominated by the new UAE carrier Etihad Airways which is rapidly growing to become the poor man's Emirates.
Walking around each terminal takes only a very short time - for this reason the airport authority doesn't hand out maps, and seems to have a major aversion to signage too. However it is the walk between the terminals - and to the gates in T3 - that will keep you fit.
Abu Dhabi Airport Walkway from T1 to T3
Abu Dhabi Airport also keeps on adding terminals. Terminal 2 is separate, and used by airlines other than Etihad. Terminal 1 is Emirates old hub. And Terminal 3 opened in 2009. It is tacked on the side of Terminal 1.
Abu Dhabi Airport Terminal 4 will open soon. The new passenger terminal is situated between the two runways and is also known as the Midfield Terminal. It will take the airport's passenger capacity to more than 20 million per year.
Transfering from AUG T1 to T3. Walking between Terminal 1 and Terminal 3 at Abu Dhabi used to be a supreme pain, thanks to a security check at the Terminal 3 end. This check was perfunctory, but the queues could add 20 minutes to the journey. Now however the security check has been moved back a bit, leaving the walk airside security free. It is still a long walk of about 15 minutes along a glass lined corridor, with a convenor for only a short section of the walk, however there is now even an outside view for a short section of the way, and in effect you can wander freely between Terminal 1 and 3.
Abu Dhabi Airport Terminal 1
Abu Dhabi Airport Terminal 1
Abu Dhabi Airport Terminal 1 is the old terminal: it is nearly ten years old, and while a newcomer in world aviation terms, its age and unusual design is showing.
Known as the "round one" it is designed like older airport terminals, with a round central shopping area, with gates at 45 degree segments around the rim. Abu Dhabi Terminal 1 is dominated by the vast semi-mushroom like central core: decked out in blue tiles it looks pretty - and pretty gawdy. However the design does ensure there is only a short walk from the gates.
There is Duty Free shopping on the lower level of the mushroom: on the upper level there is a small bar and a cafe. There is only one flight of stairs between them, hidden at the northern end, unless you take the airside connection to terminal 3, where there are also stairs and a lift. Signs are poor at this terminal: in particular there isn't a single sign or notice telling you where the lounges are. In fact they are hidden half way up the corridor to Terminal 3.
Abu Dhabi Walkway between Terminal 1 and 3
Abu Dhabi Airport Terminal 3
Used predominantly by Etihad Airways, terminal 3 is tacked onto the left hand side of terminal 1. It added 10 new gates at the airport, two of which are Airbus A380 compatible.
Known as the "long thin" one, Abu Dhabi Terminal 3 has a curious design thanks to the way it was designed as a long clingon to Terminal 1. All the gates are in a line: a very very long line nearly half a mile in length. You do not want to depart from Gate 35 right at the far end (often used for the Sydney flights) unless you are fit.
As you enter through passport control, or through the corridor from Terminal 1, you pass through security, and then enter a small crowded shopping centre with a few high end shops, at the end of which is a the double height duty free area. Be warned that everyone is walking in one direction – to the gates – and if you want to walk in the other – to the lounge or the pub – it can be a real struggle walking through the mass of humanity.
Abu Dhabi Airport Terminal 3
Above the duty free shop there is a small food court, with some basic outlets including a Pizza Hut, a Burger King, and an English themed pub.
There are public showers in Abu Dhabi Terminal 3. They are half way along the long thin gate area, down in the basement next to the prayer room. Bring your own towel. There is also a small snooze area above this – alas it can get very bright and hot in this area during the day.

First & Business Class lounges at Abu Dhabi Airport
NEWS: There are now no lounges in Terminal 3 for Gold or Silver card holders. All passengers with status who want to use a lounge now have to walk 15 minutes to Terminal 1, and transit security.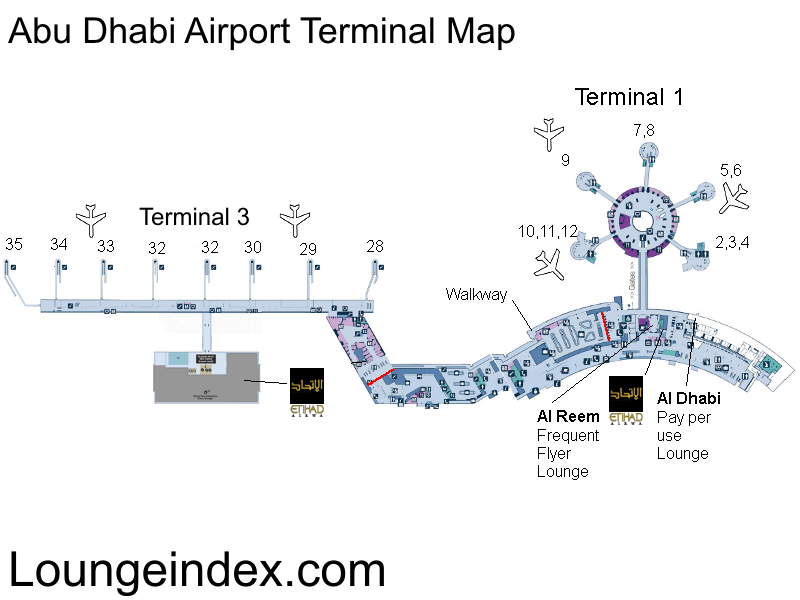 Abu Dhabi Airport Terminal Map
Abu Dhabi Airport transportation
Travellers should know that many bus, limousine and shuttle bus services operating to and from Abu Dhabi Airport usually require pre-booking.
Abu Dhabi Airport shuttle bus services
A city bus connects the airport to Abu Dhabi city centre. Number 901 departs once an hour outside the arrivals areas.
Note that it is pretty rare for tourists to take the bus: almost everyone will take a taxi.
Abu Dhabi Airport taxi services
Getting a taxi to and from Abu Dhabi Airport is usually trouble free, but quite expensive.
There is a large taxi rank outside the airport - be warned that when you push open the doors you will be hit by a wall of heat.
A taxi from the airport taxi rank to most of the hotels in the city comes at a fixed price of 70 AED one way. Taking the return is by meter which is usually a little cheaper - estimate about 60AED, or about 10 quid.
Car Hire at Abu Dhabi Airport
Major car hire operators are located in the Arrivals Halls. To save time and ensure you get the car you want, book your rental in advance. Rental car operators from Abu Dhabi Airport include:
Europcar
,
Thrifty
,
Avis
and
Budget
.
Abu Dhabi Airport Departure Tax
Departure taxes now form part of your ticket price.
Abu Dhabi to Dubai transfer
Etihad Airways provides coaches between Dubai and Abu Dhabi International Airport for Etihad customers. There is a similar bus run by Emirates. These are faily basic, and run generally every hour: more frequently at peak times.
Abu Dhabi Airport Bars and Restaurants
Above the duty free shop in Terminal 3 there is a small food court with a Burger King, Pizza Hut, and four other fast food outlets. They all take credit cards even for small purchases incase you have no UAE dirham.
Abu Dhabi Skybar
Abu Dhabi Skybar
Abu Dhabi Airport, Airside, Terminal 1
In the old circular Terminal 1 there is an airport run bar, called the Skybar. It is neither pretty nor cheap, but at least serves a pint.
Indeed, it really isn't the most attractive place at all to hang out in at the airport, with a few tired pot plants and a teracotta tiled floor, it looks as if it should be at some worn out Spanish airport. However, it always seems to be rammed with a mainly European clientelle. Beer starts at 35AED.
Abu Dhabi Bill Bentley's olde English Bar
Abu Dhabi Airport, Airside, Terminal 3
Yup - there is an English Pub at Abu Dhabi airport. At least it isn't a faux Orish one! What it is, is a pub rather like ones you'll find in run down shopping centres through the UK: a convenient place for a bloke to get a pint while their other half goes shopping. And so it is in the UAE.
Abu Dahbi Airport Bill Bently Bar
It is relatively authentic, with net curtains at the windows, and even a footy table.
It offers fairly standard pub grub, with Fosters on draft at 38AED a pint - credit cards are accepted for each pint, but if staying for long it pays to open a tab to save the 'foreign transaction charge'.
It does food too - although tables inside are at a premium: it is often easier to find one on the balcony outside, although here smoke drifts in from the nearly Purple Smoking Lounge. Never the less, the burgers are pretty good.