Istanbul Airport Guide
Istanbul International Terminal
If ever there was an airport that was a surprise, it's Istanbul Airport. Clean and swish it is unexpectedly efficient and modern, at least until something goes wrong, when you may experience what can only be called 'robust' Turkish customer relations.
However Istanbul Atatürk Airport, to give it its full title, is not only the main international airport serving Istanbul, it is a major gateway for the region and hub for transit between Europe and Asia. With over 50 million passengers a year, it is the 10th busiest in the world and the 5th busiest in Europe - even though it isn't in Europe.
Don't confuse it with Istanbul's Sabiha Gökçen Airport, a small domestic airport which also has a few international flights, such as to the UK.
There are two terminals - domestic (the old international terminal) and the new International terminal: in effect they are one building, and you just walk from one to the other.
Istanbul International Terminal
One of the oddities about Istanbul - and Turkish Airlines in particular - is that the flight departure screens always flick from Wait In Lounge to Last Call in one jump. To make it worse, the boarding cards always state the boarding time will start 30 minutes before they really do. At most airports this shouldn't matter, but at Istanbul you'll probably be bussed to the gate after an additional security check for a long-haul flights from gates at 300 and above. There is a real pinch point at Istanbul Airport for these gates, so people rush to the gate - and then find that there is absolutely nothing in the airport at gates 300 and above, and they have a long wait. While, at every airport, you should time your gate arrival carefully, at Istanbul there are numerous additional hurdles to get over.
Another particular 'nasty' at Istanbul Airport, is that if you arrive for a transfer, at the airbridge when you arrive the airbridge splits two ways: right an up for transfer, or left to collect your luggage. Don't miss this split off for transfer, as it's a right pain to go landside then airside again. Mind you, if you go right and up, you'll end up straight on the departure floor (via some wiggles around glass screens) without any further security checks. If you don't then have an onward boarding card, you need to then head to the transfer desk which is downstairs: head to the tiny hidden staircase by Burger King, argue with the border guard (in Turkish) and finally get to the transfer desk for your card, before heading up the tiny hidden stairs again. It's not exactly a smooth experience, and delays can be lengthy.
Istanbul International Terminal
If you miss your connection at Istanbul Airport, don't expect the plane to wait for you, or any help from THY staff. They hate you.
Another surprising oddity about Istanbul Airport are the newspaper collection points: the main one is in the middle of the terminal, and if you have an onward flight on Turkish Airlines, you can collect any of the hundreds of daily newspapers they have for free. However, they are all in Turkish.
There is a Free Hotel or Tour for transfer passengers on Turkish Airlines. You can only get a voucher for this at the International Transfer desk. You then have to take the voucher to the Hotel desk, which is on the departures concourse next to the Yapi Credit World Lounge. However the conditions for the Turkish Airlines hotel stopover (Turkish Airlines Transfer Hotel SPTC - Stopover Paid By The Carrier) are onerous.
Istanbul Newspaper Collection Point
Arriving and departing flights must be on Turkish Airlines, but not on codeshares, and there must be 10 hours between your arriving flight and your departing flight (7 hours in business class), with no other options that you could take. The hotel desk will insist that you take the tour, not the hotel room, however all tours leave the airport at 0900 promptly and you should avoid the tour on Tuesday and Wednesday as it includes the Turkish Islam Works Museum.
First & Business Class lounges at Istanbul Airport
Istanbul Airport has the world's largest collection of Airport Bank Lounges - basically lounges run by banks for their best Credit Card customers - and competition is red hot along them. For this reason, airline lounges have been closing - such as the British Airlines Istanbul Lounge - to be replaced with real oddities, and attractions by themselves, such as the 1960s themed Yapi Credit Card lounge.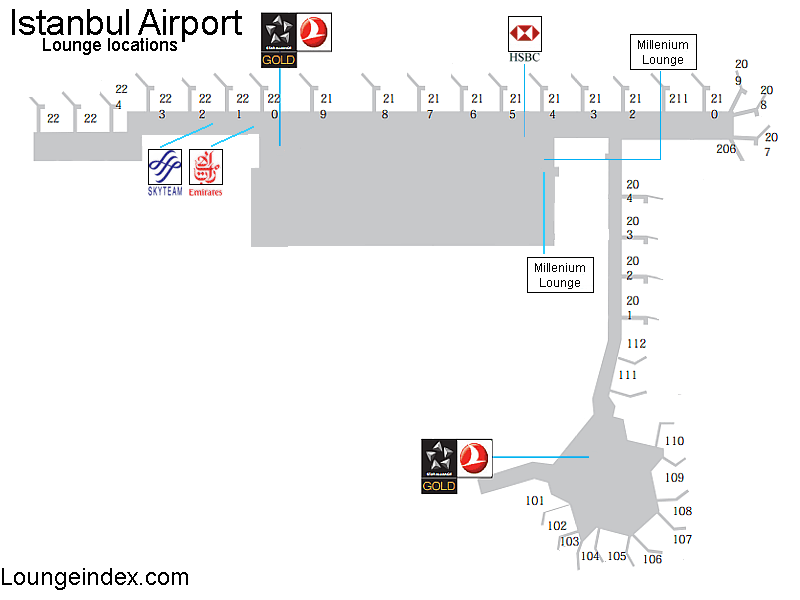 Istanbul Airport Terminal Map
Istanbul Airport transportation
Travellers should know that many bus, limousine and shuttle bus services operating to and from Istanbul Airport usually require pre-booking. However, the train is just a walk up and go service.
Istanbul Airport train
The airport train to Istanbul Airport is the normal domestic suburban Istanbul Subway.
The station for Istanbul Metro line M1A is right inside the terminal, and runs out towards Aksaray. The line goes through some major parts of the European side of the city, including the intercity bus terminal.
The Istanbul Airport Metro takes 30 minutes to get to the city, and costs 2,15 TL (0.75 euro) one-way.
Istanbul Airport shuttle bus services
There is an airport Airport Shuttle bus, which depending on the traffic can be slower than the metro. It runs every half hour to Aksaray, Taksim Square, and the fast ferry terminal in Bakirköy. The journey time to Istanbul is about 45 minutes and the fare is about €45.
There is also a suburban bus which runs to Taksim, Etiler and Kozyatagi.
Car Hire at Istanbul Airport
Major car hire operators are located in the Arrivals Halls. To save time and ensure you get the car you want, book your rental in advance. Rental car operators from Istanbul Airport include:
Europcar
,
Thrifty
,
Avis
and
Budget
.
Istanbul ISG Airport Hotel, Airside entrance
Istanbul Airport Hotel
There is just one airport hotel at Istanbul airport, however it operates in two locations, one airside and one landside.
The ISG Airport Hotel is available to both landside and airside transit passengers. Airside, it is right beside the Turkish Airlines lounge. Landside, it is just a couple of minutes' walk from the terminals.
In addition to 128 rooms, the hotel has a gym, restaurant/bar and free Wi-Fi internet access.
Istanbul Airport Left Luggage
Istanbul airport luggage storage is handled by a company in the arrvals hall, where a left-luggage facility (tel: +21 6 588 8802) is available.
Car parking
Istanbul airport car parking is quite good. A four-storey car park adjacent to the terminal has capacity for over 4,000 vehicles.
The airport is accessible through the coastal road, D-100 international road and the Trans-European Motorway (TEM).
Istanbul Efes Beerport Previously known as the Istanbul Airport Irish Bar
Istanbul Airport Bars and Restaurants
There are only two main sit-down eateries in the departure section of Istanbul Airport, plus a 'fast food' hall with Burger King and the like.
Efes Beerport
Open: 0700-2300
Airside, right after security, before the fast food hall.
Previously known as the Irish Bar at Istanbul Airport, the Irish tat has been taken off the walls of this classic airport boozer, and the beer changed to more European tastes, but that's about it.
There is Efes, Heineken and Carlsberg on draft. The bar can also rustle up some classic pub grub, including meat pies and pasta.
Istanbul The Greenport Airport Restaurant
The Greenport
Open: 24 hours
Airside, After Passport Control, Opposite of Duty Free
The Greenport is a classic snack bar and minor restaurant, but it has the joy of one of the best wine selections at Istanbul Airport (although this isn't saying much).
There is some quite comfortable seating, however the food selection isn't pretty basic with salads, pasta dishes, and a couple of Turkish specialities hidden away.
Istanbul The Greenport Airport Restaurant