Istanbul Emirates lounge
Emirates new lounge at Istanbul's Ataturk International Airport is a joint lounge for first and business class passengers, and it has pretty much identical styling to all of the other lounges.
The Emirates lounge Istanbul is quite small, due to the lighter premium loads at Istanbul and short distance to Dubai: the lounge is only 520 square meters, and has seating for 56 passengers, plus room for another 40 standing or in the buffet area. It is the airline's 30th global lounge.
Mind you, it's full of bling. Opened in July 2012, it cost just over one million pounds to develop, and is decked out in the usual Emirates style, with heavy wood panelling, Italian marble floors, mahogany coffee tables, beige leather arm chairs and Gold Rolex clocks.
The Emirates lounge Istanbul is open before the twice-daily flights to Dubai from 1330 to 1930, and access is available with either a business class ticket, or for Emirates Skywards Gold members (however, due to the lack of space, access is not permitted for guests).
Food
There is an extensive range of gourmet dishes from Turkish and world cuisine, with hot and cold food.
The round circular buffet that The Emirates lounges are in general famous for is there, with plenty of salads, seafood, cold cuts, cheese, and deserts.
Emirates has supplemented its usual fare with gourmet Turkish cuisine, including kebabs, Dolma, stuffed eggplants, and pilav. The sweet Istanbul pastries are much in supply, with sütlac, tavuk gögsü, kazandibi, are baklava and kadayif.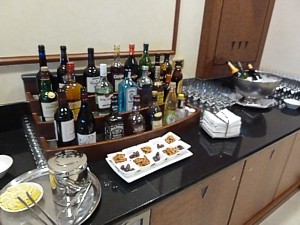 Emirates
Bar
Large bar a good selection of drinks. It is one of the few Istanbul lounges with real champagne.
The bar is good as well, however reflecting the small size of the lounge, there is just one bar area, next to the dining area, with the usual double shelf of sprits. There are two bottles of white wine, and Veuve Clicquot champagne.
Bathrooms
Three showers, one is equipped for handicapped.
Business Facilities
The Lounge has a small business centre with four computers and a printer. There is free wifi in the lounge, international and Turkish newspapers, copymachine and printer.