Doha Airport Guide
Doha Hamad International Airport
The new Hamad International Airport at Doha is a brand new, vast airport situated in Doha, Qatar, located ten miles east of Doha city centre.
The new Doha International Airport is called the Hamad International Airport, to separate it from the old Doha airport, which was little more than a hut in the desert with a lot of lean-to extensions, and which closed in 2014.
The new Doha Airport is still being built, but already has a capacity of 29 million passengers a year, but after completion, it could handle up to 93 million passengers a year, making it the second largest airport in the region after Dubai Airport.
Doha Hamad International Airport
Make no mistake however - it is not the shopping mecca that Dubai is; instead it is a wonderfully designed, architectural wonder, with not much to do if you are changing planes. Sure, the new terminal is amazing, with an oasis theme, having a water motif, and wave-styled roofs and desert plants growing in recycled water. But in terms of actual facilities, there's a vast duty free shop, and small restaurant, a cafe, and an awful lot of walking to the gates.
Be warned that Qatar is also nowhere near as Western as Dubai is - in particular you may have problems getting a drink at the airport: there is no bar. Also be aware that the whole airport, including all the lounges, is totally dry during Ramadan. There is a notable dip in western travellers flying during this period.
Doha Hamad International Airport
At the new Doha Airport many references are made to 'by the Teddy Bear' or 'take the escalator by the bear'. The Teddy Bear is the monstrous orange sculpture right in the middle of the heart of the terminal, which supposedly symbolises the cuddy, childlike, and playful nature of the airport. Called the Lamp Bear by Urs Fischer, judgement is up to you.

First & Business Class lounges at Doha Airport
Check your lounges carefully if you are flying on Qatar Airways. The 'Business Class' lounge is not designed for Business Class passengers: it is for oneworld Sapphire passengers, and silver Qatar Privilege Club members. If you hold a real business class ticket, the much better Al Mourjan lounge is the one for you. The same goes for First Class - the 'First Class' lounge is designed for oneworld Emerald and Gold Qatar card holders.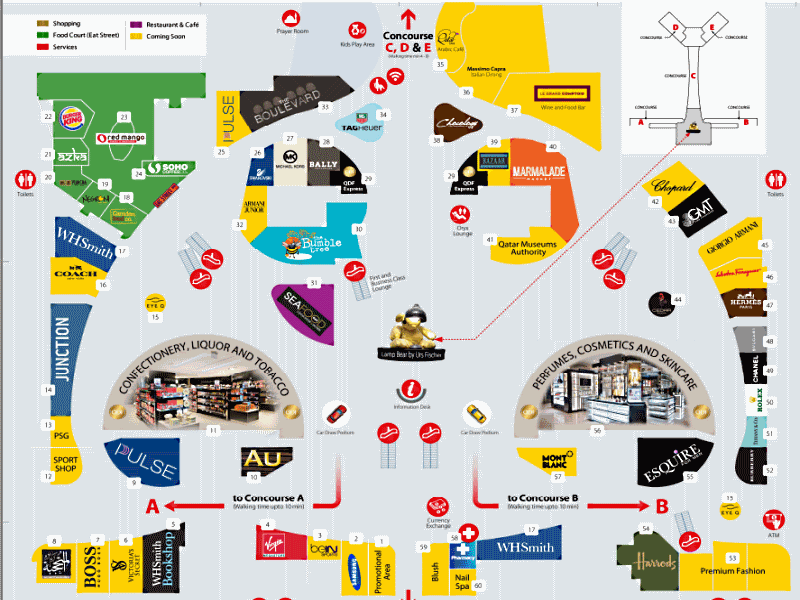 Doha Airport Terminal Map
Doha Airport transportation
Travellers should know that many bus, limousine and shuttle bus services operating to and from Doha Airport usually require pre-booking.
Car Hire at Doha Airport
Major car hire operators are located in the Arrivals Halls. To save time and ensure you get the car you want, book your rental in advance. Rental car operators from Doha Airport include:
Europcar
,
Thrifty
,
Avis
and
Budget
.
Doha Airport Bars and Restaurants
Caviar House Doha Caviar House & Prunier
Caviar House & Prunier
Open: 24 hours
Airside, by teddy bear
Pretty much the only bar at the new Doha Airport is the Caviar bar. It serves loads of sea food, and you can get some pretty good salmon here, flown in especially from Scotland.
However, the Caviar Bar has one unique selling point you can't get anywhere else in the airport. You can get a drink - a real alcoholic one. Sure, the staff look at you oddly if you ask for a beer or a glass or wine without any food, but you can actually get it if you hold out long enough. Be warned however, the bar - and the whole airport come to that - is dry during Ramadan.