Southampton Airport Guide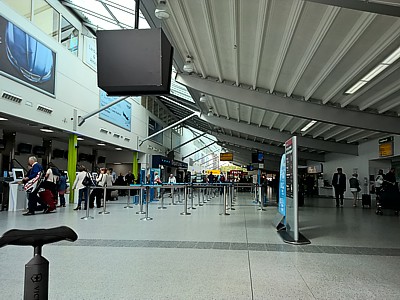 Southampton Airport
Southampton Airport is a small, surprisingly efficient airport, just 60 miles south west of London, and only 4 miles (6km) north of Southampton itself, and 6 miles south of Winchester.
The amazing thing about Southampton is that it is like an airport should be, but so rarely is. The delight - and indeed one of the main talking points - of Southampton airport is how easy it is to get to on the train. You can walk from the fast, mainline, train to check-in in less than 60 seconds, and to the plane in about 2 minutes. There is a decent café, and even a Business Class lounge.
Shopping after security is limited to a pretty standard World Duty Free shop and a WHSmiths. There is a post box opposite the terminal building landside. Stamps can be purchased from WH Smith.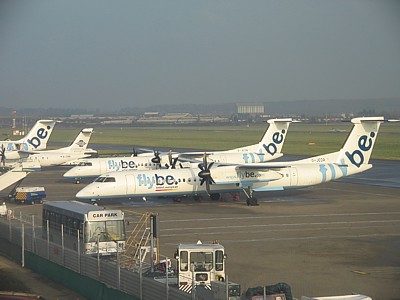 Southampton Airport
There is free wifi and the first 30 minutes of Wi-Fi internet use is free of charge.
Southampton has a surprisingly large number of direct flights to useful places. Sadly, British Airways pulled out of Southampton in 2007 and handed flights to Flybe, who in turn have cut down on routes, but there are several direct flights a day to Edinburgh, which is the most popular destination, Glasgow, Jersey, Guernsey, Manchester, Dublin, Amsterdam and Paris. Winter flights to the Austrian Alps are complemented by Palma in the summer.
Nearly two million passengers a year use Southampton; however it can't expand much more or take larger aircraft as part of a London overspill, due to the very short 5,600 foot runway, which cannot be extended thanks to the M27 motorway being built right at the bottom of the perimeter.
Southampton Airport
The airport was used by Supermarine in 1936 to test the Spitfire - a novelty is the near full-scale model Supermarine Spitfire prototype K5054 at the front entrance to Southampton Airport. Despite the number of large jets which use the airport, it is also still open for civil aviation and training flights.

First & Business Class lounges at Southampton Airport
Southampton Airport transport
Southampton Airport train
The delight - and indeed one of the main talking points - of Southampton airport is how easy it is to get to on the train.
Southampton Airport is next to Southampton Airport Parkway Train Station and boasts one of the fastest 'plane to train' connections of any European airport.
Trains connect the airport to Southampton city centre in seven minutes, Winchester in ten minutes, and London Waterloo in an hour, to which three fast direct trains depart every hour.
Southampton Airport shuttle bus services
First Group
operates regular bus services to Southampton Airport from Southampton city centre.
Uni-link run the U1C bus direct to Southampton University, the city centre and the ferry terminal every 15 minutes. The journey takes 40 minutes and costs £2.
Southampton Airport taxi services
Getting a taxi to and from Southampton Airport is usually trouble free. A desk for
Checker Cars
is located on the main concourse, opposite the arrivals hall. The 20-minute ride to central Southampton costs around £15.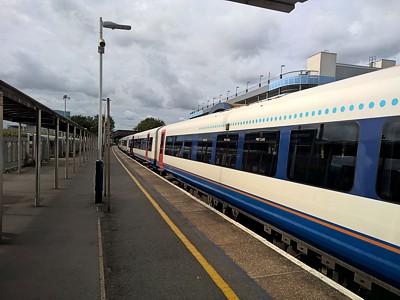 Southampton Airport South West Trains
Car Hire at Southampton Airport
Major car hire operators are located in the Arrivals Halls. To save time and ensure you get the car you want, book your rental in advance. Rental car operators from Southampton Airport include:
Europcar
,
Thrifty
,
Avis
and
Budget
.
To get to the airport from central Southampton, head north onto Thomas Lewis Way (A335) and then onto Stoneham Way, which leads directly to the airport.
Southampton Airport is located a short distance from Junction 5 of the M27 motorway. The M3 motorway is also less than 1 mile away from the airport, providing fast routes to Basingstoke and London, and via the A34 to Oxford and the Midlands.
Southampton Airport Hotel
There are no on-site hotels at Southampton Airport, however the Wessex Hotel in Winchester is only a ten minute train ride away.
Southampton Airport
Southampton Airport Left Luggage
Southampton airport luggage storage is handled by a company called Servisair, which has a left-luggage desk (tel: 0844 481 7777) in the check-in area; this also handles lost property enquiries.
Car parking
Southampton airport car parking is quite good.
The short-term car park is directly opposite the terminal, and it only costs a tenner a day. The walk to the terminal at best takes two minutes.
Long-term parking, costs about a fiver a day, and is located north of the airport and is connected to the terminal via a free shuttle bus that departs every ten minutes.
Southampton Airport Bars and Restaurants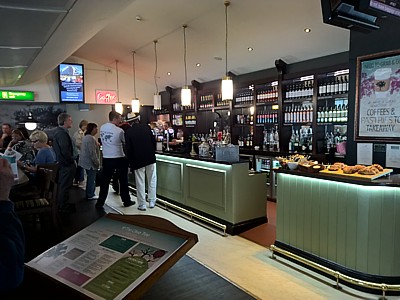 The Olive Tree Southampton Airport Bar
The Olive Tree
Open: 0500-2200
Airside
The main after security bar is the Olive Tree.
Light and bright, it is located is a really odd place: indeed, many people may not know that it's there at all.
To find it, head through duty free, and then up the strange wiggly staircase right by the main gates. If it seems odd, that's because it is. The space it occupies was designed as airport offices, and was laterly changed to an airside area.
It has a pretty good drinks menu. The wine list is particularly extensive, the food menu less so, being mainly wraps and sandwiches.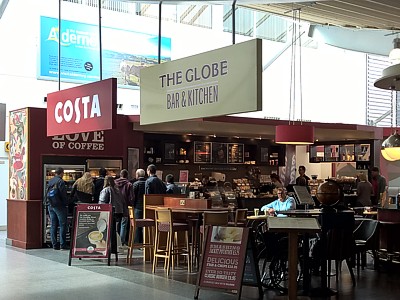 Globe Bar Southampton Airport Bar
The Globe Bar & Kitchen
Open: 0800-2200
Landside
There is just one main pub at Southampton Airport landside.
The Globe kitchen and bar is before security, and has a decent food section too. The hot cooked English is recommended.