Newquay Airport Guide
Newquay Airport
Newquay Airport is a delightful small rural UK airport, located on the north Cornish coast, at a former tactical nuclear bomber base, just four miles north of the small Cornish town of Newquay.
Located in a small metal shed, the airport can at best be described as basic, however it has a delightful atmosphere with staff who really do try to help - after all, with just a handful of flights a day, you get the impression they like the company.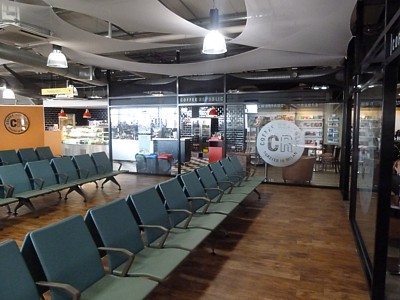 Newquay Airport
There is a small café airside, and even a Business Class lounge. This comes into its own with the once a week (summer) international flight, to Dusseldorf, operated by Lufthansa offshoot Eurowings, and also the weekly flight to Dublin, flown by Eddie Stobart Air.
For many years Newquay Airport was the hub for the airport's main carrier, Air Southwest, however it pulled out when taken over by Eastern Airlines in 2011m leaving just Flybe to fly the three year-round scheduled routes. In 2013 FlyBE also planned to pull out, but so far the twice daily service to London Gatwick has been maintained, which is by far the busiest destination, with 92,000 passengers a year.
A new terminal extension was opened a decade ago, increasing the terminal by 20% and including the new café. Newquay airport can now handle as many as half a million passengers a year. However at the same time both Monarch Airlines and Ryanair pulled out of the route.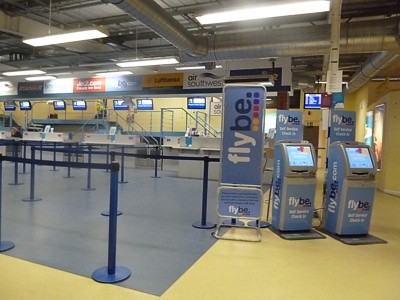 Newquay Airport
In 2006 the airport introduced a £5 per passenger airport development fee, payable by all departing passengers via an ATM type machine prior to passing security

First & Business Class lounges at Newquay Airport
Newquay Airport transportation
Travellers should know that the airport is somewhat remote, and there may not always be a taxi waiting outside the terminal. Booking a hire car is almost always required in the summer, as there may be none available in Cornwall in August.
Newquay Airport shuttle bus services
First Group bus operates Bus 56 which runs from Newquay Station to Newquay Airport, on an hourly basis, 7am to 6pm.
Newquay Airport taxi services
Coastline Travel is Newquay Airport's only official taxi provider, and has a small stand in the arrivals hall at Newquay Airport. A taxi into Newquay normally costs £15.
Car Hire at Newquay Airport
Only two car hire operators are located in the Arrivals Halls.
You really do need to book in advance.
Europcar, and Avis are both there.
Newquay Airport Departure Tax
Departure taxes must be paid before you can leave, and are not part of ticket prices. The cost is five pounds.
There is a vending machine in departures - make sure you collect both your receipt AND your ticket.
Newquay Airport Arrivals
Car parking
Newquay airport car parking is quite good, however it is all paid - you can't just leave the car outside the airport for a few minutes while you nip in. The access barrier is on the small lane by the A3059.
To get to the airport from the A30 take the turning to Indian Queens and the Airport. Turn off the A30 at Highgate Hill on to the A39 until you reach St Columb Major roundabout. Then follow the signs to the Airport onto the A3059 before turning right towards St Mawgan.
Newquay Airport Bars and Restaurants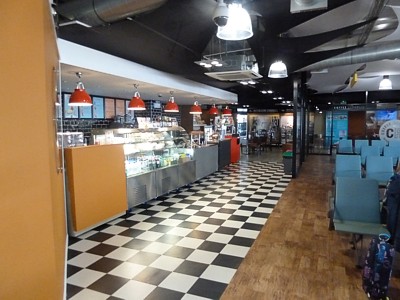 Newquay Airport Bar
Newquay Airport Bar
Open: 1100-2300
Airside
Yes, there is one small bar at Newquay Airport. It is pretty good, and sells Coffee Republic coffee.
It has a selection of cakes and pastries. There are also two draft beer taps, with cider and a lager.