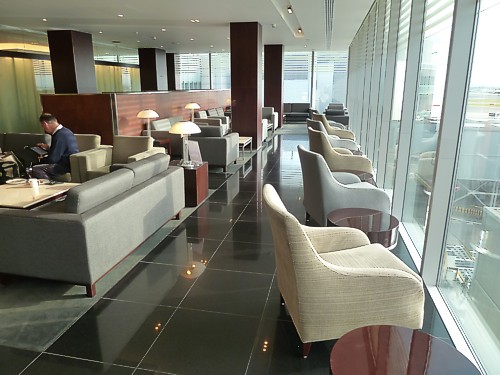 Cathay Pacific London LHR First Class lounge
With four flights a day to from the old country to the New Territories, and significant premium loads, it's no surprise that Cathay Pacific have full lounge facilities at London Heathrow, with both a Business and a full First Class section. They are among the smallest oneworld Heathrow Terminal 3 lounges, occupying only 900 square meters, however many longhaul Qantas and BA passengers make their way here, thanks to the excellent showers, and top noodle bar.
Cathay Pacific's new First Class Lounge at London Heathrow Airport features a high-ceiling window wall with a great panoramic view of the apron area, and aircraft at their gates. Most of the seats looking out through the window are singles and ideal if you want to watch the traffic on the Northern runway.
Inwards of the windows are three very comfortable sofas, which almost feel like you are at your home, as they also have plasma TV screens. Normally these are on News 24, but you can flick them onto all of the Freeview channels.
There is one further lounging area, around the corner, which is pretty large - hence, you may end up sharing it at busy times, and it's also opposite the noodle bar, so no very private. Cathay Pacific call these "Personal Living Spaces", which to an extent they are, but with only 49 seats in the lounge, if you get there late, on the late night flight with plenty of oneworld Emeralds, its common to find all these have already gone.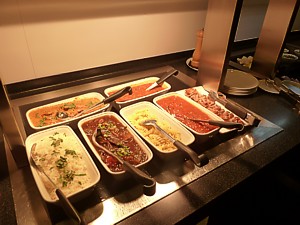 Cathay Pacific London LHR First Class lounge
One last curiosity of the lounge is the inner wall of glass, with net curtains: there is nothing special behind these: it's just the glass wall of the inner Business Class lounge.
Food
Food
is good in the Cathay Pacific London Heathrow First Class lounge, but noticeably it is pretty much the same as in the Business Lounge next door. It's not quite up to the standard of the BA First Dining Room, but it does have the delight of a cook to order
noodle bar
: if you've been missing Hong Kong specials, they will do them for you.
There is a menu on top of the hotplates, and you just have to ring the bell next to the serving hatch, just as you would in the Hong Kong Pier and Wing lounges.
Options generally include Shrimp & Port Wonton Noodles, Don Don Noodeles, and Rice Vermicolli. These noodles are available all day, as is the salad in the fridge section on the worktop.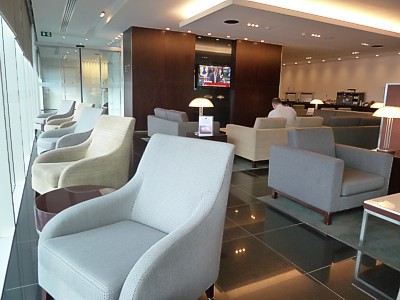 Cathay Pacific London LHR First Class lounge
In the evening, before the three main day Cathay Pacific flights from LHR to HKG, large tubs of curry, pasta and rice appear on the hotplate. Some of these can be quite unusual, such as Duck Curry. There are also bags of crisps and bowls of nuts and olives.
Bar
The Cathay Pacific First Class London Lounge
bar
is a notable step up from Business next door. There is always a good champagne - generally Veuve Clicquot - and five good whites in the refrigerated area, including a rosé and a very good desert wine. There are three very good reds (generally French) on the counter top.
There are cans of Singa and Tiger beer in the fridge, however curiously spirits are very poor, with only Bacardi, Black label, Campari, VSOP, Glenlivet, Jack Daniels, and Bombay Sapphire. If you are a spirit drinker, the BA lounge is better.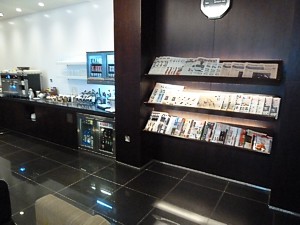 Cathay Pacific London LHR First Class lounge
Bathrooms
Shower
facilities are among the best at Heathrow, with five fully equipped shower suites common to both lounges, again in the classic white marble. You need to ask at reception for a towel.
Business Facilities
A curiosity of the Cathay Pacific First Class Lounge Heathrow LHR is that even though many passengers now bring their own laptops, Cathay chose to devote over half of the lounge to desk space with
Computers
. These desks are really large, and so it's a disappointment to find that the PCs are slow, with only IE6. There is also no printer - you have to go to the business lounge to find one of those. There is free Wifi, although it is not the fastest.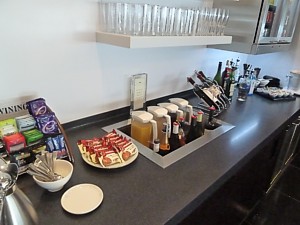 Cathay Pacific London LHR First Class lounge
There is a very good newspaper rack next to the bar counter: it has all the main UK and Hong Kong papers, plus a few from mainland China and Finland. There are also plenty of magazines, from Hello to lifestyle magazines, and oddly plenty on yachts. Showers and toilets are outside the lounge.