NEWS: American Airlines has enhanced the Admirals Club Lounge and Flagship Lounge at London Heathrow Airport. It has added Wifi, HP PCs, and an enhanced food and beverage offering. It needed it – however the 'enhanced' food offering simply means it now offers a hot dish throughout the day.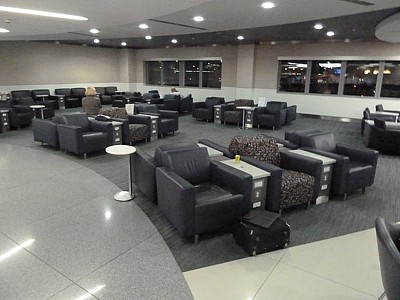 London Heathrow American Airlines Admirals Club
The American Airlines Admirals Club Heathrow is a desolate miserable dump compared to most of the Heathrow lounges, but very good compared to most American Airlines lounges in general. Never the less it manages to do a lacklustre job, despite a recent revamp that apparently saw it enhanced into a 'relaxing oasis to conduct business or rest'. Apparently.
Alas, it is a miserable experience. The American Airlines Admirals Club Heathrow lounge is a sea of uninspiring grey leather, anti-septic tiles, and walls that come straight out of corporate middle America. Avoid, just avoid. If you have oneworld status there are much better lounges at Terminal 3, including the great food & noodle bar in the Cathay Pacific Lounge, or the cosy atmosphere and bar in the British Airways lounge.
It is however large, at 19,000 square feet with seating for 237 passengers – and that is without the Flagship Lounge next door (for First Class) which has doubled in size, offers seating for 134 people.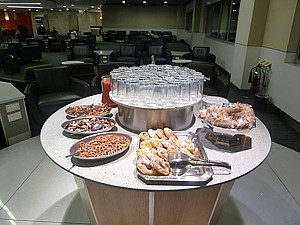 London Heathrow American Airlines Admirals Club
Finding the American Airlines Admirals Club Heathrow lounge isn't easy: head through the shopping centre, turn left after the Caviar Bar and follow the signs to Zone H. Walk up what seems like service corridor, and at the end is a large reception area, doubling up as the service desk.
There is a small drop-in area with chairs at the entrance to the American Airlines Admirals Club Heathrow where you can wait for other members of your party or just rest for a minute if you have a flight shortly. Past here there is a long corridor, and then four separate areas, all rammed with identical and not very comfortable chairs. There is a quiet area on the far left of the lounge.
There is a light bright area at the far end of the room with more comfortable seating, that also has between the chairs power sockets for UK/HongKong plus (240v) and US plugs (120v). There are no euro or Australian sockets. The computers are also here – rather odd, as the light from the windows shines on the computers. Indeed, there's lots of natural light, with a great view of the aeroplanes on the gates below, and the distant 27R.
London Heathrow American Airlines Admirals Club
In the centre of the lounge is the main food area, arranged as a great big circle, with a circular wine table in the middle, and a circular refectory table in the far corner. Close by here are some dining chairs too.
There is a TV in the dining area, but with the volume turned low – if you want to watch the TV, your best bet is the cinema area, around which are the most comfortable chairs in the American Airlines Admirals Club Heathrow, arranged in – guess what – a great circle.
Food
Don't get your hopes up at what AA promise is a fresh hot and cold food selection provided by London's renowned "rhubarb" Restaurant & Catering. That may be true, but all they offer is some basic pasta and some curled up British Railway type sandwiches.
Yep, the spread is very basic, even at lunchtime when most American Airlines flights depart. The pasta comes in two great big metal tourines like a works cafeteria and there are only two choices: vege or with meat.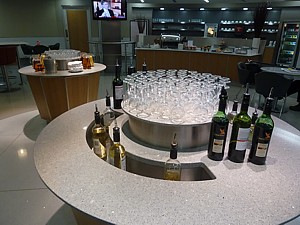 London Heathrow American Airlines Admirals Club
The few sandwiches are under a small plastic lid on a plastic tray. If you miss the diet of America lounges however there are carrots and celary and what is enticingly called Ranch Dip. Beside this there is a small salad bowl and some fruit salad. For afternoon tea there is shortbread.
Crisps, olives and nuts are also available. And that's it.
Bar
If you think the food is bad, wait until you get to the bar. It's bad – really bad. Be thankful there is a Wetherspoons outside the door.
There is a stylish 1960s designed circular wine table in the middle of the lounge. It has wine in a circular trough around it. Alas the wine is the classic 3 quid from Tescos style with two white wines and two reds.
Spirits are equally bland with just basic label Gin, Vodka, and Whisky.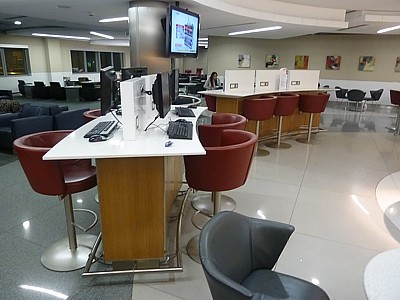 London Heathrow American Airlines Admirals Club
Bathrooms
There are 7 private bathrooms with a toilet and spa-like showers. These, unlike the rest of the lounge, are new and trendy, and genuinely good places to refresh.
The showers have shower gel and shampoo, but they are fairly cheap and aren't especially pleasant.
Business Facilities
Oddly. computing and wifi facilities in the American Airlines Admirals Club Heathrow are superb.
There is free wifi and it is blisteringly fast: definitely the best you will find anywhere in Heathrow.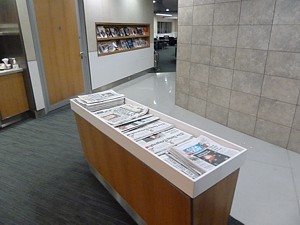 London Heathrow American Airlines Admirals Club
There are computers too – six brand new HP PCs. Alas, no printer, but you can't have everything.
There are newspapers in the lounge, with a good selection of UK papers and few US papers.
Access
The American Airlines Admirals Club at London also doubles up as the pay-per-access Heathrow Terminal 3 lounge. You can buy a one day lounge pass for US$50, and access the lounge on any flight so long as you have a 'same-day ticket for airline travel that allows clearance through security' at Terminal 3. However, it isn't worth it. There is a much better Heathrow pay in lounge terminal 3: either the Servisair lounge or the no1 lounge Heathrow terminal 3: a snip at 30 quid.