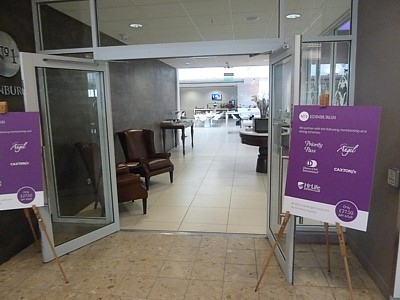 Edinburgh No1 Lounge Edinburgh Airport
The No1 Lounge Edinburgh Airport is a small but efficient pay-per-entry lounge on the airside (after security) part of the airport. It is brand new, with a good bar and decent food, although it can seem a little on the small side with a seating capacity of 55.
The Edinburgh Airport No1 Lounge is right after security, appropriately enough, before you get to the Wetherspoons. The door looks wide and inviting, with large high backed Chesterfield chairs (a signature of the No 1 lounges), but before you stride in there is a small solid wooden desk on the right, from where the lounge staff spring and ask you to cough up more than a twenty in notes to get in.
One you are in, the lounge is rather like a light an airy box, with a large bench sofa running down the middle of the lounge, neatly dividing it in two. On the right is the business seating and desks with power sockets. On the right is dining seating (with bowls of heather on the table - a nice touch. At the far end it a strange purple bench seat running the length of the bar.
The Number One lounge Edinburgh has a small buffet table at the end of the dining seating beside the bar, but these tables also have waiter service.
Food
No1 Lounge Edinburgh Airport reviews always rate highly the food. And good it is too.
There is a small buffet table with a soup bowl and cheese plate, salty snacks with crackers, some fruits, crisps nuts and biscuits, but for everything else you have to head to a table, and order from there or the bar. One dish is free, and other ones are £4 a throw - not too bad.
Breakfast before 11am consists of cereals, pastries, and fruit. Hot, it's a bacon roll. After 11am, there is a basic wrap, pasta or a pie. It may not sound great, but it is better than you'd expect.
Bar
The Bar in the No1 Lounge Edinburgh Airport is alas run by a barman: there is no running up and pouring your own. But what a bar though - it really is better than your normal airport lounge.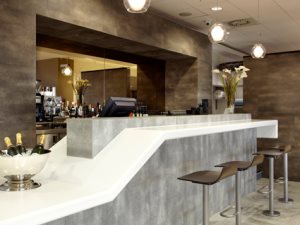 Edinburgh No1 Lounge bar
There is basic house wine (two whites, two reds and a rose) and beer included with your ticket, as are a few spirits.
Other than that you have to buy the stuff: it starts at £6 for a basic Prosecco, to £48 for a bottle of Verve or Moet.
Bathrooms
No shower and spa facilities in teh number one lounge Edinburgh. No toilet inside.
Business Facilities
There are a couple of computers with internet connection in the lounge, and also free wifi which works well.
There isn't the huge pile of newspapers in the No1 Edinburgh Lounge you get in say the BA lounge, but there is usually a Scotsman stuffed into the top of the work table, along with quite a few magazines such as Country Life and Wallpaper.
Access
You can buy access on the door - but it will cost an extra fiver compared to booking on line at
no1traveller.com
. Normal price is £22.50GBP for a couple of hours, rising to £27.50 on the door. Mind you it also includes airport fasttrack, so it is worth paying the fiver in advance.
There is also access to Priority Pass, Airport Angel, and Diners Club.