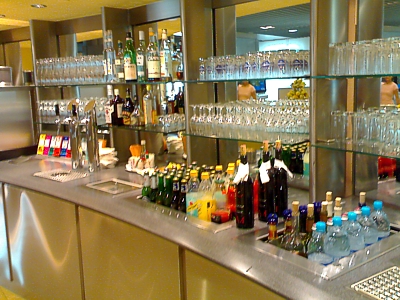 Swiss Geneva Senator Lounge
The Geneva Swiss business class lounge is much larger than the Senator lounge - and poorer quality. Never the less, it does the job, and indeed many people prefer this lounge because it is much larger than the Senator lounge down the corridor.
To get to the lounge, after security control (but before passport control if you are extra-Schengen), go up the stairs (or escalator) to the upper Mezzanine floor, and take the small corridor marked 'British Airways Lounge'. It is at the far end.
The Geneva Swiss business class lounge is quite stylish, with subtle white welcoming tones, and with a warm Swiss home atmosphere. Alas Swiss say it has an 'appealing blend of comfort and spaciousness'. Now, considering this lounge seats 71 and at peak periods before midday most of them will be in here, it is neither. Occasionally, you'll see people sitting on the floor.
The seats are quite comfortable - the squashy single armchairs were created by renowned British designer Jasper Morrison, and the seats are made by Swiss manufacturer VITRA, with whom SWISS has formed a preferred marketing partnership, in 2009. They are already getting a bit worn.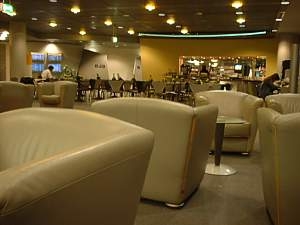 Swiss Geneva Frequent Traveler Lounge
Food
The Swiss business class lounge Geneva has OK food, although it can be a bit poor during the middle of the day.
At breakfast time there are croissants and pastries, with butter and jam, or ham and cheese.
At lunchtime and dinner there is the usual Lufthansa lard&herb mix, plus more ham and cheese.
Bar
The bar in the Miles&More Frequent Traveler Lounge Geneva is open from early morning.
There is a bottles of white in the fridge, and a bottle of red on the worktop. Wine is almost invariably French.
Beer is Becks in bottles.
Spirits are OK: with 8 bottles of vodka, whisky, and gin.
Business Facilities
There is a small workstation in the lounge, but no computers. There is free wifi.
At the workstation there is a telephone with free local calls.