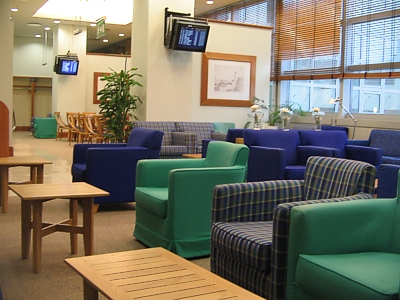 British Airways Terraces Lounge
This is a pretty small room which gets very busy during the winter season, and is decorated in the old Terraces style.
You enter after security control, and go up the stairs (or escalator) to the upper Mezzanine floor, then down the corridor to the left. As you enter you pass the small smoking room on the left hand side, and the reception desk.
The Geneva British Airways lounge is small and cozy. Really, there is only room for one flights worth of passengers, and it can busy if the 3.30pm flight is delayed, when it starts filling up with those for the 5.30pm flight.
There is the usual parasol, a fountain, and a decent view through full height windows.
The lounge has been here a while, and despite an update a few years ago is betraying its age: never the less compared to the Swiss business class lounge it is brilliant.

Food
Food
as you'd expect is pretty basic, with just crisps and olives.
British Airways Geneva Lounge
Bar
There is a good
bar
at the far end of the lounge, with a couple of white and red wines, plus the usual beers. Champagne
is
stocked, but not advertised. You have to ask the bar staff specifically for this, and they will bring you a glass (but not the bottle).
Bathrooms
There are no showers or toilets: instead you have to use the facilities outside, accross the hall, which are pretty hidden.
Business Facilities
There is a small business centre, although perhaps this should be called a "computer area", because thats is all it really is. There are three computers in the lounge but they aren't particularly fast however they do connect to the internet.
There is also free Wireless Internet.