Oslo Airport Guide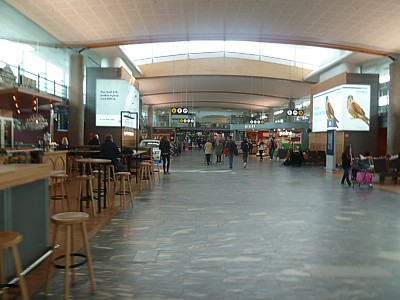 Oslo Gardermoen Airport
Oslo Airport is expanding, with a new pier directly after security with 11 new air bridges, 6 remote stands, a new arrivals and departure hall and a new baggage handling system. From 2022 there will also be a new terminal 2 (T2) 500 meters north of the present terminal, connected by an underground passage.
Oslo Gardermoen Airport is by far the most dominant of the three airports in Oslo. Clean and modern, it was newly built in 1994 and opened in 1998.
it is the second-busiest airport in the Nordic countries, but it is a relative small fry in world terms, with only 24 million passengers a year, and only the seventeenth-busiest airport in Europe.
This however is to your advantage if you are flying through it: it's quite easy to get around the airport and to your gate. However this has a downside, with not that many shops and only a sprinkling of places to eat and drink in the Oslo Airport Guide. However the departure duty-free shop is the largest in Europe at 16,500 square feet.
Located 22 miles (35km) northeast of Oslo in the small suburb of Gardermoen, Oslo Airport's claim to fame is that it has the world's highest degree of public transport to flights, with 60% of passengers taking the train or bus, which takes only 20 minutes to get to the heart of the city centre.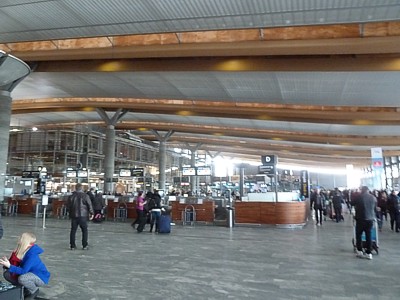 Oslo Gardermoen Airport
There are flights to 115 destinations, with the airport one of three hubs for Scandinavian Airlines, and a key base for the new upstart, Norwegian Air Shuttle.
Almost all international passengers are short haul around Europe, with Copenhagen, Stockholm, London and Amsterdam the most popular destinations. The same number of passengers fly to New York as fly to Bangkok or Reykavik from Oslo, and indeed since Northwest Airlines pulled out of Oslo many passengers have to trek to Denmark to make long haul flights. However there is an intense daily service to Islamabad and Lahore in Pakistan, Dubai, Doha, and Istanbul.
Beware that if you are long haul to a domestic flight, you need to pick up your luggage, show it to customs, and check it in again.
Be aware that although a Nordic airport, Oslo regularly has considerable problems with snow, fog and freezing rain, and several times each winter goes into a close-down mode, due to tight environmental restrictions on de-icing fluids.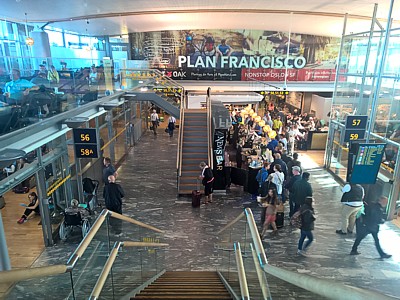 Oslo Gardermoen Airport The small non-schengen area
If you're stuck at the airport, don't miss the art installations. In the international terminal Carin Wessel used 30,000 metres of thread to make an impression of clouds and webs, named Ad Astra.Also in departures are the six Sound Refreshment Stations. These sound "showers" make refreshing sounds when a person is immediately under them. It's a rather surreal experience. In the baggage hall there is The Marathon Dancers exhibit, and a set of two electronic boards that show a dancing person.
Free wireless internet access is available throughout the terminal, however it is tricky to use: normally you need a Nordic or UK phone to receive an SMS with the code, which gives two hours of access. Other countries only get one hour. There are also internet kiosks around a few of the departure gates.
The whole of the airport terminal is one building, with a light, floating roof held up by wooden laminated beams.
Oslo Airport Domestic Terminal
When you pass through security, you first enter the domestic area, and the domestic gates are on the left (west) wing. The wing is quite long, a good ten minutes walk to the end. There are not that many shops or cafes at the far end, but there is an odd little children's garden.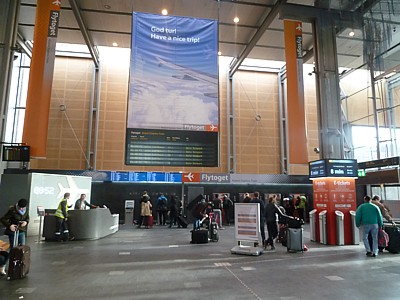 Oslo Gardermoen Airport
Oslo Airport International Terminal
Turn right for international flights, and pass through the vast duty free shop. Thankfully, the airport authorities no longer force you to walk through a vast winding route to exit the shop.
At the far end of the international arm are four gates for non-Schengen flights, such as to the UK. Although on Schengen flights you can simply walk gate to gate, if you arrive on a non-Schengen and transfer onto another non-Schengen, you in effect have to exit the airport and then enter again, which may take a good 30 minutes, as passport queues can be long, particularly when there are flights to Doha, Dubai, Islamabad and Lahore all leaving within an hour of each other,

First & Business Class lounges at Oslo Airport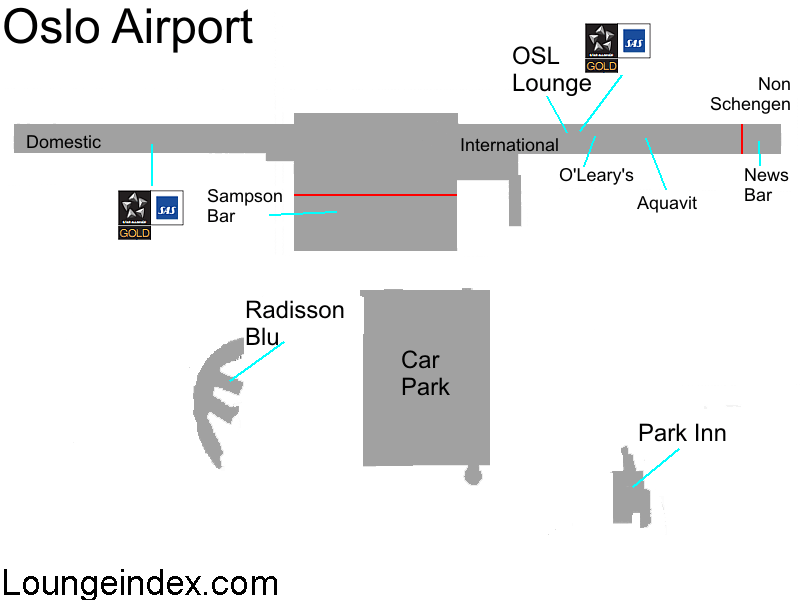 Oslo Airport Terminal Map
Oslo Airport transportation
There is no need to book trainsport to and from Oslo Airport: public transport is a big thing about Oslo, and you can normally just turn up and go.
Oslo Airport train
The
Flytoget airport express train
is the main route into the city. It operates to Oslo Central Station six times per hour in nineteen minutes, and then three services continue via five intermediate stations to Drammen Station.
However, it is pricey, and costs 200Kr (or 180Kr online) one way if you buy at the station. The airport station has a barrier as you get on the platform, but at all other stations you must swipe your card on a card reader, unless you buy a ticket from a ticket machine.
There is also a suburban rail line, with Norwegian State Railways operating a commuter train service to Eidsvoll and Kongsberg, and a regional service north to Oppland and Hedmark, and south to Vestfold. This offers a direct transfer from Oslo Gardermoen Airport to Sandefjord Airport, Torp. Five daily express trains to Trondheim also stop at the airport.
Oslo Airport shuttle bus services
There is an Oslo Airport Express Coach to the centre of Oslo, and it is much cheaper than the train. The
SAS Airport Express Bus
(Flybussen) goes to Oslo Central Station, takes 45 minutes and costs 160Kr.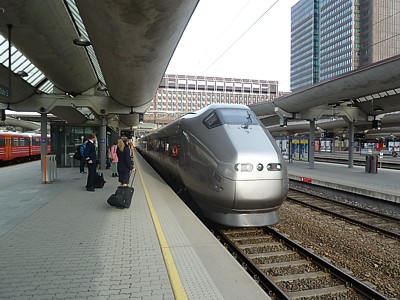 Flytoget at Oslo central Oslo Gardermoen Airport train
Oslo Airport taxi services
Getting a taxi to and from Oslo Airport is usually trouble free.
There is a taxi information desk in the arrivals hall, and there is a taxi rank outside Arrivals.
However, make sure you have plenty of cash. The fare into central Oslo is normally over Kr950.
Car Hire at Oslo Airport
Major car hire operators are located in the Arrivals Halls. To save time and ensure you get the car you want, book your rental in advance. Rental car operators from Oslo Airport include:
Europcar
,
Thrifty
,
Avis
and
Budget
.
Oslo Airport Hotel
There are two airport hotels at Oslo airport, directly connected to the terminal building.
The Park Inn by Radisson Oslo Airport has 300 rooms and is easily reached from the terminal via a covered walkway. There is an on-site bar and grill restaurant.
The Radisson Blu Airport Hotel Oslo is newer, and has 500 rooms. It is directly connected to the terminal building and has serveral restaurants and bars, a fitness centre and 31 meeting rooms accommodating up to 1,000 delegates.
Car parking
Oslo airport car parking is quite good, with 11,400 parking spaces, but few people use it at the train is so fast.
The airport is located on Norwegian National Road 35, which connects to a motorway, European Route E6, which runs south to Oslo,
Oslo Airport Bars and Restaurants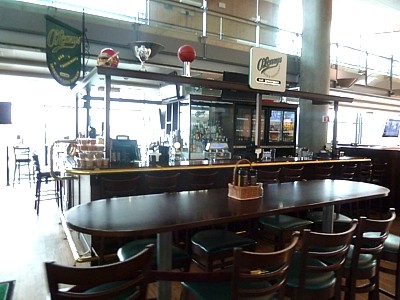 O'Learys Irish Bar Oslo Airport Bar
O'Learys Irish Bar Oslo
Open: 0730-2130
Airside, International, by gate 38
An airport. An Irish bar. How original. However this one doesn't even attempt to follow the usual convention of putting a bit of Irish tat around: it is just and airport bar which has stuck on the word 'Irish'.
Norwegian beer on draft, with a giant telly showing sports from the US.
There is a pretty unexciting menu with hamburgers, club sandwiches, steak, spare ribs, salads, and a couple of desserts.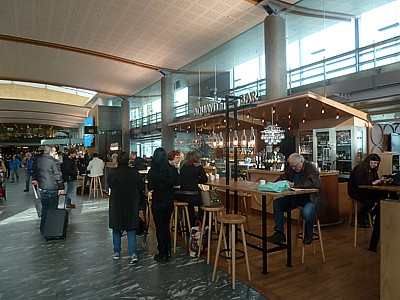 Aquavit Airport Bar By gate 40, international
Aquavit Bar Oslo
Open: 1100-2300
Airside, International, by gate 40
The Aquavit Bar at Oslo Airport is, if you like, a typical airport bar. However it does remain one of the nicest places to drink at the airport.
Really just a small counter, with a separate long bar to drink against, it is a fully licensed bar with large selection of, and no surprise, aquavit and beer.
Food is OK, with ciabattas, sandwiches, rolls, cakes and snacks.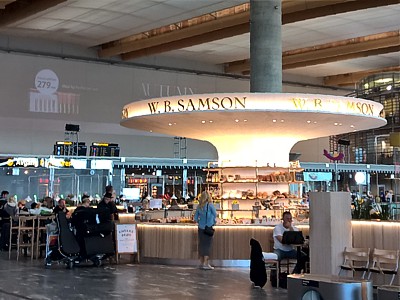 Sampson Bar Oslo Airport Bar
Sampson Bar Oslo
Open: 0400-2130
Landside, by checkin
The Sampson bar is the main bar by checkin, and the main 'goodbye' bar for many couples.
It isn't the best place to hang around, as it is so busy, but the Sampson bar does an OK job, with a decent wine list, and even a good sparkling.
Forget it for food however, with just a choice of bread, sandwiches, and some sweets.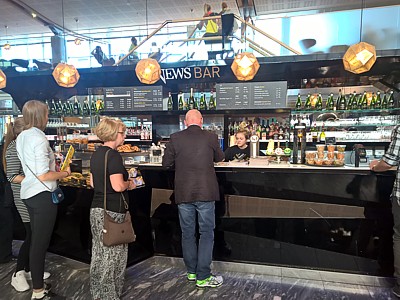 News Bar Oslo International, non-schengen gates
News Bar Oslo
Open: 0600-2100
Airside, International, non-Schengen area
If you are on an long haul, or non-schengen flight from Oslo, the bad news is that the after-passport control area is very small, with just four gates, right at the end of the main terminal.
Don't go through passport control too early, otherwise you will be stuck on the other side of the glass.
Here, facilities consist of just one smal bar, the News Bar.
Food is OK, with ciabattas, sandwiches, rolls, cakes and snacks. There are a couple of basic beers and some pretty expensive wine.
Because of the lack of space around the gates, the News Bar has extended upwards. Here, you can grab a seat with a good view back along the Schengen area.