Amsterdam Airport Guide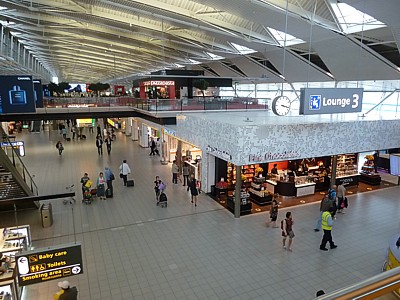 Amsterdam Airport Schiphol Amsterdam Airport Lounge 3
NEWS: There are plans to expand the terminals at Amsterdam Airport again, with the construction of a separate new terminal between the two main runways that would end the one-terminal concept.
For a small country, the Netherlands has a big airport - and Amsterdam Airport is really big.
Amsterdam Airport Schiphol, five miles (9km) southwest of Amsterdam city centre is the world's 5th busiest by international passenger traffic , with 51 million passengers a year, and a major hub for KLM. Two thirds of passengers are on inter-Europe flights, and 10 percent are heading to the US.
The airport also has the dubious distinction of being one of the few - if not the only - major airport located below sea level, a good 11 feet (3 meters) below the level of the sea in Haarlemmermeer.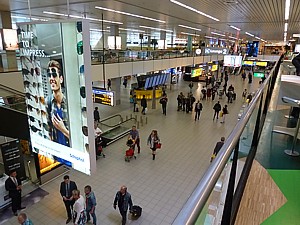 Amsterdam Airport Schiphol Amsterdam Airport Lounge 2
Amsterdam Airport is designed as one large terminal (called a single terminal concept), from where you can walk airside between all of the three large departure halls (called Lounges - actually large sub-terminals). However Border control separates Schengen (inter-Europe) from non-Schengen areas, and you can only easily walk between them all with an EU passport.
Gates B and C are Schengen, with the passport control (in both directions, security only to the Schengen side) at the end of Lounge 1. There are three big clusters of shops and bars, called (confusingly) Lounge 1, 2 & 3, with a long strip of cafes, a casino, and even a museum, on the Holland Boulevard from Lounge 2 to Lounge 3.
It can take about 40 minutes to walk from one end of the terminal to the other - so it pays to go to a bar close to where you are leaving from.
Every Schiphol Amsterdam Airport guide mentions another area at the airport which is a must-see - Schiphol Plaza, a large shopping centre before customs; there are however much better shops airside than at most airports. There is also a post office in the departure lounge 2.
Amsterdam Airport Schiphol Amsterdam Airport Lounge 3
There are plenty of delights to keep you amused airside or while waiting for a plane. One of the most civilised is the Rijksmuseum Amsterdam Schiphol (On the Holland Boulevard, in the area beyond passport control between the E and F Pier, open 0700-2000, entrance free). The Rijksmuseum Amsterdam Schiphol hosts a permanent exhibition of ten works by Dutch masters from the Golden Age from the collection of the Rijksmuseum. The temporary exhibitions change a couple times a year.
The Rijksmuseum Amsterdam Schiphol is a joint and unique initiative of the Rijksmuseum Amsterdam and Amsterdam Airport Schiphol. The Rijksmuseum is the first museum in the world to have a branch at an airport and Schiphol is the first airport to have a museum in its terminal building.
A neat trick - if you are flying Non-Schengen - is not to go through security into the non-Shengen area, because there can be long waits at passport control for the non-Shengen routes. Instead, walk down the terminal past the KLM check-in desks, and go through security there in the Schengen area, which combines passport control and security in one. There is only one queue and it is much shorter.

First & Business Class lounges at Amsterdam Airport
Amsterdam Airport transportation
Travellers should know that many bus, limousine and shuttle bus services operating to and from Airport usually require pre-booking.
Amsterdam Airport train
There is a fast direct railway from the Airport into Amsterdam, run by
Nederlandse Spoorwegen
. The Amsterdam Airport railways station is under Schiphol Plaza, and direct trains run to Amsterdam Centraal Station. Ticket machines and an information counter are located in Schiphol Plaza.
The journey takes 15 minutes and the fare a very cheap ?3.90.
There are also direct trains to Utrecht, Leiden, The Hague, Delft and Rotterdam.
Airport shuttle bus services
There is a bus from the airport into Amsterdam - although with the train so cheap, there is little point in using it. Buses 197 and 370 (interliner express service) run to Amsterdam city centre and Amsterdam Zuid. Buses depart from platform A7 in front of arrival hall 2.
There is also a shuttle bus to the main hotels. The Connexxion Schiphol Hotel Service runs from Amsterdam Airport to the main Amsterdam hotels. It leaves from the Connexxion desk in arrival hall 2.
Airport taxi services
Getting a taxi to and from Amsterdam Airport is usually trouble free.
Taxis are available from right outside the Airport terminal in Schiphol Plaza.
The journey to central Amsterdam is approximately 15 minutes, but can be expensive: it can cost around 40 euro.
Car Hire at Airport
Major car hire operators are located in the Arrivals Halls. To save time and ensure you get the car you want, book your rental in advance. Rental car operators from Airport include:
Europcar
,
Thrifty
,
Avis
and
Budget
.
Amsterdam Airport Schiphol is situated off the A4 motorway, which links Amsterdam to The Hague. From Amsterdam, take the A10 ring road and merge onto the A4 in the direction of The Hague. The exit to the airport is clearly signposted from this route.
Airport Hotel
There is one hotel that is right inside the secure transit area of the Non-Schegen part of the of the terminal. The
Hotel Mercure Schiphol Terminal Hotel
(tel: (020) 604 1339 is clean comfortable and quite, although a little expensive.
The Hilton Amsterdam Airport Schiphol Hotel (020) 710 4000. is landside, but you can walk to it direct from the airport terminal, through a covered walkway. The rooms are quite luxurious, and there is a good bar.
Airport Left Luggage
Luggage lockers are situated throughout the terminal and a left-luggage service (tel: (020) 795 2443) is open daily in the basement between arrival halls 1 and 2.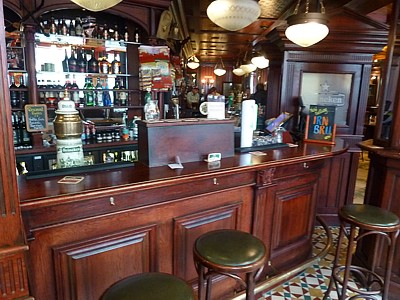 Murphy's Pub Amsterdam Airport Murphy's Irish Pub
Car parking
Amsterdam airport car parking is quite good, but a long way away. Long-term parking is available in an open-air car park (P3), which is situated 4km (2.5 miles) from the terminal.
Amsterdam Airport Bars and Restaurants
Amsterdam is a vast sprawling mess - but at least it is daily modern, and airside you can even walk around all the terminals with only the hassle of changing from the Schengen to non-Schengen sides, if you feel like bar-hopping.
Murphy's Irish Pub
Open: 0700-2200
Airside, Non-Schengen, Lounge 2, Near gate D10
Wow this pub is good - for a truly authentic fake Irish pub, that is. At least it's been designed well by people who've actually been to a pub before, which helps!
Once inside, it's as if you are not actually at an airport. There is of course Guinness ib tap.
Alas it's right by the gates used for departures to the UK, and as such does attract the pure chav crowd.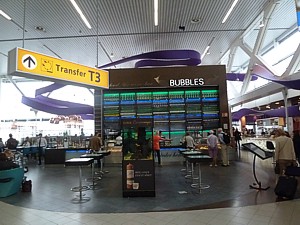 Bubbles Bar Amsterdam Airport Bubbles Bar
Bubbles Bar
Open: 0700-2200
Airside, Schengen, Lounge 1
When you like to spoil yourself a bit, a visit to this modern bar starts the flight off well - alas its sited right next to a bad and tacky casino. The seafood platter is ok, but avoid the salmon or shrimp sandwiches.
There are even oysters and caviar around the salt water aquarium. Champagne is available by the bottle - if you could really fly after this lot.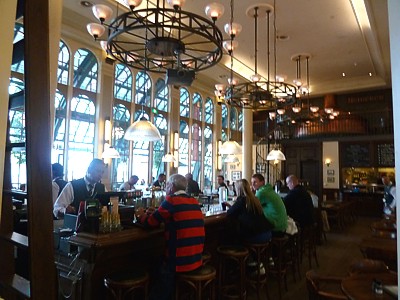 Café Paleis Amsterdam Airport Grand Café Het Paleis
Grand Café Het Paleis
Open: 0600-2200
Airside, Schengen, Lounge 1
This place looks anything but like a typical airport bar - the scene builders have done a good job in creating a cozy Dutch café with high ceiling, wooden floors and a large bar.
There is an extensive menu which offers a variety of dishes for all times of the day.
Breakfast is served all day. Het Paleis offers full service inside and on the rather bleak terrace - for a better atmosphere, sit inside.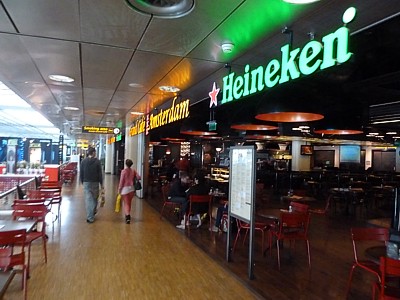 Café Amsterdam Amsterdam Airport Café Amsterdam
Café Amsterdam
Open: 0700-2100
Airside, Non-Schengen, Lounge 3
Probably the best bar - atmosphere wise - around the terminal complex. This is a simple bistro serving lovely lunches and dinners, in a bar that wouldn't be out of place in the centre of Amsterdam - down to the continual 80s Hits which are playing quietly in the background.
Spot the petrol pump which works - really it does - as a beer pump.
Heiniken is the mainstay, at €3 for 0.4litre, with simple hot sandwiches at €4. A salad comes in at €9.30.
Note that this bar is very male dominated - you may prefer going just opposite to Sandwich Island, which, when it is open, serves some great snacks.