NEWS: Renovations of the British Airways Galleries Lounge at Amsterdam are complete. There are now lifts going up at the junction of lounges 2 and 3 to take you to the lounge.
Read the full story here:
New British Airways Amsterdam lounge opens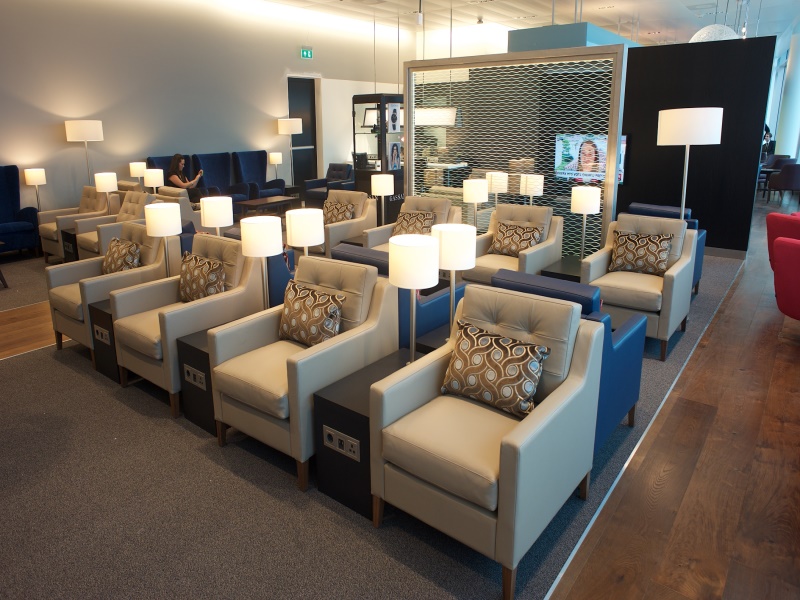 Amsterdam British Airways Galleries Lounge
The New British Airways lounge at Amsterdam Airport has now opened. The new lounge is far superior to the previous lounge one, with improved lighting, views of the runways, and full height windows across one side.
The interior décor is much more like the new Galleries lounges at London Heathrow.
To get to the British Airways Amsterdam lounge, head to the junction of lounges 2 and 3. There is a lift, which then goes up to the roof. The new reception area, when you arrive in the lift up to the top floor, looks impressive with contemporary lighting and finishes.
There are two main parts to the lounge, the dining and seating area.
The main seating area has four banks of comfortable and private velvet wing-back chairs, and power points throughout the lounge, allowing you to work from almost any seat.
The dining area meanwhile has lots of dining tables crammed in opposite the buffet area. There is also a small white bench, overlooking the windows.
When you come to leave, be aware that the gates BA use are at least a good 10, maybe 15 minutes walk - it is not an easy stroll!
Amsterdam British Airways Galleries Lounge
Food
There are only basic food and drinks in the lounge, with an average selection. There are sandwiches at lunchtime and in the evenings. Other than that there are olives, radish, and miniature pickles. This is euphemistically described by BA as "Café style dining".
Bar
There is a basic bar, with spirits, and cans of Heineken.
Bathrooms
No shower facilities in the BA lounge. There is a set of toilets outside the lounge.
Business Facilities
Free wifi and wifi printing.
Access
Free access to British Airways & Cathay Pacific First & Business Class, oneworld Emerald & Sapphire.
The BA lounge AMS is also the Cathay Pacific Amsterdam lounge.
The new British Airways Amsterdam Lounge is next to the Aspire lounge - on the roof! It is called lounge 40, and it can be hard to find, on the top floor of the terminal building.