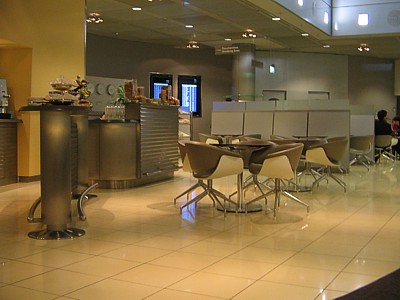 Munich Lufthansa Senator Lounge Non-Schengen
The Lufthansa Munich Senator Lounge Non-Schengen is upstairs from the Schengen lounge, is the non-Schengen international area (all UK flights land in this area).
It is marginally smaller, and lacks the water feature, but is still very clinical, with not very particular chairs.
There is however, for the benefit of the international flights, a large sleeping area, with 4 very comfy beds, facing a small clock.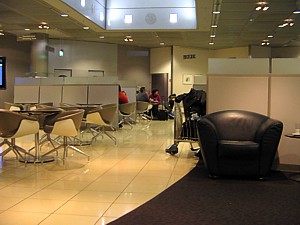 Munich Lufthansa Senator Lounge
Food
Food is almost as good as the downstairs lounge, and has the same good buffet.
The bread basket one of the best of any Lufthansa lounge.
There is a lot of emphasis on local Bavarian specialities such as goulash soup sausages and Leberkäs mit Brezn (Bavarian meat loaf with a pretzel) sauerkraut and the inevitable potato salad.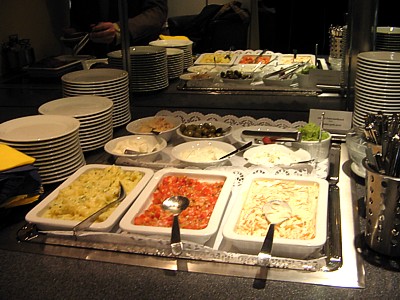 Munich Lufthansa Senator Lounge Non-Schengen
Bar
Beer is provided by two taps, one with Lowenbrau and the other Fransikamer (white beer). Unlike downstairs, you have to pour it yourself.
There are three types of sparking wine in a bucket, and two more whites in the fridge, with a couple of reds hidden above the buffet.
There is a fine collection of spirits above the coffee machine.
Bathrooms
In lounge.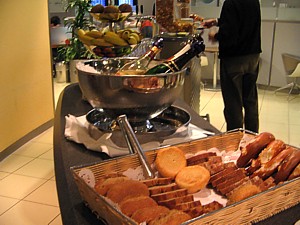 Munich Lufthansa Senator Lounge
Business Facilities
The usual collection of German Newspapers is on the rack, by the door, but just USA papers. There is a small business centre with 2 seats, a fax and copier, but no computers. There are two phone boxes hidden behind the work booths.