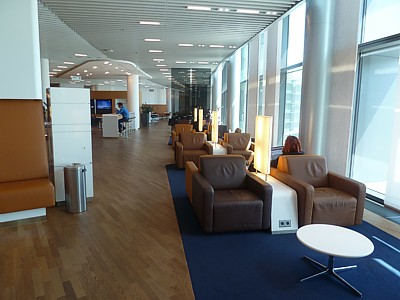 Frankfurt Lufthansa Senator Lounge A-Plus Z50 Non-Schengen
Out of all the Lufthansa lounges at Frankfurt, the Senator Lounge in the Non-Schengen Area at the A-Plus gates by gate Z50 is the one you are most likely to visit as a Star Alliance gold. The Frankfurt Non-Schengen Lufthansa lounge is the largest Lufthansa lounge worldwide, spanning almost 2,100 square metres.
The Frankfurt Senator Lounge International is right next door to the humble Lufthansa Frankfurst business class lounge next door, for plain of Business Class, with which it shares an entrance. However make no mistake - if you have Senator or Star Gold qualifications, go for the Senator lounge, which is much better and quieter, rather than the OK but downrated Business Class lounge
The entrance is right at the apex of the new A-Plus pier, with the main door slightly to the right of the point of the apex. At the door there is typically a Security Guard who check qualifications carefully before you even get to talk to Lufthansa staff: you really need to have your Frequent Flyer card and boarding card ready for them, as they are very willing to turn passengers away, and are not particularly up to speed on knowledge on things like which members are Star Alliance or not: if you have unusual qualifications, it may help to print out the entitlement from your airlines' website. The security guard also tends not to speak English.
You have to open the door, behind which there are several entrance desks, all on a large stone floor. From here, business go left and up the stairs, and Senator (plus Star Alliance Gold) right.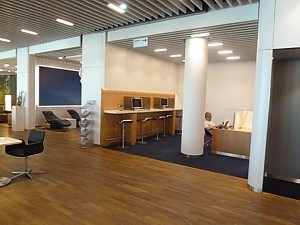 Frankfurt Lufthansa Senator Lounge Z50
The main Lufthansa Frankfurt Lounge is fitted out in Lufthansa's new design, with backlit walls and forest motifs, (apparently these give a relaxing atmosphere) and with leather and oak materials. Lufthansa say the new design is all about clean lines and European elegance. And it does indeed create a restrained and very contemporary look.
The lounge is also pretty large and long: during the daytime it can seem pretty empty, but it is totally different come late evening, when many flights to Asia all depart at the same time - then, it becomes hard to find a seat.
Initially when you enter, you see the main food servery on your left plus the bar, and some rather hard upright chairs and small dining tables: this may seem offputting, however as you walk around it's clear the lounge has much more to offer.
On the left there are great sweeping floor to ceiling windows, around which are grouped 2+2 sets or armchairs: great if you are in a family, less so if you are on your own. Indeed for couples, there are even a few sofas in the middle of the lounge. Down low by all the seats are power sockets with normal euro plugs. Throughout there are stripped pine floors, and the usual grey Lufthansa ceiling.
For an alternative view to the gates and the airport apron, on the inside of the lounge there is a forest motif displayed on a backlit wall. And behind the floor-to-ceiling glass panels lies a separate area with recliners if you want to get really close to the wallpaper.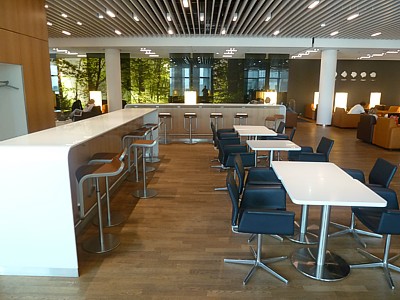 Frankfurt Lufthansa Senator Lounge A-Plus Z50 Non-Schengen
In the middle is another dining area, with lots of chairs and tables close to one another: this is probably the least comfortable part of the lounge, and there is a small food servery here too, with just a coffee machine too.
Left of here is a bar area, and a great long bar it is too, with twelve stools at the white marble, however this area is typically closed in the day, and only opens as a bar at night.
As you go further into the lounge there is a strange L shaped bench seat - which is as uncomfortable as it sounds - and then at the far end some recliners with great views of the apron. Inwards of here there is also a small sleeping room too, if you need to get some kip before a long haul flight. It's dark in here, and the four beds come with pillows and blankets.
Food
The Lufthansa Frankfurt Lounge has pretty good food, with a decidedly uprated Senator selection.
There is a large salad bar, with the usual Lufthansa Senator selection of potato, cabbage and cucumber, plus gherkins and olives.
For slightly better salad head to the sandwich bar. Here there are an all manner of breads, which you can put more salad into, and this salad had ham cheese and tomato, plus various odd kinds of lard type dips.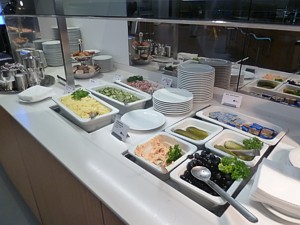 Frankfurt Lufthansa Senator Lounge Z50
On a hot plate there is hot finger food such as Chicken Wings or pizza slices, plus a big bowl of chilli con carne, or chicken stew and rice, and another bowl of hot soup which changes daily.
There are also some good deserts in the fridge, and packets of biscuits and nuts.
Bar
The bar in the Lufthansa Frankfurt Senator Lounge International is excellent, with one of the best ranges on the network.
The bar is to the left of the food server, and immediately you'll spot a tray with five types of sparkling wine - alas, there is no champagne. Three more types of white are in the fridge, and two reds (with tasting notes) are on the worktop.
Beers is good, with two taps dispensing draft Becks and Paulaner Hefe-Weissbier. Logoed glasses are behind the beer pump. There is also a bucket here with bottles of beer, with three types of Becks (plain, light, and lime flavour).
Up on a glass shelf is an amazing array of spirits, with 20 bottles in total, including some usual whiskies.
There is a coffee machine, and a decent range of tea.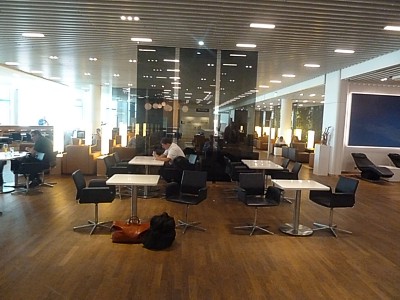 Frankfurt Lufthansa Senator Lounge A-Plus Z50 Non-Schengen
Bathrooms
There are large bathrooms - including one with a real bath!
The bathrooms borrow much of their design from Lufthansa's First terminal, and even include the famous yellow Lufthansa bath duck.
The entrance to the bathrooms is down a small hidden side corridor, right beside the bar.
Business Facilities
Right beside the entrance there is a large newspaper rack, next to which are four plain plastic chairs under a huge picture of a Lufthansa engine: subtle it is not.
Alas it has the usual selection of German and international newspapers, with a good US selection but no English ones.
There is free wifi in the lounge, plus a couple of PCs and laser printer.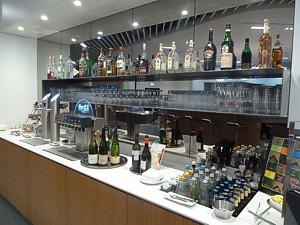 Frankfurt Lufthansa Senator Lounge Z50
There are a large number of work desks and phones beside the main entrance.
Don't miss the unusual Lufthansa phone booths - four of them in a row, in case you want to talk privately on your mobile. There is also a T-Mobile charging station mid-way through the lounge.