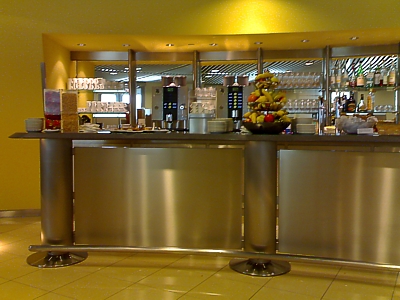 Lufthansa Lufthansa Senator Lounge
This is a very typical Lufthansa new style Senator lounge. There is the classic blue leather and grey carpets, but at least the lounge has recently been rebuilt in the new LH style. It is also airside, just 50 meters to the gates Lufthansa use, and as such it is much closer than the Star Alliance lounge.
The Lufthansa Senator Lounge at Paris CDG gets a little bit dark, because there are no windows or natural light.
The lounge is in Sat 6, and there are both Senator and a Business Lounges.
Food
Some biscuits and nuts are offered in addition to a variety of bread, butter and jam.
At peak times, such as lunchtime, there are sandwiches, with three types (cheese, tuna or vegetarian).
The cheese is good - there is Morbier and Camembert.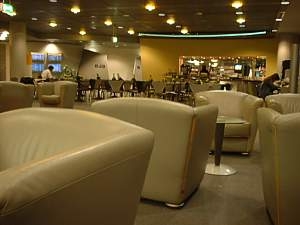 Lufthansa
Bar
The Paris CDG Lufthansa Senator Lounge has a wide selection of non alcoholic and alcoholic beverages, including French Champagne.
Bathrooms
Toilets are available in the lounge. No showers.
Business Facilities
Typical Business facilities offered by LH, copy machine, pay phone etc. One big screen television. Variety of newspapers, selection of magazines is outstanding and above the usual standards of a Senator lounge