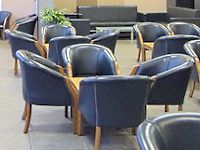 Prague Menzies Aviation Lounge
The Menzies Aviation Lounge Prague is a standard generic lounge, used both as the British Airways Lounge Prague, and the Emirates Lounge Prague.
To find the lounge, just head airside to the central part of Terminal 1 (for Non-Schengen) to the area between the A and B concourses, above the departure level. Escalators and a lift are there if you want avoid the stairs. It's at the top of the rather daggy looking stairs.
The Prague Menzies Aviation Lounge is a really small, and in effect just a glorified version of the terminal, but without the chance to watch the people.
There are two sides to the lounge, with a separate seating area that is roped off for Emirates passengers only when their flight departs at 4pm - this flight cooincides with the most popular BA flight, and between 2 and 4pm the lounge can get packed.
The lounge has only about 20 classic Menzies dark blue armchairs around low coffee tables, with vast floor to ceiling windows. There are also some sofas in the 'Emirates' area.
Food
Alas, food in the Menzies Aviation Lounge Prague is very basic. At breakfast time you get croissants. At lunchtime cheese rolls, and when the Emirates flight departs, there are even some ham sandwiches. That's it. Its all very basic.
Bar
The bar is good. There is a large selection of spirits - some on optics, the rest free-pour.
Beer is in cans in the fridge.
Wine is in little mini bottles, and there is even Czech 'Champagne' in a bucket in the fridge too.
Bathrooms
There is one toilet and one shower per gender in the rear section of the lounge
Business Facilities
There are a couple of PCs behind small glass screens on the right hand side of the lounge.
Free wifi - but it is very slow.
There are lots of magazines in the rack by the computers.