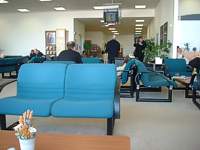 Prague Czech Airlines Lounge
The Czech Airlines Lounge Prague, in the Terminal 1 (Non-Schengen, or international area) used to be known as the CSA Crystal Lounge.
It is easy to find, once you are through passport control. Just head airside once you are in terminal 1, and go to the area between the A and B concourses, above the departure level. Escalators and a lift are there if you want avoid the stairs.
It is a very comfortable lounge with two distinct areas. On the left there's an open area with chairs and tables of various sizes. There are a couple computers on the end as well, and those are situated next to a TV. All of the furniture pieces are bright and colorful, and the tables are either glass or wood, while the lounging room has soft chairs for relaxing and reading, there is also a great view.
Food
Nice selection of snacks including crackers and cookies, but also small sandwiches and 2 or 3 cold salads.
The selection of drinks is basic but good, food is reduced to 2 kinds of cereals, some small breads, salty chips and some desserts.
Bar
The bar is OK, but no great shakes, with just 5 bottles of spirits screwed to the wall. Many of the tables included wine bottles, ready to be popped open - and even has wine in little miniture airline bottles you can sneak out.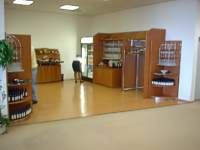 Prague Czech Airlines Lounge
Beer is Pilsener Urquell beer in cans, a couple of wines, and a selection of juices at the self-serve bar connecting the two rooms.
Bathrooms
Small toilets with glass doors that do not close well so you can look through the space between door and wall.
Business Facilities
Small selection of newspapers in the Work Room, small selection of magazines in the Lounge Room.
Computers with internet and wired free internet available.
Access
Rven though the Czech Airlines lounge in Prague is a Sky Team lounge, the airline has sold space to a vast number of other airlines. There is access to the Prague lounge for Skyteam Elite, CSA Business Class, Star Alliance Gold (SAS, TAP, Swiss, Austrian, Lufthansa only). Or, if you really need it after that lot, Priority Pass.
The lounge can also be accessed by arriving passengers prior to clearing immigration and customs.