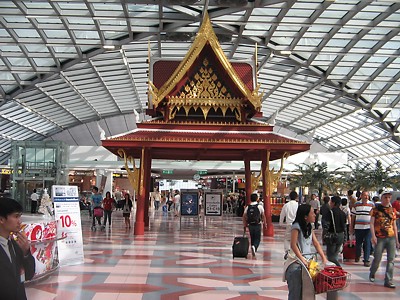 Bangkok Suvarnabhumi Airport
Make sure you are at the right airport. This is
Bangkok Suvarnabhumi Airport
, the city's main international airport. Don Mueang International Airport, is the 'Old' Bangkok international airport, from where a few low cost flights leave.
Bangkok Airport Guide
Bangkok Suvarnabhumi Airport is a brand new airport, a vast hub for Thai Airways, and a regional gateway. Many flights on the Kangaroo route between the UK and Australia used to stop here, although few do nowadays. Suvarnabhumi is the 6th busiest airport in Asia, and on the peninsular is only eclipsed by Singapore.
Bangkok Airport is huge (by some measures the world's largest), so allow time for getting around. There are two immigration sections, but processing time is lengthy — at least 30 minutes.
The airport's name - Suvarnabhumi - means 'Golden Land' in Sanskrit.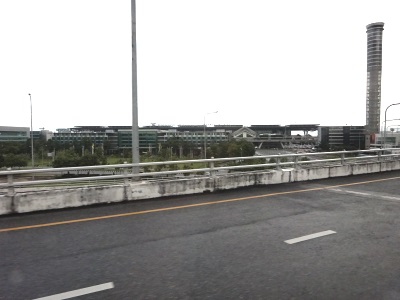 Bangkok Airport
Bangkok Airport Domestic Terminal
There is only one terminal building, which covers both domestic and international flights.
First & Business Class lounges at Bangkok Airport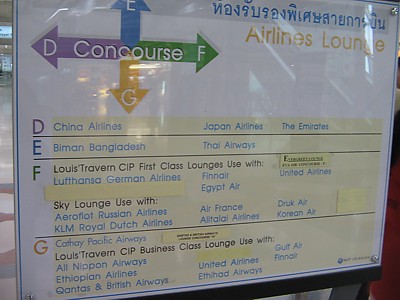 Bangkok Suvarnabhumi Airport Lounges
Thai Airways maintains several lounges at its new hub, the sparkling Bangkok Suvarnabhumi Airport (BKK). This is not to be confused with the old airport at Don Mueang International Airport (now called DMK, although it had the airport code BKK for decades).
The lounges are vastly different from the old lounges at Don Mueang, and include a main lounge area with both a business class and a full First class lounges, plus a spa.
And after all, why have one lounge when you can have... five? Including two Business Class lounges that are opposite each other? It all seems a bit odd now, but there are two good reasons: firstly, when BKK was first built, all of the lounges had different themes, and there was a concept, back in the day, of giving the passenger value for money. How laughably public spirited that seems now. Plus Suvarnabhumi is such a big airport, it can take a good half hour to walk from one end to the other: therefore, the airport was planned with sub-lounges near the popular gates.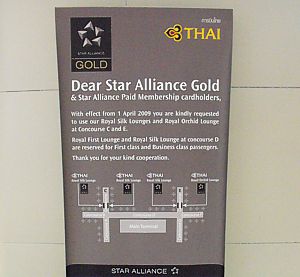 Star Alliance Gold The meaning is clear - keep out of Concourse D

If only it still worked that way: many close at random times during the day, and the
Thai website
makes it clear that facilities are pretty much the same. However the bad news is that Star Alliance Gold are banned from the main D concourse lounge: instead Star Golds are shuffled into the C and E lounges. As part of the cutbacks at Thai, there is also now no access to any Thai lounge from 2am until 5am (or often nearer 5.30am when the staff eventually roll up).
You can no longer sleep overnight in the lounge at Bangkok Suvarnabhumi Airport.
Thai Airways did have a plan for an arrivals lounge at Bangkok, but it never opened, and was scrapped before the airport was complete.
The various lounges are all past security, and all on Level 3, with the main lounge complex just past security in concourse D, plus more lounges at Concourse C & E.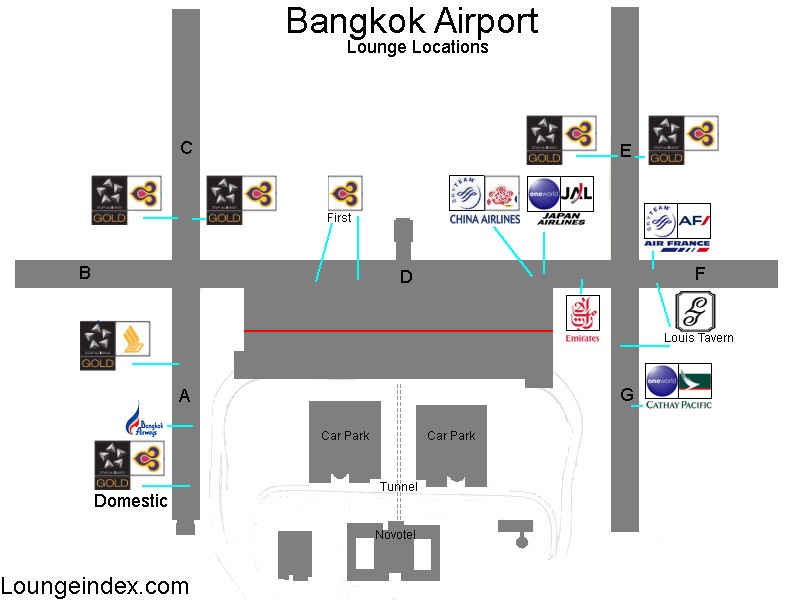 Bangkok Airport Terminal Map
Bangkok Airport transportation
Bangkok Airport train
After three decades of construction, Bangkok Airport now has a train to the city centre. Indeed, there are two. The express, and the commuter lines.
The Airport Rail Link offers a high-speed train service to downtown Bangkok. It's also a way of avoiding Bangkok's horrendous rush hour traffic, particularly when it's raining. Trains run 06:00-midnight every day and travel at a wizzy 160 km/h (100 mph).
The non-stop Express Line brings you directly to either Makkasan or Phaya Thai station in 15/18 minutes for 90 baht one way, with plenty of space for luggage. Express trains leave Suvarnabhumi Airport every 20-30 minutes, but check the destination: Phaya Thai offers an easy transfer to the Skytrain, while Makkasan station is technically at walking distance of Phetchaburi MRT station, although the link bridge is still under construction and it's quite a hike at the moment (300+ m). Thai Airways offers baggage check-in at Makkasan if you arrive 3-13 hours before your flight.
The Airport Rail Link has a good connection to the BTS Skytrain at Phaya Thai, though you will have to buy a new ticket. If Khao San Road is your final destination, you can hail taxis from the main road (around 70 baht), or hop aboard bus 15 (7 baht); this bus leaves from across Central World, BTS Siam, and BTS National Stadium and goes along Ratchadamnoen Klang Road and Chakrabongse Road serving both sides of Khao San Road.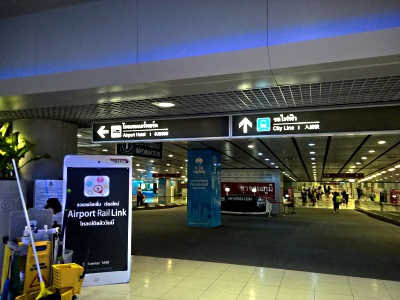 Bangkok Airport Train
The slightly slower City Line is a commuter rail line that stops at all stations. Trains leave every 15 minutes, and after Makkasan station it continues to Ratchaprarop and Phaya Thai stations. The ride to Phaya Thai takes 24 minutes from the airport and costs 15-45 baht depending on the number of stops. Given the fact that it runs more frequently, the City Line may effectively bring you to your destination sooner than the much more expensive Express Line.
Bangkok Airport shuttle bus services
Taking a bus from the Airport to the city takes about 2 hours, depending on traffic.
The main issue is that to get a public bus you must first take the free shuttle bus from outside the second floor, gate 5 to the Public Transportation Center four miles away.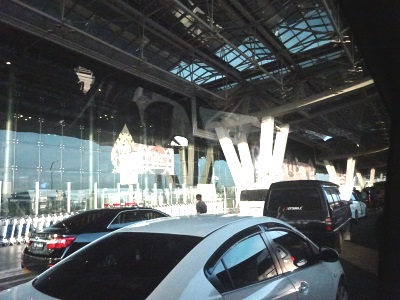 Bangkok Airport Taxi
Bangkok Airport taxi services
Getting a taxi to and from Bangkok Airport is usually trouble free, but avoid all the taxi touts, who will charge you a lot more.
Ordinary metered taxis are available on the ground floor (one floor below arrivals). Follow the "public taxi" signs that lead to the outside of the airport premises: state your destination at the desk in English. You'll get a two-part slip with your destination written in Thai on it. The small part is for your driver, the large part is for you. This ticket is for complaints and is how the system is enforced: hold on to it to help avoid arguments later.
The cost for a taxi to the city will be less than 400 baht, but there is a 50 baht surcharge on top of the meter, plus possible expressway tolls of 45 and 25 baht. Make sure you have change ready to pass to the toll operators to avoid being overcharged for the tolls later on. The ride takes about 45-60 minutes depending on traffic and location.
If a driver refuses to use the meter, go back to the desk, with registration number of the taxi.
Car Hire at Bangkok Airport
Are you SURE you want to rent a car in Thailand? Road rules are non-existent, and insurance expensive. Public transport is generally a much better option.
Major car hire operators are located in the Arrivals Halls. To save time and ensure you get the car you want, book your rental in advance. Rental car operators from Bangkok Airport include: Europcar, Thrifty, Avis and Budget.
Bangkok Airport Departure Tax
Departure taxes now form part of your ticket price.
Bangkok Airport hotel
Bangkok Airport Hotel
There is now a new hotel right at the Bangkok airport terminal - however you'd never know it as the hotel likes to bus you to the hotel.
It's the Novotel Bangkok Airport Hotel, a pretty good if pricey 4 star hotel. Walk in rates are sometimes cheaper than booking in advance. There is a small but dull bar in the foyer, and a much better swim up pool by the pool, which has water spouts and tropical gardens. Rooms are OK, but make sure you lock your door overnight.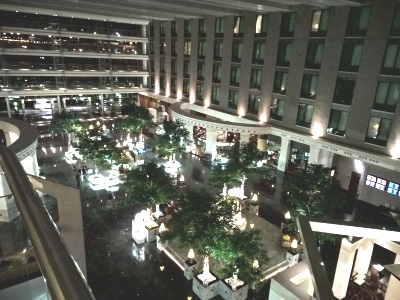 Bangkok Airport hotel
There is a hidden tunnel, which the hotel staff seem insistant that you do not use and insist you take the five minute shuttle bus. You can find the walkway by exiting the hotel through the doors that just seem to go blankly into a car park. There is a concrete box there, with an escalator down into a long winding tunnel. The tunnel winds past several start up business huts and airport offices, and eventually turns up in the basement of the airport. To find the tunnel from the airport, exit and take the escalators as far down as you can go in the direction of the train. There is a small turn off here with just one small sign on the roof saying 'hotels'.
Bangkok Airport Bars and Restaurants
Four stylish looking bars dot the middle of the 500-metre-long hallway along concourse D. Managed by the Accor hotel group, Reef Bar, Glass Bar, Light Bar and Seafood Bar are places where business travellers can enjoy good wine and champagne while relishing oysters and other seafood. In the morning the bars offer breakfast but from 11am onward they feature more substantial fare.
A good (if wacky) place is Panda Ready To Eat, but the cheapest place for a meal is Magic Food Point on level 1, near gate 8.