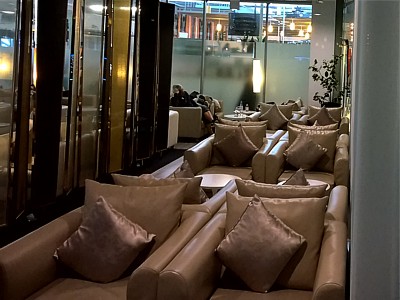 Bangkok Louis Tavern Lounge Concourse G
There are 3 Louis Tavern CIP lounges at Bangkok, and the twin-level Concourse G lounge is better than the others.
The Bangkok Louis Tavern lounge in Concourse G has Business Class downstairs and First upstairs, which is much more spacious than the other pay-in lounges in Bangkok, but it is also noisy, and often filled with passengers. It leans towards the basic side, and although CIP means Commercially Important Passenger, you are not one of those if you pay to come in here.
There are plenty of tarmac views and plenty of natural light, but the furniture is just basic squashy armchairs, and small glass tables.
In the dining area, there are larger wooden tables, and hard wooden school type chairs.
The CIP lounge advertises 'gourmet refreshments' no less, plus hot meals, a business centre, newspapers, and international magazines. Technically is it correct, although in our review we aren't sure why the sausage rolls count as gourmet.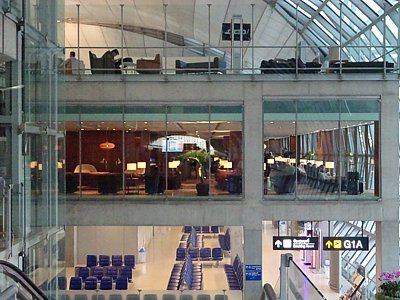 Louis Tavern Lounge Concourse G
It isn't bad as such, it just isn't very inspiring.
Food
Food in the Bangkok Louis Tavern lounge Concourse G is really down to just a selection of various sandwiches (tightly wrapped in cling film) quiches, sausage rolls and flans.
There are a couple of hot containers in the dining area, with egg and chicken sausage at breakfast time.
By lunchtime this turns into gloop with noodles or rice. The add on can be chicken or beef, although it is hard to tell. If you are unlucky it is the mushroom soup.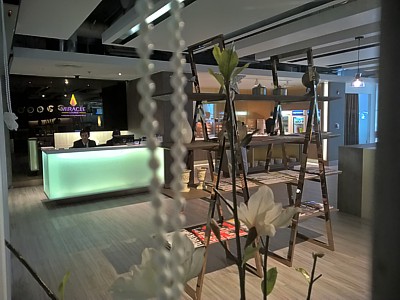 Bangkok Louis Tavern Lounge Concourse G
Other than that there is a heated cabinet, with puff pasty sausages and mushrooms (I kid you not) and cellophane wrapped sandwiches - cheese, or vegetarian. Yep, there is a difference.
There is also fruit and cakes.
Bar
The bar in the Bangkok Louis Tavern lounge Concourse G is its major selling point. There has to be one, and this is it. But it is not the two wines - both Australia - nor the Singha beer in the fridge. However the array of spirits is the one bright point, with vast numbers. Just look at them - no less than 15 bottles. And you can pour as many times as you like.
There is everything from Smirnoff to Bacardi, Beefeater gin, Red label, Jim Beam, and Heering. Plus a load of not-really-sure obscure duty free spirits.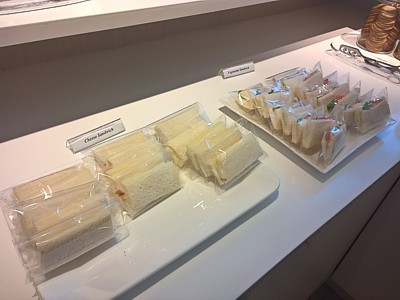 Louis Tavern Lounge Concourse G
Bathrooms
None. Go outside the door.
No showers.
Business Facilities
There are two very old and virus ridden computers in the lounge. They are very slow.
There is free Wi-Fi access is also available throughout the Louis Tavern Bangkok lounge - Wifi comes from the airports own supply.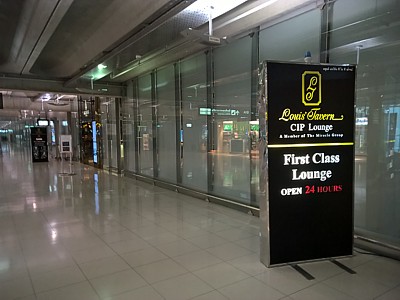 Bangkok Louis Tavern Lounge Concourse G
There is an A framed newspapers and magazine rack opposite reception, with some Thai newspapers and a couple of American magazines. If you take one, you are carefully watched by the receptionist to ensure you put it back.
Access
You can buy access on the door for 1,200THB, but it is marginally cheaper if you buy access beforehand online, at 1000THB. This works out to around 20 quid, so make sure you really want to use the lounge!
Access is free for holders of the ANZ Travel Visa Signature card.
Louis Tavern Lounge Concourse G
There are 3 Louis Tavern lounges at Bangkok - so are you sure you want to use this one? Indeed, are you sure you want to use the Louis Tavern Lounges at all? On a oneworld airline in Business or with the right Frequent Flyer card you should have access to the excellent Cathay Pacific lounge just around the corner.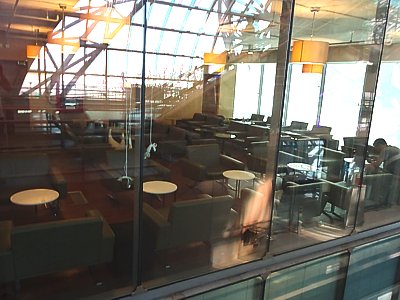 Louis Tavern Lounge Concourse G