Singapore Cathay Pacific Lounge Terminal 4
NEWS: The brand new Cathay Pacific lounge in Singapore Airport Terminal 4 is now open.
Read the full story here:
Cathay Pacific open new Singapore lounge
.
The new Cathay Pacific Singapore Lounge is now open in Singapore Changi Airport's new Terminal 4, and it is a delight. Clean, bright, new and swish, it effectively comes in two parts - a large noodle bar, and a large seating area.
The new Cathay Pacific Singapore Lounge is on the upper level right after immigration, and mainly overlooks the departures hall, with a small area allowing views over the apron.
Similar in style to Cathay Pacific's award-winning lounges at The Pier in Hong Kong, the new lounge provides an understated "living room" environment with designer furniture and lighting with plenty of natural materials, including walnut and cherrywood, limestone, bronze and brass, along with greenery and artworks by local artists to add to the lounge's atmosphere.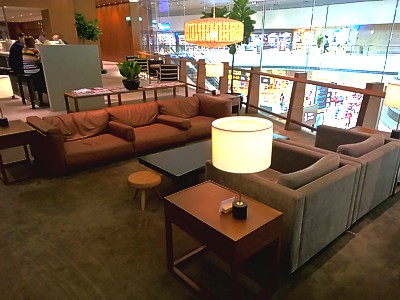 Singapore Cathay Pacific Lounge Terminal 4
It is one of the airline's largest lounges outside Hong Kong, with seating for more than 200 customers.
Alas everywhere in the lounge can you hear lounge music, which comes from a curated playlist which varies in mood depending on the time of day, as part of the Cathay 'residential vibe'. It can be quite loud, and isn't the most peaceful of offerings.
The lounge was created by UK designer Ilse Crawford from StudioIlse, who came up with the design of one large space and a dining area, although with plenty of choice in seating, and the type of seating you prefer.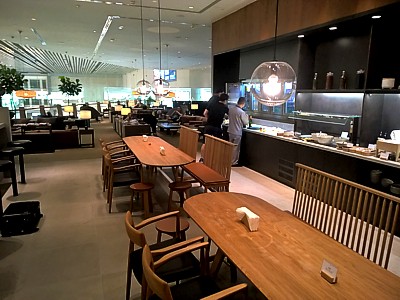 Singapore Cathay Pacific Lounge Terminal 4
There are a few of the famous new Cathay Pacific Solo chairs, which are the new version of the Cathay Solus pods. There is a handful of Solo chairs at the far end of the lounge, just beside the windows. All the chairs have mains power and USB ports plus a reading light.
There is also a strong focus on food and beverage services in the Singapore Cathay Pacific Lounge, however, there is no bar, unlike in Bangkok, with wine in a small area beside the buffet. Nor are there any showers.
The lounge has a tear-drop shape which tapers out into a seating area with views over the airfield, which is the only area where you can see any daylight.
Food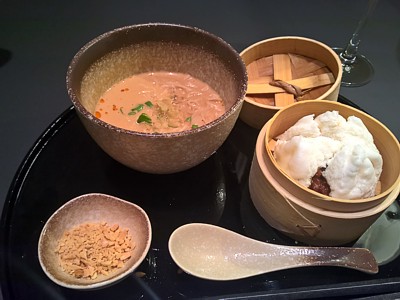 Singapore Cathay Pacific Lounge Terminal 4
The main dining area features Cathay Pacific's iconic Noodle Bar, offering a selection of freshly prepared Asian dishes including its signature Dan Dan Noodles and local favourite, Singapore Laksa.
There are condiments on the noodle bar to sprinkle over your noodles, including peanut chips.
Still in the Noodle Bar, to the right, is a small counter with some very good desserts.
Just outside The Noodle Bar is a self-serve area with more seating, and three large tureens with hot dishes, which normally means something with rice, such as chicken or beef.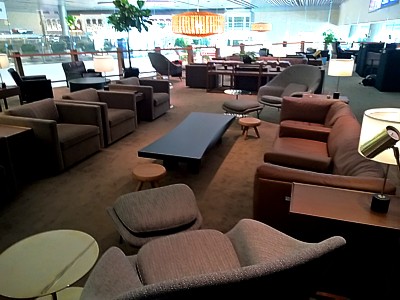 Singapore Cathay Pacific Lounge Terminal 4
Next to this is a small salad bar, and beside it the cheese selection.
Bar
There is no bar, unlike in Bangkok, with wine in a small area beside the buffet.
However, there is a good selection of spirits, in a little nook beside the bar, and there is beer in the fridge including Tiger or Heineken.
The great news is that there is Champagne. Moet is served all day, every day. It's contained in the fridge in the cabinet.
Bathrooms
There are decent, if small, bathrooms, with the door off the noodle bar.
Alas, there are no showers, which seems to be a major oversight considering the humidity in Singapore.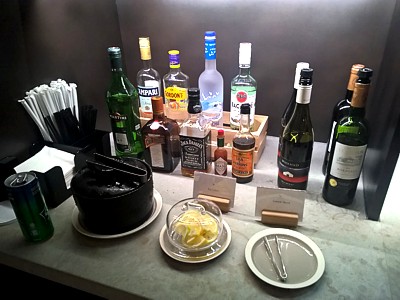 Singapore Cathay Pacific Lounge Terminal 4
Business Facilities
The Business Centre, called the Bureau has desktop iMacs which can boot into Windows mode, plus a printer photocopier.
Every seat has mains or USB power. Just check in the tables next to the seats, which contain a pair of USB ports in the slide-out drawer, plus UK/Singapore style mains power sockets.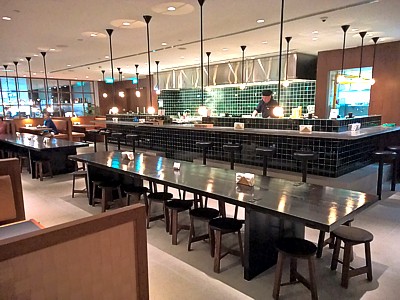 Singapore Cathay Pacific Lounge Terminal 4
Access
The lounge is open to Cathay Pacific Business Class passengers, or premium level Marco Polo members and oneworld elite status members, including British Airways Silver and Qantas Gold.
Terminal 4 is not accessible airside from the main Terminal 1-2-3 complex unless you have a boarding card. Instead there is an airside bus operating out of Terminal 2. To access the lounge from terminal 1 means a ten minute train ride, a 20 minute wait for the bus, and another 20 minute bus ride. You should allow at least an hour for a transit airside from the main terminals.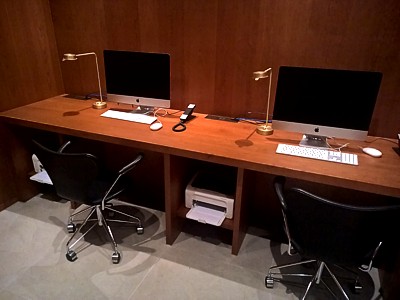 Singapore Cathay Pacific Lounge Terminal 4