Kuala Lumpur Airport Guide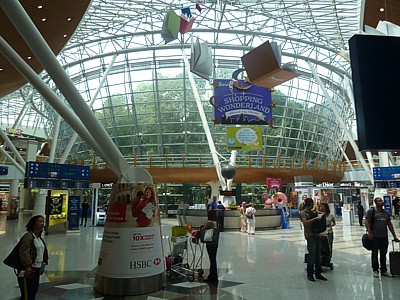 Kuala Lumpur Main Satellite terminal
NEWS: A heavily delayed new terminal for low-cost carriers is being built to replace the existing and remote Low Cost facility.
Kuala Lumpur International Airport is huge modern airport and a key hub for the region. With 48 million passengers a year, it is slightly behind Bangkok and Singapore, however it is the 11th biggest in the world by passenger numbers.
Kuala Lumpur International Airport - or KLIA as it is known - is quite some way from Kuala Lumpur city centre, it is 45 kilometres (28 miles) and linked by fast rail and a modern motorway.
However, despite the passenger numbers, the central hub of the airport always seems relatively calm - perhaps in part due to the space. The airport is separated into the Main Terminal (generally domestic flights), the Contact Pier and the Satellite Building (almost all international flights).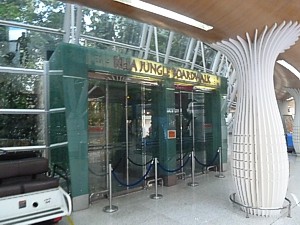 Jungle Board Walk KLIA Satellite terminal
Many flights leave from the Satellite terminal - linked by the 'Aerotrain' shuttle train to the main airport - and with long terminal arms centred around a large lightwell, there always seems to be space to move around. Just to confuse you, all the gates in Satellite Terminal A have the prefix C.
The gates in the Main Terminal Building's contact pier are unusual: for domestic flights they have an A/B prefix, but for international passengers they are called GH, and passengers go via passport control - to the same gate, just via a different set of doors.
Free Wi-Fi internet is available throughout the airport. It is free and quite fast. There are also internet kiosks at several locations around the Satellite.
Shopping is quite good in the Satellite Building, with several duty-free outlets, plus Burberry, Harrods, Montblanc, and Mango. There are also several bars and eateries, centred around the lightwell and boardwalk.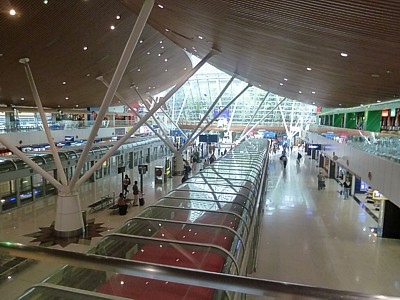 Kuala Lumpur Main Satellite terminal
If you have some time to kill, you can go outside in the Satellite terminal while still staying in the secure area, and walk through the central tropical 'boardwalk' garden, where there are lush gardens.
The airport is being built in phases. Phase one and two are complete, and the three-phase development plan sees KLIA having five runways and two terminals each with two satellite terminals. It boasts the tallest Traffic Control Tower in the world.
Nipping into the Malaysian capital on a short layover isn't really an option, as downtown KL is 50 miles from the glitzy new international airport. However, next door is the Sepang Formula One circuit, home to the Malaysian Grand Prix. For 35 Malaysian Ringgit (£7), you can spend 10 minutes driving round in a locally-built Proton. Hardly Schumacher material, but there's also a go-kart track where you can reach a top speed of 80mph, with planes taking off 100m away.

First & Business Class lounges at Kuala Lumpur Airport
Kuala Lumpur Airport Terminal Map
Kuala Lumpur Airport transportation
Travellers should know that many bus, limousine and shuttle bus services operating to and from Kuala Lumpur Airport usually require pre-booking.
Kuala Lumpur Airport train
There are two fast, direct, rail services to KLIA. However, choose carefully, as they go to different parts of the city.
The KLIA Express provides a non-stop express train service to the KL City Air Terminal (KL CAT), also called the KL Sentral transport hub. The journey takes exactly 28 minutes on a fast comfortable high speed train (fare: RM35).
There is also the KLIA Transit which uses slower commuter trains, which take the same route but also call at Bandar Tasik Selatan station, which is much closer to the city (journey time: 35 minutes; fare: RM35).
Kuala Lumpur Airport taxi services
Airport taxis are readily available, but they don't provide much of a saving over the train in terms of either time or cost. You pay in advance at counter and fares are charged according to the destinations' zone. A surcharge is applied for services between 12 am to 5 am.
Kuala Lumpur Airport shuttle bus services
Express buses to Kuala Lumpur and local buses to Nilai KTM Komuter Station and Subang are available from the bus station on the ground floor of Block C, in the short-term car park, however they can take some time to either leave, or to get to KL.
Car Hire at Kuala Lumpur Airport
Major car hire operators are located in the Arrivals Halls. To save time and ensure you get the car you want, book your rental in advance. Rental car operators from Kuala Lumpur Airport include:
Europcar
,
Thrifty
,
Avis
and
Budget
.
Car parking
Kuala Lumpur airport car parking is quite good.
There are extensive parking facilities at the airport. Blocks A, B, C and D of the covered short-term car parks are situated near the terminal; there is also an uncovered car park that is connected to the Main Terminal and the Sama Sama Hotel by a courtesy shuttle service.
The Malaysian North-South Central Link Expressway (E6) is the primary access road for the airport. From the city take the southbound Jalan Puchong-Petaling Jaya (B11) route to the westbound Damansara–Puchong Expressway (E11). At the interchange for the North-South Central Link Expressway (E6) exit and follow the latter and its extension southwards to the airport. The journey from downtown Kuala Lumpur to the airport takes about one hour.
Kuala Lumpur Airport Hotel
There is just one airport hotel within the transfer area at Kuala Lumpur airport.
The Sama Sama Express airside Transit Hotel is within the Satellite Building, near Gate C5. With 80 rooms, facilities include a fitness centre which is also available for use by non guests for a fee.
Kuala Lumpur Airport Bars and Restaurants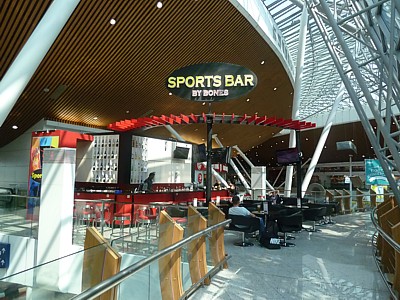 Kuala Lumpur Bar
KLIA Bones Sports Bar
Open: 0500-0100
Airside, Satellite Building, near Gate C5
The Bones Sports Bar is the bar most westerners end up in when transiting at the airport. It's not because it's particularly atmospheric - it's not - it's just because it's there and right in the middle of the terminal.
There are lots of wide screen TV's showing sports - mostly from the USA. There is also unbelieveably loud music booming away. However it serves Heiniken and takes credit cards, and that's what really matters to most of the customers.