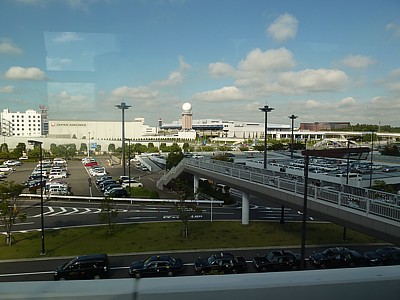 Tokyo Narita Airport
Tokyo Airport Guide
A new high-speed rail link, Narita Sky Access, opened in July 2010, cutting the journey time from Tokyo to the airport by a third; it now takes just 36 minutes.
Tokyo Narita Airport is located a long long way from the city centre: no less than 70 kilometers northeast of Tokyo. It is Japan's largest international airport, and primary gateway. A vast modern airport it is generally modern and efficient, and geared up for western visitors, however it has a reputation for heavy security with long lines. Indeed, travelling to Narita Airport is a problem, as there are numerous checkpoints where you have to prove you are actually travelling on a plane that day. This in part is due to continuing controversy over land expropriated for the airport.
There is free WiFi in the departure lounge airside waiting area, but beware that the power sockets are unusual 100volt Japanese ones.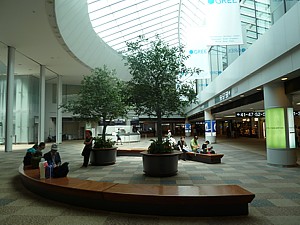 Tokyo Narita Airport Terminal 1
Note that Tokyo Narita International Airport is not the closest airport to Tokyo. That airport is Haneda Airport, which for decades was in danger of closing as all international traffic was routed to Narita. Now the authorities have relented, and airlines like British Airways have routed some planes back to Haneda, which is much more convenient for Tokyo. The position of Haneda, on the edge of Tokyo Bay, is reason why Narita was built in the late 1960s. Haneda is very crowded, however when Narita was opened in 1972 there where vast protests, and three policemen were killed in a riot involving thousands. To this day, that is the reason for the very tight security around Narita: there are bag searches before you can enter the airport, and there are still campaign posters around the perimeter.
The airport now has two runways, however the new B runway was built in 2002 with tight restrictions, as it had to be built with taxiways curving around a building built and occupied by protestors. Following the FedEx crash in 2008, a court order allowed the building to be demolished in late 2011, and from the summer of 2012 the two runways can now operate independently as planned, significantly reducing airport delays.
The airport has two terminals connected by both train and bus. Foreign airlines operate out of either terminal, with Japanese carriers ANA and JAL operating out of terminals 1 and 2, respectively.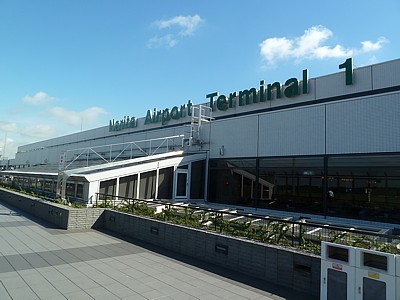 Tokyo Narita Airport Balcony and viewing area on the roof of Terminal 1
Tokyo Airport Terminal 1
Air New Zealand has moved its operations from T2 to T1, to allow for better connections with Star Alliance airlines.
Narita Terminal 1 is the main departure terminal for most international airlines. It is a vast spralling airport - beware that walking times are long, and sometimes it can seem like a Kafka-esq maze of endless travelators which dump you into yet another ante-room.
Narita Terminal 1 was built in the late 1960s, but has been renovated since. The brand new South Wing of Terminal 1 opened in June of 2006, and now most airlines in the Star Alliance (such as Air New Zealand, ANA, Asiana Airlines,United Continental, Air Canada, and SAS) operate out of that section, and close to the ANA lounge.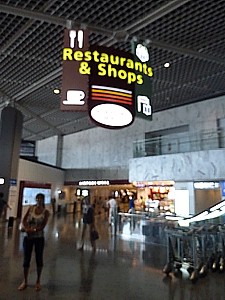 Hilton Narita Airport The shopping centre in Terminal 1
The South Wing includes a duty free mall called "Narita Nakamise", which claims to be the largest airport duty-free brand boutique mall in Japan.
Most restaurants are located on the fourth floor of the Central Building, which is landside. Indeed, if you want to eat, it is best to do so before passing through security, as afterwards the options, particularly for drinking, are very basic, mainly due to the airport handing almost all airside concessions to Avion, which operates small motorway-service-station style kiosks.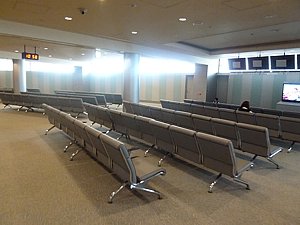 Tokyo Narita Airport T1 - the public lounge
A food court and cafe featuring clichéd Japanese style restaurants, and a Tokyo Food Bar, opened in late 2012 on the 3rd floor of the South Wing at Terminal 1, significantly improving the food options at the airport, however these are all landside. Also landside is the Balcony and viewing area which is hidden on the top floor of the central building of Terminal 1: finding it is quite hard: look for the signs for the barber's shop, and it is through the patio windows beyond it.
Underneath Satellite 2 there is a large virtually deserted area, called 'the public lounge' with racks of seats, a few TVs and several internet terminals. It is a great place to sleep at the airport.
Skyteam Alliance Airlines (Air France, China Southern, Delta, KLM, Korean Air) operate out of the North Wing of Terminal 1.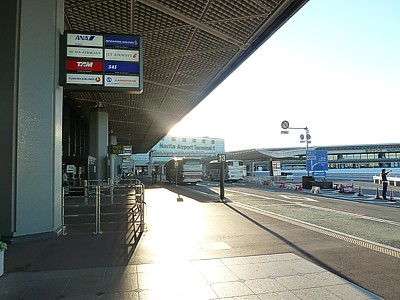 Tokyo Narita Airport
Tokyo Airport Terminal 2
Terminal 2 is divided into a main building (honkan) and satellite, both of which are designed around linear concourses. The two are connected by the Terminal 2 shuttle train.
OneWorld Alliance airlines such as JAL, American Airlines, British Airways and Finnair operate out of Terminal 2.
This, the second passenger terminal, opened in December 1992 at a cost of $1.36 billion. Oddly, it now looks older than Terminal 1, as Terminal 1 has been renovated.
Tokyo Airport Low Cost Carrier Terminal
The brand new low-cost carrier terminal at Narita was built specifically for AirAsia and Jetstar, using a conversion of a cargo building site. From 2015 it will have a capacity of 50,000 passengers per year. There are no air bridges: passengers walk to the planes to save money.
First & Business Class lounges at Tokyo Airport
Tokyo Airport Terminal Map
Tokyo Airport transportation
There are many ways to travel between Narita Airport and central Tokyo. For a first-time visitor, suffering jet-lag, laden with luggage and holding a reservation for a major hotel, the easiest option is often to take the brand new rail service, and then a Taxi in Tokyo itself. You can also take a Limousine Bus direct to your hotel, but traffic jams can cause you to reach your destination a lot later than you were told when you boarded.
It can be facinating to watch the curious cultural differences between those who take the train, the bus, and the taxi. Japanese invariably take the train, as do Brits and some other Europeans. Australians and most Asian nations take the bus; the only tourists in the taxi queue tend to be Americans; perhaps for this reason, taxi drivers at Narita are some of the few in Japan with excellent English.
Tokyo Airport train
There are now several high speed trains linking Tokyo Airport to Tokyo City Centre. The main two are the Narita Airport are the Skyliner and the Narita Express.
The Narita Sky Access Line (also known as the Narita Rapid Railway) is operated by the private Keisei Railway, using trains called the Skyliner and offers the fastest ride into Central Tokyo, at 36 minutes from Nippori to Terminal 2, although the full run from Terminal 1 to Ueno takes 44 minutes. All seats are reserved and the fare is ¥2400 each way.
The Japan Rail JR line Narita Express trains offer direct one-seat connections to the bullet trains and most of Tokyo's major train stations, albeit at a slower pace (61 minutes) but offers the best connections to Shinkansen (bullet train) services or the JR Yamanote loop line. Trains usually depart Terminal 1 at around 15 and 45 minutes past the hour. It costs ¥2940 for a single trip.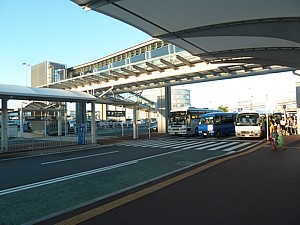 Tokyo Narita Airport Bus departures at T1
It you want to take the Sky Access Line, but can't afford the Skyliner, a budget option is the commuter train service known as Access Express, which only costs ¥1280, but takes 75 minutes to get to Shimbashi. It leaves every 40 minutes, and stops at every single station along the way.
A final rather dire way to get to Tokyo is the Regular Tokkyu commuter trains which leave from Narita Airport every 20 minutes, and reaches Keisei Ueno an hour and a half later at a cost of ¥1000.
Beware that the stop for Terminal 1 is Narita Airport, and the stop for Terminal 2 is Airport Terminal 2, pronounced kuko dai-ni biru, or literally, "Airport Number 2 Building". Lists of airlines and their terminals are posted inside the trains.
Tokyo Airport shuttle bus services
Before the rail lines were built, everyone took the journey to Tokyo Airport on the bus. There are many Airport Limousine shuttle buses that serve most major hubs within Tokyo, and which go to most major hotels. It costs the same as the Narita Express at about ¥3,000 a person, but save having to get a taxi at the other end. The journey to most points in central Tokyo takes 90 minutes or so, but beware that in rush hour there are always traffic jams.
The Airport Limousine buses make three pickup stops, at Terminal 1 North Wing, Terminal 1 South Wing, and Terminal 2. They only drop off at one location in Terminal 1 and 2.
Tokyo Airport taxi services
Getting a taxi to and from Tokyo Airport is usually trouble free, but extraordinarily expensive. You should never, ever, take a taxi to or from Tokyo airport unless you have limitless pockets.
A taxi to central Tokyo will cost at least ¥30,000 if you take one from the taxi rank outside the airport. You can spend a week in the airport Hilton for that money. It comes in at over £250GBP at current exchange rates, one way. A slightly cheaper alternatice flat fare taxi cabs to Tokyo go for around ¥19,000. You can get these from the airport kiosk, but should be avoided unless you have a large family of young children.
Car Hire at Tokyo Airport
Major car hire operators are located in the Arrivals Halls. To save time and ensure you get the car you want, book your rental in advance. Rental car operators from Tokyo Airport include:
Europcar
,
Thrifty
,
Avis
and
Budget
.
Narita to Haneda transfer
Transfer to and from Haneda Airport from Narita Airport is unusually easy, and trouble free, but it takes nearly two hours. By rail, the Keisei Electric Railway started direct trains between Haneda and Narita in the summer of 2012. It costs ¥1740. At Haneda, there is the Tokyo Monorail which can take you into the city at Hamamatsucho Station within 15 minutes.
There are also direct buses between the airports operated by Airport Limousine Bus. It takes 90 minutes in good traffic, and takes ¥3000.
Tokyo Airport Departure Tax
Departure taxes now form part of your ticket price.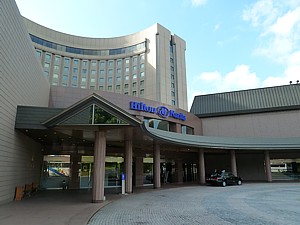 Hilton Narita Airport
Tokyo Narita Airport Hotel
Annoying, there is no hotel on site at Tokyo Narita Airport, other than the very basic
Narita Airport Rest House
. It's not a bad hotel, but very dated and small, with basic overnight rooms for 7,000Yen. Annoying, it is located half way between terminal 1 and 2, and walking isn't exactly an easy option.
Other more upmarket hotels are some considerable distance from the airport, which require taking a bus: most run free shuttles every 30 minutes.
The Hilton Narita is a 10-minute drive from Tokyo Narita International Airport, but pretty swish. There is a great Japanese garden in the inner courtyard of the hotel. The bar is however very small and closes early, and there is nothing near the hotel of interest.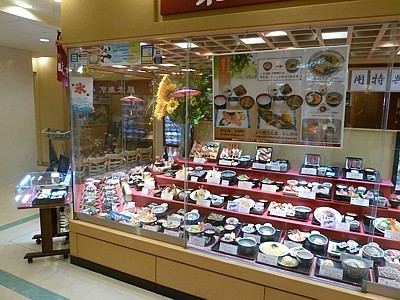 Japanese restaurant in the food court Terminal 1
Tokyo Airport Bars and Restaurants
When you are leaving Narita, the better restaurants are located in the check-in area: after passing security and immigration, all that's really available is a very basic cafe and bar.
In terminal 1, most restaurants are located on the fourth floor of the Central Building, which is landside. Just walk between the two check in areas, and here there are several good Japanese style restaurants which even include the classic plastic food in the windows.
Airside Bar
Terminal 1, Airside, 3rd Floor, South Wing
A classic generic Airport Bar, the Narita Airport Airside Bar couldn't even be be bothered to think up an inventive name. Never the less, it is one of the best offerings at the airport, albeit an expensive one.
The bar has classic Asahi extra cold beer chilled to minus 2 degrees Celsius, international beer (VB and Fosters, that's about it), a extensive whisky selection, and Japanese sake.
Cafe Bar Avion Terminal 1
Cafe Bar Avion
Terminal 1, Airside, Satellite 3
The Avion bar at Narita Airport has a great view overlooking the runway, and through the plate glass windows you can see the aircraft take off into the sunset. Alas the beer selection is rather poor, and the wine quite expensive.
The cafe itself is very small - but it is pretty much the only bar with any atmosphere at Tokyo Airport: the actual entrance is half way along a people conveyor - you have to go past it to see it - and many people miss it. The Ashai on draft isn't the cheapest in the world (¥850 a pint!), but it does that rarest of things at Tokyo airport: hot, fresh pizza. Open 0800-2030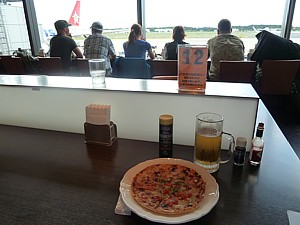 Cafe Bar Avion Terminal 1
Ginza Lion German Bar
Terminal 1, Landside, North Wing, 4th Floor
Tokyo Narita Airport has avoided the Irish Bar craze, and instead gone German! The interior of the bar is fabulous, with wood panelling and a great atmosphere.
Beer on draft includes Guinness, Ebisu beer and Sapporo Draft direct from the brewery.
Beware that this bar - the best one on site at Tokyo airport - is landside. If you want a decent beer, you need to get it before going through security.
Open 0700-2100